Engineer to tinker with his machine against Rovers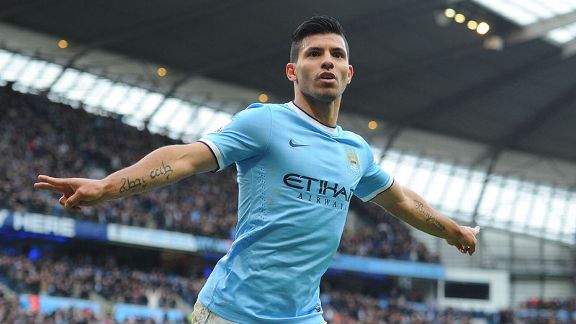 PA PhotosSergio Aguero could make a welcome return to the matchday squad.
A fixture pile-up isn't so much a problem when a team is winning. And, with Manchester City having gone 15 matches without defeat -- 13 wins and two draws -- in all competitions, the fact that the Blues face an FA Cup replay on Wednesday evening doesn't seem like such a big deal. Players are in form and eager to get back onto the pitch and momentum has been building for two months.

Over the busy Christmas period and the weeks that have included cup games and replays that have followed, Manuel Pellegrini has been using the full extent of his squad. Yaya Toure and Fernandinho, two key cogs in the Engineer's machine, have been in and out of the team over the last few weeks when possible, as the manager has looked to give them some rest.

Following the pre-match press conference for Wednesday's fixture, it's been confirmed that Toure will miss out after the injury he sustained against Newcastle. On top of that, the Ivorian has been carrying a back injury -- which Pellegrini says is a risk for him to continue playing with.

- Aguero set to return for Man City

Meanwhile, Vincent Kompany has been partnered with Matija Nastasic, Martin Demichelis and Joleon Lescott at various times to keep players fresh. Over the last ten games, the club captain has played nine -- and each of the other three centre-backs has partnered him three times. Lescott and Nastasic played together at Ewood Park to give the Belgian some time off.

All season, the full-backs have been regularly rotated, too.

With the replay against Blackburn coming up on Wednesday evening, Pellegrini may well take another opportunity to bring in some squad players -- the likes of James Milner, who has been in and out of the team in recent weeks, or Javi Garcia, who has been solid if unspectacular in recent weeks, despite a difficult start to the season when called upon at centre-back.

However, with Edin Dzeko and Alvaro Negredo as the club's only two fit strikers for the past month and with Pellegrini's desire to stick to his 4-4-2 formation, it's put a lot of stress on the two forwards, who have both started the last four games. That means the news that Sergio Aguero is fit to be in the squad for the replay with Blackburn is very welcome indeed.

It's expected that Pellegrini won't go full strength with his starting line-up, but that's not especially welcoming news for the visitors given the depth of the Chilean's squad. However, as has been seen on various occasions this season -- such as the first time this fixture was played at Ewood Park, or against Crystal Palace at the Etihad for instance -- when City rotate six or seven players, their level of performance dips quite sharply.

The depth City have depends on when it's being used; when it's just one or two players rotated, it barely affects the team's flow, but when it's more, they do sometimes look like a bunch of players that haven't played together too often. Mainly because they've not actually played together too often.

It's very easy to get complacent about such a fixture, especially with Blackburn sitting in eighth in the Championship and the Blues one point off the top of the Premier League. And with City's home record so far this season -- played 14, won 13, scored 59 -- and that the last time they failed to score at home was in January 2012, it's very easy to simply assume the top-flight club will win.

On top of that, Blackburn's last four visits to the Etihad have yielded one draw and three defeats, while their last visit to Manchester City in the FA Cup finished 3-1 to the home side. Although that was over 80 years ago, on 13 January 1934.

City have had a bit of a love-in with the FA Cup in recent seasons. Since Roberto Mancini ended the club's trophy drought by winning this tournament in 2011, the Blues have reached another final (that they should have won, but proved what happens when one underestimates opponents). Ok, so the 2012 FA Cup campaign was a bit of a write-off, but that wasn't helped by an unjust red card to Kompany in the opening minutes of a Manchester derby.

The last time the Blues won this cup, they needed replays against lower-league opposition in their third and fourth round ties, as Leicester and Notts County both held City to draws in their away fixtures. Both times, though, City made light work of their opponents when back at the Etihad.

With City still in four competitions this season, Pellegrini has a realistic chance of silverware in his debut season. He definitely won't be taking this match lightly.