Tiote's disallowed goal could prove costly for City


What happens when a goal is incorrectly disallowed midway into the first half of a Premier League fixture?

For example's sake, let's (hypothetically) say it was scored by Cheick Tiote for (hypothetically) Newcastle United against Manchester City, with (hypothetically) Yoan Gouffran standing in an offside position and (hypothetically) ducking out of the way.

Well, the answer is the final feisty hour or so of Sunday's match at St James' Park, which finished 2-0 to Manchester City.

The main talking point of the match will, of course, be that goal that wasn't given, so it seems a good idea to clear that up to begin with. In this writer's opinion, it should have stood.

Yes, Gouffran was in an offside position and had to dodge out of the way of the ball (an action which, in itself, doesn't make him active). He's not blocking Joe Hart's line of sight, so neither is he interfering with an opponent; Hart looked well beaten whether or not Gouffran was there.

- Why was Tiote's goal disallowed?

While the Newcastle man stood in the vicinity of Hart, he's been very harshly punished for being there; the linesman didn't give it originally, so after referee Mike Jones checked there weren't two players between Gouffran and the goal line when the ball was struck, it was the man in the middle who decided he was active. Maybe he thought the ball flicked off the striker. Maybe he thought the ducking movement impeded Hart's judgement.

Either way, he was wrong. It should have stood.

Now that that's cleared up, we get to the nub of the matter: For the remaining hour or so of the game, it can be argued that the referee lost control. In fact, it was a miracle that 22 players remained on the pitch for the full 90 minutes. Tackles were flying in left, right and centre, culminating in Mapou Yanga-Mbiwa's cynical challenge that, at the time of this post, looks to have seriously injured Samir Nasri.

That tackle, incidentally, could have resulted in a red card for Yanga-Mbiwa. As could challenges by Yohan Cabaye, first on Jesus Navas, and second on Aleksandar Kolarov, given the Newcastle man was on a booking at the time. He was tightrope walking over some thin ice, he was that close to an early shower.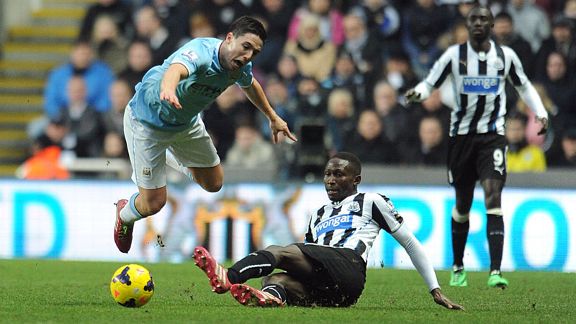 PA PhotosNewcastle's Mapou Yanga-Mbiwa fouls Manchester City's Samir Nasri


It's pure conjecture, but I wonder if the same leniency would have been demonstrated had Pablo Zabaleta or Fernandinho made one of those challenges -- both were also booked earlier in the game.

Whether Jones knew he had dubiously disallowed Newcastle's goal, he seemed to follow it up with a series of decisions to make amends -- subconsciously, of course, as I don't believe referees ever aim to (and I hate this phrase) "balance it out" because I believe they aim to get it right in the first place.

That strong challenges weren't being penalised meant that a swipe across the leg of Nasri -- which left him with suspected ligament damage as he left the pitch on a stretcher -- manifested only a yellow. City will be without him for a while, in what has been his best season by far in a blue shirt.

If you'd asked most City fans, they'd probably tell you they'd prefer to have that goal stand and a referee who was in control of the game. It would have been fair on the hosts, the robust challenges wouldn't have been flying in because nobody would have been feeling aggrieved, and at 1-1, the Blues wouldn't have been out of the match.

Previous bad decisions have gone against City, yet have not been as high profile as this one because they were less crucial to games. Alvaro Negredo had a goal wrongly disallowed for offside in the reverse fixture, but it was 4-0 at the time so it "didn't matter." Aston Villa's three goals were dubious, at best, in City's 3-2 defeat at Villa Park, too. Swansea's Wilfried Bony was offside when he equalised on New Year's Day.

Newcastle were given a terrible piece of misfortune in this match, but they will benefit elsewhere in the season. City got away with one and will also be punished wrongly for other incidents as the campaign goes on.

What this column should have been about was a gritty Manchester City win -- they became the first team to win six successive Premier League games this season with that victory. It should have been about how the Blues played their worst match of the season and won -- surely a good sign for any title challenge?

Instead, it's been almost 800 words about an awful decision, which may have wider consequences for both Newcastle and Manchester City.