Plenty to sing about in the Etihad rain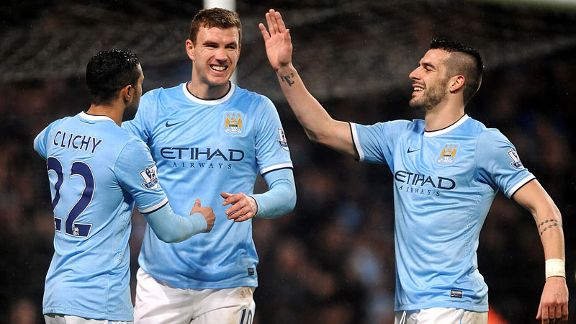 AllsportDzeko (middle) and Negredo (right) combined for five of City's six goals.
The rain cascading down Sam Allardyce's rounded nose had started to soak into his jacket within 10 minutes of this game beginning. Up in the stands his boss, David Sullivan, looked itchy. It was to be a night of great discomfort all round for those attached to West Ham United football club.

- Man City 6-0 West Ham
- Sign up for Premier Fantasy

There had been a lot of talk in the last few days of League Cup semifinals of old, of the fact that West Ham and City shared semifinal berths in 1981 but missed out on playing each other in the final because of some off-kilter refereeing in City's game with Liverpool.

Fast forward 33 years and the likes of Ron Greenwood, John Lyall, Billy Bonds, Trevor Brooking and Frank Lampard Sr. would not have been too proud of what they saw at the Etihad.

Greenwood, a man of the old school, with a clipped accent and a penchant for pretty passing, helped build the reputation for fine football that the current regime is dismantling brick-by-brick. Allardyce, a big bear of a man, slumped almost horizontal in his chair and chewing furiously throughout, looked in turns disinterested, peeved and finally resigned.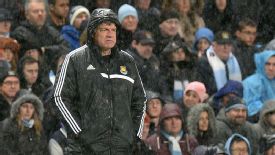 PA PhotosSam Allardyce endured another miserable 90 minutes as his side lost 6-0 at City.
A psychologist asked to translate his body language might have read something else into his super-relaxed posture. To this layman, he looked like a man dreaming of his next beach vacation; resigned to his team's fate and perhaps to his own as well.

The Hammers, beaten 5-0 by Nottingham Forest in the FA Cup at the weekend, shipped six here and but for their man of the match, goalkeeper Adrian, it would have been double figures.

It will take a long time for City fans, brought up on catastrophe and custard, to shake off the "cup for cock-ups" mantle, but surely only a madman would bet against yet another appearance under the glistening Wembley arch in the spring.

City were untouchable and, despite the visitors' obvious reluctance to be drawn into a toe-to-toe fight, they had no answer to the wave upon wave of sumptuous pinball passing that engulfed them so completely.

City are not a team that particularly needs an early goal to settle the nerves, as the old maxim goes, but they got two anyway, to put the game and perhaps the whole two-legged tie to bed after just a quarter of its allotted time.

That the first came from a magnificent pass and an exceptional finish only served to prepare onlookers for what would follow, for this was a night of delightful passing and cannonball shooting.

Yaya Toure, from the centre circle, pinged a ball over the top and Alvaro Negredo swung a boot as it dropped over his shoulder. The ball squirted off his toe-end and flew into the net like a homing pigeon with a Roman candle attached to its rear end. What a strike of sheer sublime cheek.

Roger Johnson, a fresh new loanee from third tier Wolves, brought in because the Hammers have lost nearly an entire defence to injury, looked like a man who works in a carpet salesroom that had been asked to open oysters in a top restaurant for the evening.

There was, of course, still more, far more, to come. Negredo walloped a second into the top corner and Toure, five minutes after looking totally injured by an awkward fall, picked himself up, dusted himself down and proceeded to run more than half the length of the field before dispatching a marvellous third.

If Barcelona had sent anybody over to watch this "Ballet in the Rain", he or she will tonight be writing reams on this new flavour "chicken tikka taka" that is pushing Manchester City to unprecedented heights.

The second half was notable for a variety of reasons. The match was dead and buried with half an hour to go when Edin Dzeko began a personal crusade to knock poor Adrian into tomorrow. A succession of shots were miraculously saved or rebounded to safety, before the big Bosnian got his reward for a gutsy night's effort with a thumping double to bring the total to six.

Lest we forget, the denizens of the Etihad have now witnessed a seven, three sixes, two fives and a stream of threes and fours in this season of growing superlatives.

The attacking mastery, the patient possession, the darting movement and the plethora of options for the man in possession made this yet another glorious tribute to the know-how of manager Manuel Pellegrini and his staff.

With the rain turning his hair into a dank grey mop, the Chilean exuded quiet calm: a thorough professional doing a fabulous job. Across town, David Moyes, with last night's platter of referee-based excuses making him look both desperate and slightly ridiculous, will have hoped for anything but a result like this.

Whilst United's place in the final is very far from safe, the Blues can start fitting themsleves for those Wembley suits already, safe in the knowledge that this West Ham team will not score seven with no reply in the second leg.

For the dishevelled Mr. Allardyce, a change of fortune will be needed almost as quickly as a change of clothes.