City strength reliant on key players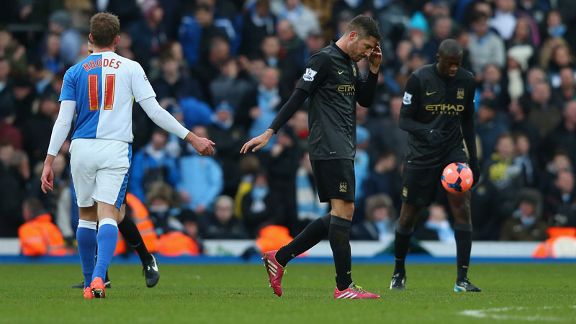 GettyImagesJavi Garcia walks off dejected after Man City's draw with Blackburn.
There seems to be something of a fallacy surrounding Manchester City at the moment and one that is oft repeated by commentators and pundits alike. It was prevalent on Saturday, as the Blues struggled to a 1-1 draw at Blackburn's Ewood Park in the FA Cup's third round. And it goes like this: Manchester City have tremendous strength in depth in their squad. Injuries, suspensions, and a packed fixture list should not worry them simply because of the quality of their second XI, who could swat nearly any opponents away, just like the club's first-teamers.

It's easy to see why that opinion prevails. City have spent millions upon millions of pounds assembling their squad -- which, in truth, probably is the strongest in the division. So you'd be perfectly entitled to question my judgement that strength in depth is something the Blues are lacking. I promise you I'm not mad.

One of the biggest ways in which Manuel Pellegrini differs from his predecessor in the City dugout is in his team selection. This has nothing to do with tactics or formation -- every manager has their favourites and their own methods, after all -- but this is simply about what names make his teamsheet. The Chilean seems to routinely pick his strongest 11 players, give or take one or two names on the fringes based on form, while Roberto Mancini always preferred to tinker with his line-up, regularly rotating his players (barring his spine of Joe Hart, Vincent Kompany, Yaya Toure and Sergio Aguero).

The result was that Mancini's team rarely felt like it was at its strongest. There was always the doubt in the back of the fans' minds -- with the exception of the final six games of the 2011-12 title winning season, when the manager had no choice but to go unchanged with his best players in a desperate bid to turn around the eight-point deficit -- that the Italian had named a side that was just about good enough to get the job done.

Now, Pellegrini's team nearly always looks like they could wipe away their opposition, simply for being at (or close to being at) their strongest throughout the season.

It does, however, put an awful lot of stress on the first-choice players. One of the biggest fears for supporters this season is the hypothetical "what happens if Toure or Fernandinho is injured?" The answers in respect of the same question towards Aguero are currently forthcoming, while the start of the season did the same for those of Kompany.

There is a strange paradox in this, however. When the Blues have suffered the odd injury and one of the backup players has been called upon, they've generally done a pretty decent job. OK, so Javi Garcia isn't a centre-back, but when he's been deployed in the centre of midfield he's not been bad -- he's just unfavourably compared to the two midfielders that very few players in the world could match up to.

Edin Dzeko, while frustrating at times, has been scoring on a semi-regular basis. Gael Clichy has deputised at right-back adequately, if nothing else; Joleon Lescott has stepped up to the challenge and been there when Matija Nastasic, Martin Demichelis or Kompany have been with the physio. Even Costel Pantilimon hasn't done too badly on his run in the team, though his error on Saturday allowed Blackburn back into the game.

The problem has been that the Blues have been able to cope with one or two absentees and it gives off a little bit of a false impression. The strength in depth exists when only a few of the first choice starting line-up are injured or suspended. But, as was the case on Saturday at Ewood Park, or for the between-Christmas-and-New Year fixture with Crystal Palace at the Etihad, when Pellegrini rotates five, six, seven players, the Manchester City second XI struggles.

The chemistry doesn't seem to be there, despite Pellegrini using the same system and tactics with either selection. City fans see how Toure and Fernandinho understand each other's position inside out and how the Blues reap the benefits with quick, one-touch passing. Kompany, paired with any of the club's centre-backs, seems to be able to marshal the defence. Aguero can pick out, create space for, and rip defences apart with Alvaro Negredo.
However, take those players out and put the backups in and, in breaking up those partnerships that run through the team, City can look as toothless as your average OAP in the middle of the night.

In order to keep fighting on four fronts this season, Pellegrini faces the difficult task of resting his key players so they are all fit for the vital games. With such a reliance on his strongest XI that may prove difficult as the more crucial matches come thick and fast.

After all, it seems City do have strength in depth like so many believe -- however, not when that depth all has to play at once.