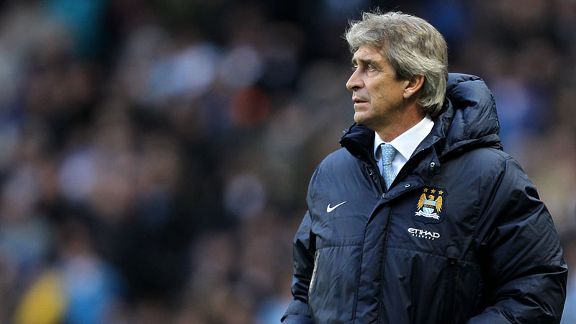 PA PhotosManuel Pellegrini has his Man City machine well oiled.
Another year passes, leaving Manchester City to glide smoothly into 2014 with all guns blazing and mounting evidence to persuade non-believers that Manuel Pellegrini really is getting to grips with the job of placing this club at the top of the pile come May. After a stuttering start in successive away matches, the well-oiled machine is beginning to rack up the points away from the Etihad in a way which suggests the 2013-14 season may well end very positively indeed.

Despite the growing weight of opinion that City are the real deal and the momentum that 12 games unbeaten inevitably brings, there are still one or two issues for the manager and his staff to get to grips with. Most of these still revolve around the defensive side of the team and how to counter-balance a side set up predominantly to attack.

- Kolarov backs City for title
- Mooney: City hitting stride at right time

Goalkeeper: after a shuffle of 'keepers in the autumn, when Joe Hart's alarming loss of form allowed Costel Pantilimon a short run in the first team, we are once again confronted with a solid-looking Hart performing his customary acrobatics in the City goal. If Pellegrini has got his sums right, Hart's enforced lay-off on the subs' bench will have brought it back to the young goalkeeper's attention that talent and confidence are not enough on their own. Dedication, concentration and single-mindedness must be added to the mix. Hart has returned in fine form and must now prove that he is capable of learning from earlier mistakes.

In front of him, City's defensive frailties have been hung out for public perusal over the last four months. Since the debilitating cave-in at Cardiff and bizarre defeats at Aston Villa and Sunderland, flocks of vultures have been hovering. Pellegrini's insistence on quick, well-staffed attacks has meant that the defence has at times been left exposed. Coupled to a run of injuries in this area of the side, there has been little continuity and little chance for players to build up any mutual understanding.

With Vincent Kompany and Matija Nastasic now back, Pellergini has his first choice central defensive pairing available again and would be advised to use it as often as those fragile hamstrings will allow. At left-back the emergence of Aleksandar Kolarov as a balanced performer, suddenly imbued with astute defensive nous as well as the already well-recognised ability to steam up the left wing, means he is now pushing Gael Clichy hard for a berth in the side. On the other side, meanwhile, it would take a Chieftan Tank to remove Pablo Zabaleta.

City's back four is guarded by two of the season's best performers so far in the will-'o-the-whisp Fernandinho, making light of many early season critics who thought he might have been a waste of money and the Buffalo in Ballet Shoes Yaya Toure. This partnership is arguably the most powerful and effective defensive midfield pairing in Europe at the moment and has served the side excellently in the season's opening months. With both men willing and eager to join the ranks of City's whirling, scything attack, there can be alarming gaps at the back. It is a sacrifice that up to now has been worth making, with the goals balance hugely in the Blues' favour and the excitement levels at every City match going through the roof. Yaya's strolling style can occasionally be misread and has attracted recent flak but this colossus of a man brings untold fear into opposition ranks simply by being there.

Whether City set up the rest of the middle orders with the in-form Samir Nasri, the little magician David Silva or the rapier thrusts of Jesus Navas does not seem to matter much. The end product is a blur of legs as the ball is dispatched sideways and ultimately forwards in a dizzying array of pinpoint passes. These three pocket dynamos have all played their part in the avalanche of goals that have buried opposition teams. Whether through Silva's incredibly delicate through-the-eye-of-the-needle passing, Navas' breakneck bursts to the touchline or the swerving mastery of Nasri's technically adept two-step, the front men have been able to feast on a plethora of guilt-edged chances from day one against Newcastle right through to the New Year's Day win at Swansea. Not once has this supply line dried up.

Up front, Pellegrini's penchant for playing two attackers has meant one of the afore-mentioned three in attacking midfield have been sacrificed. The bold and mouth-watering football that results has taken the breath away at times. Opposition defences don't know whether to stand and stick out a leg or run for the trenches, such is the variety and persistence of City's attacking play.

Clearly the pairing of Sergio Aguero with Alvaro Negredo would frighten the life out of the stoutest of defences, but Aguero's injury -- cutting short the little Argentinian's royal streak of form -- has meant City supporters have been subjected to the curious sight of the one man curate's egg Edin Dzeko strutting his stuff. One of the few players around who can have a good game and a bad game simultaneously, Dzeko has obvious nuisance value in Aguero's absence but can be relied upon to squander more chances than is healthy for a £28 million striker.

City's strength in depth has seen them through a variety of injury problems and slight squad alterations may be forthcoming during January's transfer window to further strengthen any perceived weaknesses. However, with all personnel fit and firing on all cylinders, the culmination to an already riveting 2013-14 season may well see those trophy shelves needing serious engineering work done to them before May is out.