The good, the mad and the ugly at Man City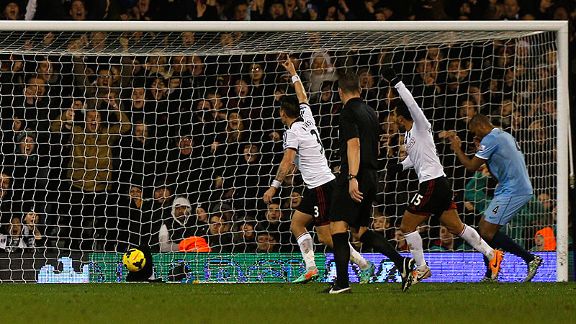 GettyImagesVincent Kompany puts the ball into his own net against Fulham.
Sometimes when you're watching football, you can see something coming a mile off. It's a feeling. You don't know exactly what's going to happen, but you just get the general gist that it's coming. And it's usually something bad, too.

When Fulham pulled it back to 2-1 against Manchester City on Saturday afternoon, that feeling filled my bones. Soon enough, that sixth sense was proved correct, as one of the most bizarre own goals ever graced City's eventual 4-2 win at Craven Cottage. How City centre-back Vincent Kompany managed to find the top corner only he -- and the wind -- will know, but it got me thinking of some of those mad Blue moments in front of their own goal.

- Curtis: City show guts as well as artistry
- Brewin: Three Things - Fulham vs. Man City

What follows is by no means a comprehensive list, but is the top five "rush of blood to the head" moments that I've witnessed at City down the years.

5: Sun Jihai - Manchester City 0-1 Middlesbrough, November 2003

Not the funniest or strangest of own goals you will ever see, but what made this a mad moment was the circumstances that surrounded it. The Chinese international had more time than he realised in his own box, so the watching fans were baffled when he swung a boot and buried it inside David Seaman's left-hand post. However, it meant that Middlesbrough won the game -- without having a shot on target. Or even off target.

4: Richard Dunne - Manchester City 1-1 West Bromwich Albion, December 2004

The first entry for the big centre-back comes as City were controlling a game in which the opposition had looked dead and buried. West Brom were a goal down and playing with ten men, but they managed to snatch a point when a long ball over the top saw the Irishman shin past his on-coming goalkeeper, David James.



The comedic value of the own goal was compounded by the sight of Robert Earnshaw -- desperate for the goal to go down to him -- sprinted after the loose ball to try and get the final touch, despite the fact it was certainly already going in. The Baggies were another team who'd not managed a shot on target, but had scored at Eastlands.

3: Claus Jensen - Manchester City 1-4 Charlton Athletic, December 2000

City were smack bang in the middle of a run that saw just one win in 17 Premier League games and needed some luck. It was fairly obvious that the Little Shop of Good Fortune was all out, as the fourth Charlton goal hit the net. It was a complete fluke from the centre-circle.

Dunne cleared onto the shins of Jensen and it ricocheted over Nicky Weaver from 45-yards out. Half a second after the incident happened and while the ball was still on its upward motion after the deflection off the Charlton man, the chap who was sitting behind me at Maine Road simply said (deadpan) "it's in". He wasn't wrong.

If ever there was a clear indication that the Blues would be relegated that season, this was it.

2: Gareth Barry - Southampton 3-1 Manchester City, February 2013

Poor Gareth Barry had already mucked up for Southampton's first goal of the game and, following a Joe Hart error and an Edin Dzeko fluke, City were scrapping their way back into the match. The scoreline was 2-1 to the hosts when the Blues' midfielder ended it all with a deft finish into Hart's bottom corner.



He had so much time and space inside his own penalty area, he could have done literally anything he wanted with it. A few keepy-uppies, perhaps. Used it as a seat while he enjoyed a spot of tea. Better still, turned and cleared it into touch. Instead, he chose to bury it into the net.

At the other end, it'd have been a brilliant finish. But in that goal, it was embarrassing.

1. Jamie Pollock - Manchester City 2-2 Queens Park Rangers, April 1998

With survival in their own hands, City faced Queens Park Rangers at Maine Road. Two wins would save the Blues from the drop, but, after going 1-0 up, all hell broke loose. First, goalkeeper Martyn Margetson handed an equaliser to the Rs -- first by picking up a backpass and then by handing the ball over to Mike Sheron (who took it quickly and squared to give a teammate an open goal).

It was then time for the Jamie Pollock show. He nipped in to steal the ball on the edge of his own area and poked the ball into the air. Flapping his arms to wave his colleagues away, he expertly nodded it over his own goalkeeper and into the back of the net to give Rangers the lead.



The eventual draw was enough to see QPR safe and left City needing a win in the final game of the season (and results elsewhere to go their way) in order to stay up. Despite the 5-2 win at Stoke, the Blues were relegated.