Manchester City show guts as well as artistry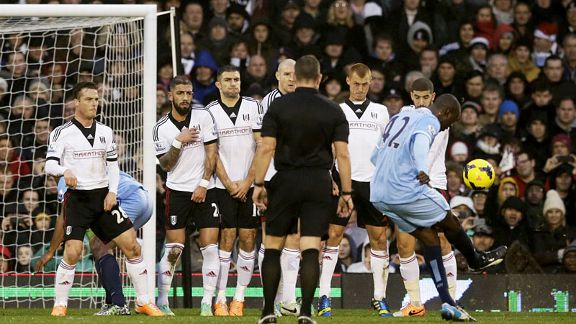 GettyImagesYaya Toure scores another free kick to put Man City in front at Fulham.
When Andy Morrison, Manchester City's bull-necked central defender, forced his tongue into Stan Collymore's mouth during a second-division clash with Fulham in 1999, City's penchant for slapstick was in glorious full swing. Morrison saw red for his amorous advances on that occasion. Although everyone managed to stay on the field of play in the 2013 version of the match, now a high-powered Premier League encounter, there was plenty of clowning around to satisfy the many lovers of pantomime season.

A game that City started stuffily, took a strong hold of and then threw away completely before grabbing it back from Fulham before it could explode in their faces saw the Blues continue to shake off the "soft touch away from home" label that they have carried all season. There were moments in this 4-2 victory, however, where the ball would not go where the players wished, the marking went astray and the wind and rain played havoc with little David Silva's passing compass. That City ultimately clawed back what they had lost is a credit to the side's fighting spirit and Manuel Pellegrini's reshuffling of the pack in the second half.

- Brewin: Three Things: Fulham vs. Man City
- Report: Navas and Milner seal City win

With Silva having already smacked a shot onto the bar, the goal frame was to play a happier role in the next effort, which Yaya Toure crashed into the net from outside the box. It was a free kick to put proudly alongside the three other carbon copies the Ivorian has produced this season, but there was little evidence of the "buffalo in ballet shoes" elsewhere in the match, as City's middle orders came under strong pressure from a Scott Parker and Steve Sidwell-inspired Fulham. When the second goal went in, however, it seemed as if -- for once -- City might allow us all a relaxing away weekend with fingernails intact. That it was dispatched into the net by captain Vincent Kompany only made things better. Or so we thought.

As often happens, Manchester City had other ideas. Onlookers were jolted back into an upright position by two Fulham goals to bring them from comatose to suddenly looking likely winners of the game. In the spirit of Andy Morrison, the equaliser was placed gingerly into his own net by none other than Kompany, temporarily blinded by a flow of blood trickling into his right eye.

As the ball curled ludicrously in a wobbly arc over the recalled Joe Hart and into the back of the net, one could just see Jesus Navas attempting a highly risky scissors kick off the line. The Spaniard ended up in a heap with a leg either side of the far post. The ghosts of Morrison, Little and Large, Jamie Pollock et al could be heard guffawing from a dark cloud above the Hammersmith End.

In 1999, there would have been only one winner of the game from this point, and the home side did take on a dangerously frisky air, willed on by a crowd stunned into believing. But City have guts as well as artistry these days, and those who had been misplacing passes in the treacherous conditions found their length before it was too late. Silva, bogged down in one of his least impressive performances of the season, threaded a marvellous pass to Navas, whose jet heels took him down the outside and into a shooting position.

The fourth, tapped in by James Milner from a majestic and impudent piece of skill by Alvaro Negredo flush on the right touchline, sealed what had turned into an unnecessarily hard-fought victory for City. The Spaniard curled the ball in from the right with the outside of his left foot, skipping past a woeful attempt to clear by Fernando Amorebieta, before falling right into Milner's stride.

So another four goals are added to the grand total. Three away wins in the past four games in three competitions looks and sounds like improving form on the road. With a three, a three and a four, away goals are beginning to fly in at a rate almost up to the level of the incredible home barrage.

It could be that the win in Bavaria will be seen as a turning point in the season, lifting team belief that this season is headed for a glorious culmination in the new year. There are many hurdles to jump, many tricky opponents to overcome, but -- bit by bit -- City are climbing toward the summit of the Premier League. The slapstick that we all once knew so well returned to haunt the club Saturday, but the final outcome was so tellingly different.