Fulham trip offers chance to improve road record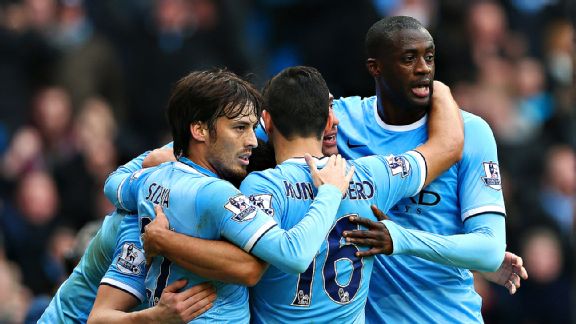 Clive Brunskill/Getty ImagesMan City will get a chance to improve their Premier League road record Saturday at Fulham, but will be missing several key players.
The festive period has arrived and, quite naturally, Manchester City's players are dropping like flies -- Merry Christmas, City fans! The Blues face Saturday's trip to Fulham without Micah Richards, Pablo Zabaleta, Matija Nastasic and Sergio Aguero, while Stevan Jovetic has had a reaction to a bug that kept him out of the midweek win over Leicester and looks likely to miss out, too.

For a team struggling to pick up points away from home, an injury list isn't especially welcome; though given a second-string City side won in Bayern Munich, one would expect that whatever side Manuel Pellegrini names for Saturday's trip to Craven Cottage should be strong enough to win the game. I stress the 'should'.

Bizarrely, the away form problem is one that has been limited to the Premier League. In Europe, the Blues have a 100 percent traveling record, while in the Capital One Cup they have won on the road twice -- though it's not quite a perfect scorecard as they needed extra time at Newcastle, so that's technically a draw over 90 minutes. Still, it's five games unbeaten outside the Premier League, compared to two wins from seven in the top flight.

Perhaps it's to do with style of play. In the Champions League, both Viktoria Plzen and CSKA Moscow didn't press the Blues high up the pitch to put them under pressure, allowing City the chance to express themselves as they like to do at the Etihad. Bayern Munich did, but as soon as they took their foot off the gas and allowed the Blues back into the game, City needed no second invitation to take control and not give it back.

Meanwhile, in the Capital One Cup, neither Newcastle nor City seemed to want to win the tie, and the Blues ended up on top more by luck than judgment, but at Leicester -- who are no pushovers, given that they're serious contenders for the Championship title -- City weren't pressed back by the home team and were able to take charge.

Now, with Fulham on the horizon and a packed Christmas period to follow, a victory at Craven Cottage is imperative. Having closed the gap to Arsenal at the top of the league and with the Gunners facing Chelsea this weekend, a win would ensure the Blues made up ground on one -- if not both -- of the London clubs.

The Blues' recent trips to Craven Cottage have been quite fruitful, so there is some good news for the traveling fans hoping to see a turn in their club's fortunes on the road. City are unbeaten in their last seven trips to Fulham, while they have won three of the last four -- the exception being that 2-2 draw in the 2011-12 championship season.

City's last defeat to Fulham came in April 2009, when the Blues had other things on their minds -- namely trying to overturn the 1-3 deficit that they had brought home from Hamburg in the Champions League quarterfinal first leg. City are unbeaten against Fulham in the nine meetings since.

Games at the Cottage in recent seasons haven't been easy for the Blues: Last year, Roberto Mancini's City needed a winning goal three minutes from time when it looked as if the match was meandering to a 1-1 draw; and the season before, Fulham came back from 2-0 down to draw.

However, if there was a side that would be ideal to provide a tonic for the Blues' travel sickness, then it must be Fulham, simply due to their wretched recent form -- their win over Aston Villa earlier this month is their only non-defeat in their past nine games. Equally, though, the Cottagers will be looking at City's away record and thinking the same.

There have been no back-to-back Premier League away victories for them since Jan. 13, when the Blues won at the Emirates having beaten Norwich at Carrow Road in their previous trip from the Etihad in December 2012. There will be no back-to-back Premier League away wins this calendar year, as Fulham is the final trip and the last time out was a draw -- a problem that has plagued the club since before Pellegrini arrived.

City have been imperious at home, so it speaks volumes that there are fans more concerned about Saturday's trip to second-bottom Fulham than the Boxing Day home tie with second-top Liverpool. With a festive period that contains a visit from the Merseysiders and a tough New Year's Day excursion to Swansea, nothing less than a win at Craven Cottage will do.

This is where Pellegrini needs to get down to business.