Christmas Memory Matches -- Part 1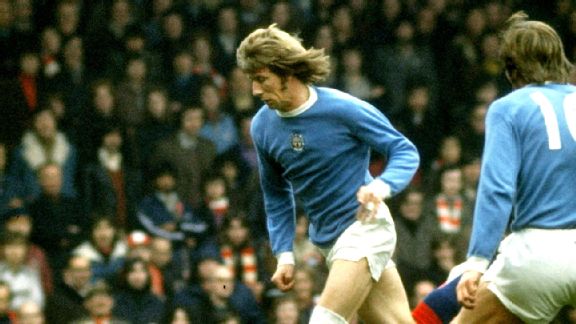 Allsport UK/Allsport/Getty ImagesColin Bell, shown playing in 1970, created a Boxing Day memory for Manchester City with his gutsy performance against Newcastle in 1977.
As the festive period approaches, Manchester City blogger Simon Curtis will review some of the club's most memorable holiday moments.

"That day, I came on as substitute and I could not believe the atmosphere. The whole ground, including the Newcastle fans, stood and applauded and chanted my name. I was a passenger, but everyone tells me it was great seeing me there, and for me, it was and will always be my number one game, and my number one memory of playing football ..."

For those steeped in Manchester City folklore -- dare I call it "history" -- you will quickly realise the origin of this quote and the day it refers to. Christmas is a special time of the year, but on Dec. 26, 1977, Manchester City fans were given a late, seasonal present that most thought they would never have the pleasure of seeing again.

-Dzeko: City can cover loss of Aguero

Until these recent times of plenty, Colin Bell represented the best City player in the club's history to a complete generation of City fans, who -- like myself -- had supported the Blues through the turbulent 40-odd years that followed the short but grand trophy glut of 1968-70. Bell, nicknamed Nijinsky by Malcolm Allison on account of his incredible stamina, was a player of drive and vision, a midfield general who scored goals, a man who packed a shot, scored with his head, tackled and tracked back.

He was the complete package, a player of class and skill who proudly wore the England shirt 48 times during his glittering City career, making him the most-capped City player for England in the club's history. The first time I saw Colin Bell, my eyes widened at the spectacle of such a fine athlete in full flow for my Manchester City.

However, Bell was to be chopped down in his prime by a terrible coincidence of fate and clumsiness: His studs caught in the turf during a tumultuous 4-0 City League Cup derby win over United in 1975, and as he lingered in the mud, the damage was exacerbated by a heavy, late and clumsy Martin Buchan tackle, twisting Bell's standing leg until all the contents of his knee exploded.

Bell did not play for nearly two years, enduring a string of failed comebacks in a period in which football medicine could best be summarised with the mantra "an apple a day keeps the doctor away." Chairman Peter Swales, later to be become infamous for his shoddy treatment of Paul Lake, another thoroughbred City midfielder, was busy penny-pinching on medical aid in order to fund Allison's transfer splurges. As a result, there were no trips to state-of-the-art American clinics for Bell -- just long, lonely hours spent pounding the streets of Moss Side in the search for strength in that shattered knee.

For months on end, City supporters endured a slow trickle of news items about the star's dreadfully slow rehabilitation programme. Bell would never be the same player when he did finally return, but Boxing Day 1977 will remain one of those "not a dry eye in the house" occasions for all fans of a certain age.

Bell had been named as substitute for the visit of Newcastle United. Manager Tony Book said: "My plan had been to give him a 20-minute run at the end of the match, but an injury to Paul Power forced my hand, and I had to bring him on much earlier ..."

Rumour spread around the ground during the halftime break that Bell would be making his appearance, and a haze of murmour and excitement drifted across the packed ranks of the Kippax. As the team came out, there was no sign of Bell. He had been held back by Book so that he would enter the pitch isolated from his teammates. Book knew full well what was about to happen.

Bell trotted slowly out at the back of the group to an incredible, moving round of applause, which gradually built until the whole ground was on its feet and a rapturous ovation rang around the old stadium for what seemed like minutes on end. Grown men reached into their pockets for handkerchiefs as the slightly stooped figure of Bell also wiped his eyes at the greeting he was receiving.

An inspired City went on to beat Newcastle 4-0, the start of a seven-game winning streak. Bell went on to make a handful of appearances in the sky-blue shirt, scoring and making some crucial goals before he was forced to admit defeat in 1980, retiring after a short stint in the U.S. after playing his 394th and final game for City in 1979. The agony in every step was plain for all to see from the sideline, but Nijinsky had given us all one last glimpse of the skills that had made him probably the most loved City player in the history of this club.

For one fleeting moment at Christmas nearly 40 years ago, nearly 46,000 people experienced a never-to-be-forgotten moment in their City-supporting lives. The King of the Kippax reigned once more.