Cup win a boost for away form confidence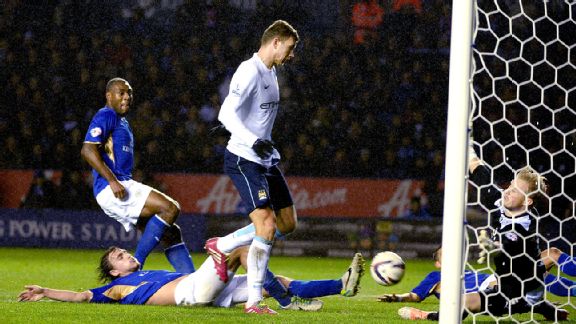 Ross Kinnaird/Getty ImagesEdin Dzeko's brace paced Manchester City past Leicester in the Capital One Cup.
If there is ever a team that can slip on a banana skin, it's Manchester City. So when the cubes were placed on the table following the Blues' last League Cup tie (cubes on a table doesn't have a patch on the FA Cup's balls in a bowl, let's be honest) and it paired City with Leicester -- the only remaining non-Premier League team -- away from home, the fruit was peeled and the exterior covering was tossed on the floor ahead of the King Power Stadium's visiting players.

As a quick side note -- has anyone ever actually slipped on a banana skin? They're more leathery than slippery, which surely just gives it a bit more grip than anything else? It only ever happens in cartoons.

Anyway, where were we? Oh, yes, Manchester City's victory at Leicester.

- Report: Leicester 1-3 Manchester City

The funny thing about the Blues this season is that while their away form hasn't been great, it's been exemplary in every competition BUT the Premier League. In both the Champions League and (now) the League Cup, the club have played five and won five away from home. In the Premier League, it's played eight, won two, drawn two and lost four.

Clearly, Manuel Pellegrini saw the opportunity to get another away win on the board, as he named a team that had a huge chunk of the City Twitter folk surprised that he was playing a "strong side". Despite the eight changes from the starting 11 from Saturday's lunchtime win, there were still several first-team regular starters in the lineup.

Perhaps the Chilean was regretting that decision, though, as Pablo Zabaleta limped out injured after a mere dozen minutes. With Micah Richards having done the same at Bayern Munich, the club is now suddenly short on right-sided full backs. Dedryck Boyata may fill in, as may James Milner, but with a month of fixtures that includes trips to Swansea and Newcastle and a home tie with Liverpool, someone "doing a job" is not what City need, especially given their defensive problems and instability so far this season.

However, there was another eyebrow-raiser in his selection before the injury to the sole remaining right-back. This one concerned his substitutes as, of a possible seven, Pellegrini named just six -- leaving out young striker John Guidetti and yet-again-just-back-from-injury Stevan Jovetic, both of whom were fit and available, yet remained off the team sheet. It seemed bizarre, given both would cherish the opportunity for any minutes they can get, but instead that seventh seat on the bench remained empty.

Despite the banana skin nature of the tie, the visitors dealt well with the challenges that were thrown their way. Both Vincent Kompany and Joleon Lescott coped well in the air under early pressure, while Aleksandar Kolarov sent a message to Yaya Toure that not every free kick should be taken by the Ivorian, though the Serbian's passing did leave a little to be desired at times -- the main desire being him keeping it in play.

Naturally, building on his performance in Munich, Milner was once again the best player on the pitch for the away side. He'd have been disappointed not to feature before the 71st minute against Arsenal, but he is an important figure for the Blues if they're to gain some confidence on the road. He just keeps going and appears to be made of metal rather than flesh and bones.

Then there was Jack Rodwell, who completed 90 minutes without breaking or needing maintenance. Given his performances at the end of last season, he could be an important figure in the Blues' bid to overthrow current Premier League leaders Arsenal and a strong box-to-box midfielder when Fernandinho or Toure aren't available.

He was quite involved in tonight's League Cup tie, too -- battling well in the middle, showing some deft touches and neat feet, even if his shooting was a little wayward, to say the least. And that's being kind. Kasper Schmeichel could have headed for the corner flag as soon as he saw Rodwell lining an effort up.

The blot on the copybook remains the lack of the clean sheet, once again. There was little Joe Hart could do about the deflection off Kompany's knee, but that Lloyd Dyer had time and space to carry the ball in the box before shooting is a concern. The ease at which Boyata allowed the inside pass to be completed must also be a worry -- it's not good for players to switch off, even if the score is 3-0 at the time.

Overall, it's now eight unbeaten in all competitions for City -- with four of those matches being away from home -- and one gets the impression that Pellegrini's men are building some sort of momentum. They've not struggled for that when playing at the Etihad; it's been travelling the country where they've had their issues keeping it going.

Wednesday night's semi-final draw should provide an interesting tie. All that can be said for sure is that it will be Premier League opposition for the Blues, though the last two times City have progressed to this stage, they have lost out -- to Liverpool in 2011-12 and Manchester United in 2009-10.

Even so, this is a golden opportunity for Pellegrini's first trophy.