Electric City zap Gunners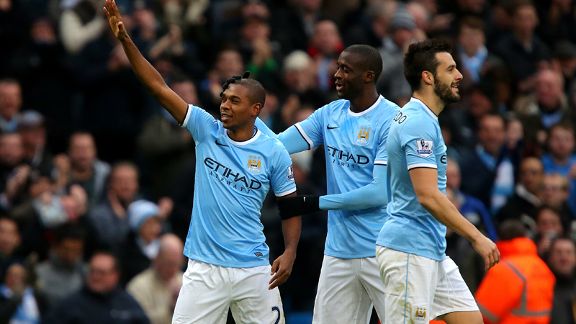 PA PhotosMan City's star performer Fernandinho celebrates his goal against Arsenal.
Arsenal, the Premier League leaders, arrived at the Etihad Stadium with the lofty intention of opening up a nine-point gap between themselves and Manchester City. Their erudite manager, Arsene Wenger, spoke in gentle tones of the positive pressure to show what they could do and, turning his face into a wrinkly grimace, the negative pressure City would be under trying to close the gap. By the end of this pulsating match, in which his league leaders had been utterly pulverised 6-3, it was clear the Frenchman had got his electrons and his protons severely tangled up.

One is well aware of Manchester City's home form and their liking for a goal or two (I don't need to list the cavalcade of astonishing home results this season, however much I would like to), but to smash six past the leaders and have clear opportunities to double that score leads one to the only conclusion a right-thinking human could come to: This is the best team in the Premier League; it is the most potent attacking force in the country; it is a team that, even with only a slight upturn in away form and results, will be crowned champions in May 2014.

- Brewin: On this form, title is City's to lose
- Mangan: Arsenal self-destruct against ruthless City

Having beaten Bayern Munich with the reserves in midweek, City were clearly in no mood to dally about in this crucial head-to-head. It took fully seven minutes for Arsenal to make any meaningful progress out of their own half. If this had not set the alarm bells ringing among their support, it took this correspondent 27 minutes to realise star playmaker Mesut Ozil was actually on the pitch. City's grasp of midfield was so complete that only feisty Jack Wilshere and willing Aaron Ramsey were visible. Ozil had already completely disappeared, as he did earlier in the season at Old Trafford, and Theo Walcott, although to play a more than active part later, had disappeared with him.

City's tight passing, fast running, space-eating midfield of Fernandinho, Yaya Toure, David Silva and Samir Nasri were weaving such a tight sticky web of pass and move across the central section of the Etihad turf that Arsenal were completely bound, barring the occasional flailing leg hanging out the side of City's formidable structure. With Sergio Aguero and Alvaro Negredo firing on all cylinders further forward, one wouldn't have been surprised to see a little white handkerchief stuck haphazardly to the end of a stolen stick, waving from amid the Arsenal middle orders.

But give the league leaders their due. Arsenal kept coming, made a chance or two (more than that later on as the game grew to resemble a basketball match), and played a full and active part in what was to develop into one of the Premier League's classic matches. The ebb and flow, the balletic movement, razor-sharp passing, blurring one-touch football was a feast for the eyes, as the ball travelled around the pitch at dizzying pace, as if on a giant never-ending thread. A golden thread for City.

Arsenal, leg weary against Everton last week and practically legless by the end of their match in the San Paolo in midweek, were run ragged by the end. Punch drunk, they kept coming forward, as if driven by Wenger's droning mantra of play, play, play. A laudable ethic, but they were picked off with increasing hunger by City's startlingly well equipped little middle order dynamos. Silva's artistry and vision, Yaya's pounding forward impetus, Nasri's obvious hunger for a goal against the old foe, all helped peel back the Arsenal resistance, but one little man stood out, even in this thunderously positive showing by all members of the team.

Stand up and accept the tumultuous applause coursing down off the stands, Fernandinho, for a true master class of dink, dig, flick, pass, run and shoot. Shoot! At last a goal for the little Brazilian maestro, offered to him by Bacary Sagna's gift-wrapped pass. And then, of course, after a drought like this, another, showcasing drive, determination, balance and touch, as he dinked the fifth goal past a shell-shocked Wojciech Szczesny in the creaking Arsenal goal. If little angels in short skirts had danced along the crossbar, the scene could not have been more complete.

With Arsenal reduced to mincemeat and substitutes Jesus Navas and James Milner ripping down each flank, we were left to feast our eyes on the mightiest attacking force to wear the sky blue shirts in living memory. Thanks must go to Senor Pellegrini for the unmatchable treat he is turning this 2013-14 season into for all City supporters. In fact, City supporters or not, one would imagine it difficult enough, whichever club you support, not to stand and applaud a performance like this.

It is not the first time City have demolished opposition this season. It is not even the first time City have demolished high-quality opposition this season, but it still has a resonance and a meaning no other league game so far this term has carried.

Manchester City, in wiping aside the challenge of the clear league leaders, have put down a serious marker for the others. This is the place you will have to come and do the business. If not, expect to be zapped.