Optimistic City ready for Gunners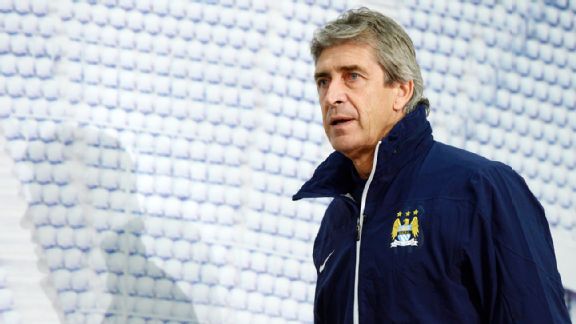 CHRISTOF STACHE/AFP/Getty ImagesManuel Pellegrini's Manchester City have a habit of trouncing oppontents at home.
I can't begin to explain why, but I've always enjoyed weekends when Arsenal have come to town, even though Manchester City's record against them is actually pretty poor. It's been only in recent seasons when the Blues have been a match for the Gunners -- aside from that one year Joey Barton netted a penalty and Thierry Henry conspired to hit Nicky Weaver with every shot he took. That spot kick, for the record, was a tenth of all of City's home league goals that 2006-07 campaign.

- Curtis: Two reputable men go into battle

Times have changed since then. In fact, the Blues have won two more trophies than their opponents for this weekend since that 1-0 home win in August 2006.

Despite a few seasons in the competitive wilderness, where the Premier League title was contested by first Manchester United and Chelsea, then Manchester United and Manchester City, it's difficult to make a case that the Gunners haven't propelled themselves back into the mix. They're the early-season pacesetters, in a manner that is quite reminiscent of City's opening to their 2011-12 title-winning campaign: Then, the Blues had 38 points from their first 15 games, while now Arsenal have 35.

As much as it is a tradition -- their form implodes somewhere between March and May, leaving the North London club to finish third or fourth -- they look an entirely different team this season, with the signs being that they're at the top for the long haul. With City six points behind their visitors this weekend, a win is vital.

The good news for the Blues, though, is that -- no matter how tough their opposition is -- their home form is nothing short of exemplary. In their last title-winning campaign, City had played and won seven at Eastlands, scoring 24. This season, their played-to-won ratio is the same, but now they've netted five more.

Arsenal, though, haven't looked as domineering in recent weeks as they did earlier in the season. Everton had a lot more possession than most away sides will have at The Emirates, while Hull were stubborn there in the midweek. Of their past five league games, Arsenal have won three, drawn one and lost one -- it matches City's form book over the same spell.

However, since City last conceded at home in the Premier League (Romelu Lukaku's opener for Everton at the start of October), the Blues have scored there 19 times. No matter how well Arsenal are playing this season, they won't fancy their chances at The Etihad.

The Gunners haven't enjoyed trips to Manchester in recent years, either. They won just one of their past six visits to Eastlands (in all competitions) -- and City had problems in that game, having gone down to 10 men after just three minutes. Over those six games, the Blues have scored twice as many as their opponents.

In terms of connections between the clubs -- and there isn't enough bandwidth in the world to go into too much detail, given how Arsenal were virtually a feeder club to City for a few seasons -- there's a lot of recent history. In City's current squad, three have played for the Gunners (Gael Clichy, Samir Nasri and Richard Wright), while some recent departures were regulars at The Emirates too -- Emmanuel Adebayor, Kolo Toure and Patrick Vieira, for example. All of these players, with the exception of Wright, played a large part in City's turnaround from midtable obscurity to title challengers, as well.

Coming off the back of a win in Germany -- and some win it was, given Bayern Munich's Champions League home record and their status as reigning champions -- City will be full of confidence, while Arsenal will be looking for a reaction to Wednesday's defeat in Naples.

This is by no means a must-win game for City; however it wouldn't be ideal to be finishing the game with less than three points. A nine-point deficit at this stage of the season would be recoverable (let's not forget the Blues managed eight points in four matches in 2011-12 to win the title from a Manchester United side used to grinding out results when needed), but equally reducing the gap to three points would make a lot of fans feel a heck of a lot more comfortable.

With David Silva back fit to play, the mood in the Etihad should surely be optimistic. Chance creation hasn't really been a problem for City, especially at home, but more creativity -- especially against the strongest team in the league so far this season -- is always welcome. If the Spaniard can combine with Nasri, and Alvaro Negredo and Sergio Aguero's partnership continues to flourish, the hosts should cause their visitors all sorts of problems.

However, City's fragile defence still has a few leaks that need plugging, as Martin Demichelis hasn't looked truly comfortable on the left side of defence -- and, with Joleon Lescott available, Manuel Pellegrini will have more than mathematical questions to answer at full time if there are problems again.

Manchester United have come to Eastlands and left with a beating. Tottenham have come to Eastlands and left with a beating. Arsenal come this Saturday lunchtime ... It should be a cracker -- and City fans will be hoping another one of their rivals leaves with their tails between their legs.