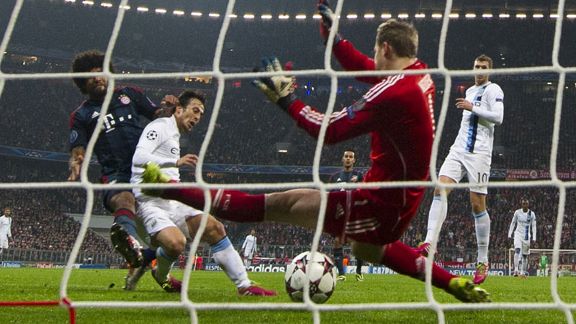 APDavid Silva got Manchester City back into the game at the Allianz Arena.
When the ball nicked off Bayern Munich goalkeeper Manuel Neuer's heel in the 79th minute of this match at the Allianz Arena, Manchester City were probably about three centimetres away from topping Group D of the Champions League. Dante, doing a passable impersonation of a totem pole in a thick mist, got his brain mixed up with his limbs, allowing Alvaro Negredo to steal the ball from him and close in on goal down the right channel. The shot was dispatched with enough power and accuracy toward the back post, and Neuer, making himself as large as possible, made his crucial if somewhat unorthodox save. A 4-2 advantage for City would have placed them first in the group, taking away the possible pitfalls of visits to Barcelona, Real or Paris St Germain in the knockout rounds.

Actually, on this showing, there might not be too much of a problem with this.

- City fightback stuns Bayern

Immediately before this match began, and again after a quarter of an hour of it, one might have thought it better not to bother with the competition at all. Manuel Pellegrini, aware of the showdown with Arsenal in the Premier League this weekend and with City already safely qualified in this 2013-14 edition of the Champions League, had chosen to leave out Negredo, Sergio Aguero, Yaya Toure, Samir Nasri, Vincent Kompany and Costel Pantilimon. The heart bled for Joe Hart and Micah Richards, for new captain Aleksander Kolarov, for James Milner and Edin Dzeko, all entrusted with trying to keep the rampaging Bayern Munich, chomping on five consecutive victories in this competition and fresh from a 7-0 away win at Bremen at the weekend, at bay. This correspondent prepared for one of those fabulous, old-style City match experiences in which one has to watch the game from behind a latticework of clenched fingers.

Sure enough, after 15 short minutes of pure bedlam in City's ranks, the game was over. Bayern, purring and strutting, were already two up and looking good to surpass their handsome weekend haul. Already, Joe Hart and Joleon Lescott had re-enacted that famous Keystone Cops routine where they chase each other around a piano until it finally lands on the big one's foot; hilarious stuff but not at all appealing at this stage of an important European night of football. One looked at Pellegrini's defence of Micah Richards, Martin Demichelis, Lescott and captain Kolarov, shielded by the penny farthing-paced Javi Garcia, and one began to nibble voraciously at the finger nails.

Maybe we will never learn. This is Manchester City after all, and funny things do, can and have happened before. Richards, clutching his thigh, was deemed unfit for purpose and was replaced by Pablo Zabaleta. City's new right-back proceeded to offer a masterclass of how to shut out the European Player of the Year. From being a dagger-like threat every time the ball came into his possession, Frank Ribery suddenly floundered, huffed and finally puttered to a halt.

Meanwhile, odd things were happening elsewhere in the City team. Demichelis began to strut and command his area, blocking here, sliding there, Garcia started to find his passes and interceptions came thick and fast, on the flank Navas and the spectacular James Milner found joy, whilst Dzeko gave the Bayern defenders something to think about. If these items were of more than mild surprise, what was not was the probing of the returning David Silva and the lung-bursting performance from little Fernandinho. Time and again he broke up German possession and dragged City back onto the front foot. Light-footed and frail he may seem, but the little Brazilian has a heart of oak and never gave up the chase here.

The largely unsung Milner was upturned for the equalising penalty and then shot a remarkable swerving placed shot past Neuer after Dante and his defensive accomplice, Jerome Boateng, had got themselves in a terrible flap. One half expected the pair of them to produce big, red noses, orange wigs, and enormous, bulb-ended shoes with stripy socks from a hidden knapsack, so slapstick had their attempts to cut City out become. Up in the gods, Herrn Rummenigge and Hoeness looked like they had stepped in something unmentionable, undoubtedly deposited there by some grunting, scruffy English bulldog.

And so ended a match which had begun with City fans worrying frantically about a slow and cumbersome defence perhaps being the reason for embarrassing defeat in Southern Germany. In the end, that was exactly what transpired, but the culprits with the shiny, red noses were all on the home side, not in the visitors' ranks. In the end, the width of a goalkeeper's heel was all that separated brilliant, majestic Manchester City from top spot in the group. A 15-point haul will come as some recompense for the tremendous effort put in and the giants of Europe can begin to prepare for the visit of Pellegrini's marauding side.