Point gained for Man City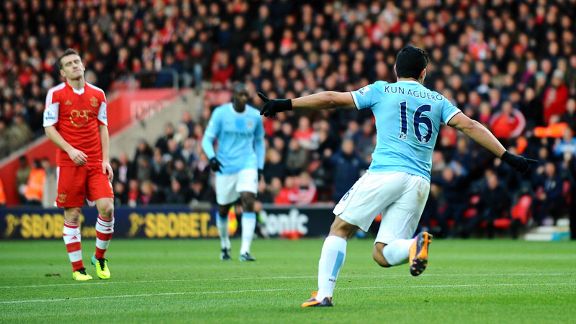 PA PhotosManchester City's Sergio Aguero celebrates opening the scoring.
Anyone who witnessed Manchester City's toils at The Dell, the home of Southampton up to 2001, a compact masterpiece by Archibald Leitch, who also designed iconic grounds for Rangers, Everton and Sunderland, amongst others, will well remember the feeling that the place always seemed fit to pop.

The term "cramped" could have been invented for Southampton's ancestral home, with its shoe-box stands and two inches of burnt cinder between touchline and crowd. Mike Channon, Alan Ball, Steve Williams, even the lumbering, bandy-legged Ivan Golac all gave City the runaround in that atmospheric little place.

- Brassell: Saints surge back
- City pegged back by Osvaldo strike

Southampton now play in the expansive arena of St Mary's, a big open modern ground, with all the typical functional lines of the must-have up-to-date football arena, but City's fortunes there stubbornly refuse to change. Quite how the home team managed to make City feel as crowded out in this new stadium in the 1-1 draw on Saturday as they had done time and time again in the 70s and 80s at The Dell is worth considering for a moment.

The home side, with two defeats behind them and three first teamers absent, will consider themselves unlucky to have gained only a solitary point for their endeavours from this encounter. Their side is packed with young energetic talent and they took the game to City, despite falling behind to another piece of clinical poaching by the in-form Sergio Aguero after only 10 minutes.

Aguero despatched Aleksandar Kolarov's left wing cross with a crisp swing of the left foot, but, when he was presented with a better chance on his usually more potent right foot, he skied it. Along with the ball, searing towards the black clouds hanging over St Mary's, went City's realistic chances of a win.

Given the reams of news print produced concerning City's catastrophic away form, four points from consecutive visits to West Brom and Southampton must in fact be applauded. Whilst rivals United managed to lose a 21-year unbeaten home record to Everton and a 41 year one to Newcastle United in the space of four days, City have managed to stay more or less intact from two testing road trips.

The gap to Arsenal is not huge. Chelsea, staggering off the pitch battered and bruised and beaten at Stoke, are within touching distance. One week from now, Manchester City will dust down their 100% home record and welcome league leaders Arsenal out onto the Etihad pitch for a proper game of football between the two sides playing the strongest, most convincing football seen so far in this 2013-2014 season.

That match and the result it delivers will tell us a lot about how the title race might run after Christmas.

And there, in the last two words of the previous sentence, is the crucial point. It is early December. The season's halfway mark has not yet been reached. There will be plenty of time to panic in February and March, but, right now, things are ticking along smoothly enough for Manuel Pellegrini and Manchester City.

In dissecting City's performance on the South Coast, anyone with a decent pair of eyes would have agreed that Southampton were clearly the better side. Watching their young, predominantly English players passing their way through City's midfield and defence with searing one touch play, you would have been surprised to hear that star players were missing and that form was currently heading downwards. They played with a tempo and an urgency that City could not match for large sections of the game and came closer to snatching the three points than the Blues.

Pellegrini's insistence on playing the likes of Martin Demichelis, Javi Garcia and Edin Dzeko (the latter two as substitutes) continues to baffle. Demichelis continually gave the ball away when trying to link to the overrun midfield two of Yaya Toure and Fernandinho, whilst the two others are infamous for their heavy first touch and slow pace.

It was unclear from this match, whether the manager thought the risk of playing Aguero and Alvaro Negredo was too great, as he brought the Spaniard off, but later brought Dzeko on to re-bolster an attack that had not functioned well all afternoon.

"We lost control," Pellegrini said afterwards, but, in truth City were never in control of this game despite leading early on.

They were second to many loose balls in midfield and were harried out of their normal imperious pace by a home side prepared to graft and to run fro their rewards. That early City lead was never built upon and, by the time the final whistle sounded, the wide open spaces of St Mary's were beginning to close in on them just like the bad old days down at The Dell.