City out to exorcise St Mary's demons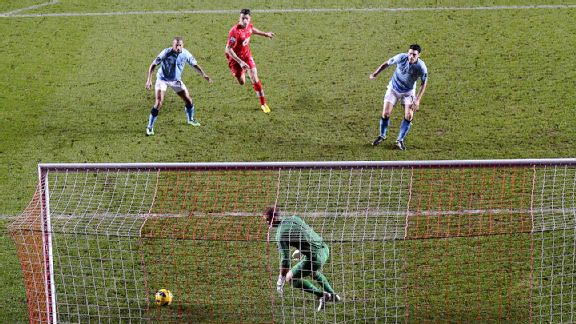 Mike Hewitt/Getty ImagesManchester City return to Southampton this weekend where they endured arguably their worst defeat last season.
If there's one thought that's bouncing around the minds of Manchester City fans this weekend, it's probably along the lines of this: "Whatever happens on Saturday, come rain or shine and no matter how badly the team is performing away from home, surely it can't be worse than what happened here last season?" The Blues are at Southampton -- the scene of the worst performance of the 2012-13 campaign.

- Curtis: Five early Christmas presents
- Report: Silva could return vs. Bayern

In fact, it was so bad last time there that, when I had to nominate a man of the match for my own blog, it became the first and only fixture in my 291 match reports and five years, four months of blogging round-ups that I just couldn't pick anybody out. Normally in a bad game, there's somebody who is less-bad than everybody else. But not last time at St. Mary's.

Watching it unfold was horrible. It was arguably the game where Joe Hart's form began it's now ten-month dip, as the second goal of the game came directly from his error. A long-range shot was a comfortable take, but it was spilled to the feet of Steven Davies, who was presented with an open goal.

It was also the fixture in which Gareth Barry's future at the club started to become doubtful. The man who had been an instrumental part of the turnaround at City and a key figure in both the FA Cup win and Premier League title under Roberto Mancini, had easily his worst game in a blue shirt. He irresponsibly gave away possession to Jason Puncheon to allow the Saints to open the scoring inside seven minutes.

To top that off, he put the visitors completely out of the match, slotting past Hart very neatly from a low Rickie Lambert cross -- when he had so much time to do almost anything else. He couldn't have finished his back-pass better if he'd tried.

St. Mary's hasn't been a happy hunting ground for the Blues -- though it's not been a place they've been visiting with anything other than semi-regularity, given it opened in 2001 and both Southampton and City have been flirting with the Premier League and Championship since then. In terms of away record there, it's played four and won one for City.

The Blues' form against Southampton isn't brilliant overall (though, it does have to be said that the stats are skewed slightly by a lack of meetings since City have been title-challengers rather than mid-table obscurity merchants). On the road, the club have won just ten of 39 visits to the Saints -- losing almost twice as many.

Southampton -- and Anders Svensson, in particular -- also hold a particularly sour honour for City fans in that they were the final ever visitors to the old Maine Road stadium, where they won thanks to a header from the Swede. Then goalkeeper Paul Jones was also part of that, as he saved on several occasions from Nicolas Anelka.

It did come as a slight bit of revenge, as City had won their final match at The Dell thanks to goals from Danny Tiatto and Paul Dickov.

In the two clubs' history, there have been some links between the sides. One of the more notorious links came in the mid-1990s, as Blues chairman Francis Lee nabbed manager Alan Ball from the Saints to successfully lead the club to relegation in his first season. Former manager Mark Hughes also played for Southampton, notably getting sent off in a League Cup fixture against City for an elbow on Richard Edghill.

Kevin Keegan also played at The Dell before managing at Maine Road, while one of his signings in Eyal Berkovic had a spell on loan on the south coast. Meanwhile, one of the Blues' great captains -- Dave Watson -- went on to play for Southampton following a short stint at Werder Bremen, while of the club's less-great left backs started his career there: Wayne Bridge.

And I guarantee that's the first time Watson and Bridge have ever shared a sentence.

However, this weekend is going to be a tough test for City. Despite a win in midweek on their travels, there will still be question marks about the club's away form. One victory doesn't make a season -- and the club will need to put a run together to make sure they're not consistently shooting themselves in the foot. Had the game with West Brom finished 3-0 (like it should have done), the feeling would be more confident, but those two late goals will give rise to a sense of nervousness.

That said, the Saints have hit a bad patch recently, having lost three in a row, and they could be without eight first team players, if reports are to be believed. Victor Wanyama and Nathaniel Clyne have been added to Mauricio Pochettino's injury list, while the defence has looked a little suspect without Artur Boruc behind them.

If the Blues are to be considered with a chance of winning the title this season, their away form needs to turn around. That can start with back-to-back victories -- the first of which was completed on Wednesday. Even in December, it's a crucial match.