Nasri's star in the ascendancy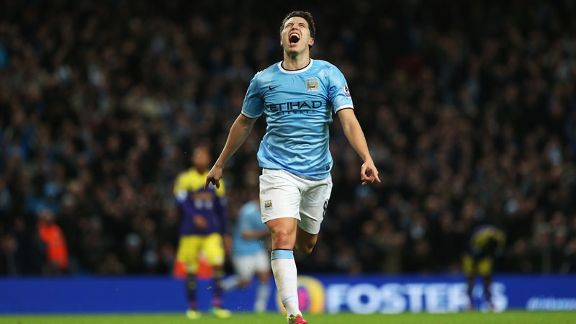 GettyImagesSamir Nasri celebrates his second and Manchester City's third against Swansea.
It is a widely held opinion that, when Samir Nasri lifted a genteel leg in the dying seconds of last season's Etihad Manchester derby almost 12 months ago, the free kick struck by Robin van Persie memorably rearing up off the cowering, half-creased figure of the Frenchman, nominally the "last man in the wall," United began to seal their title comeback season with more than just half-hearted hopes and wishes.

Nasri was pilloried for a dereliction of duty on such a grand scale, one wondered if he would ever really make it at City. The talent was there in abundance, but the application was often missing. One only had to look at City supporters' real hero, the gritty, run-through-walls Pablo Zabaleta, to see what the home support required from its men in blue shirts. While Zabaleta would leave the pitch covered in blood, Nasri would often be replaced before the end, departing to half-hearted applause for another job half-done.

- Nasri at the double
- Jolly: Three things-Manchester City vs. Swansea

While United went on to seal the title as a farewell gift to Alex Ferguson, City stumbled over the finishing line a distant second and Nasri retired to the quayside bistros of Marseille and Miami to lick his wounds.

With a change of manager comes a change of tack, however. Some players come, some players go. Those who stay put shift uncomfortably as they wait to see if they will make it as the apple of the new man's eye. Zabaleta, typically for him, is still there, zooming up and down the right flank like a tank with no reverse gear. On Sunday, he completed a sterling 100 percent of his passes against a Swansea side that had come to try to do exactly the same. It would take some kind of manager to shift the Argentine from the side on any grounds, one would suppose, but others were not so sure of their places.

Nasri, for example, was a different story. Chipper of character, prone to looking on the lighter side of things, it has been sometimes easy to ask oneself if his heart is really in it, if he really wants to squeeze every last ounce of talent from that athletic, well-balanced little figure. Manuel Pellegrini must therefore be congratulated on the job he has done on the little midfielder. City fans are seeing a Nasri seldom been seen before, certainly never on such a regular and reliable basis.

Against Swansea, he found himself among kindred spirits, the away midfield determined to carve as many pretty sculptures as the blue-shirted artists they were facing. It led to a match that was perhaps low on the passion that Zabaleta thrives on, but high on the aesthetically pleasing shapes that make tacticians and casual observers alike purr with delight.

After a first half where the powerful Alvaro Negredo turned to precision to give City the lead, the second period developed into a riveting ebb and flow of pass and move, orchestrated in the middle and down the flanks by the little Frenchman. That he ended the match with two goals -- and should really, with a little more composure, have completed his first Manchester City hat trick -- tells the story of what was the complete midfield performance.

City versus Swansea is a match with sparse history. The sides had only met 25 times before, mainly spending the long years separated by more than one division. Some older in the tooth will remember that it is a fixture, however, that has supplied grand artistry before. As far back as 1981, when Asa Hartford flicked a cheeky free kick up in the air for Dennis Tueart to smash into the top corner on the volley, City-Swansea matches have been leaving us all with unforgettable snapshots to place in our collective memory banks.

Fast forward more than 30 years and the sides find each other in rude good health, organised expertly by two managers deeply concerned by winning the right way, as people like to call it these days. Football will not die from a lack of beautiful football. There are too many people desperate to win by any means, foul or fair, to make this a risk.

But in the hands of the likes of Pellegrini and Michael Laudrup, the sport will surely continue to prosper as a spectacle, as they carve their sculptures with an eye for the fine line.

With such artists in charge of proceedings, the likes of Zabaleta will always be needed to balance the lighter creative players who are responsible for the mesmerising beauty we witness on a weekly basis. That this artistry now comes in spades from the little imp Nasri, who trudged off the Etihad pitch a year ago with his head bowed low, is a tribute to his manager. Primarily though, it is a tribute to the player himself, and for that he is to be offered the highest praise.