Man City's squad players missed their chance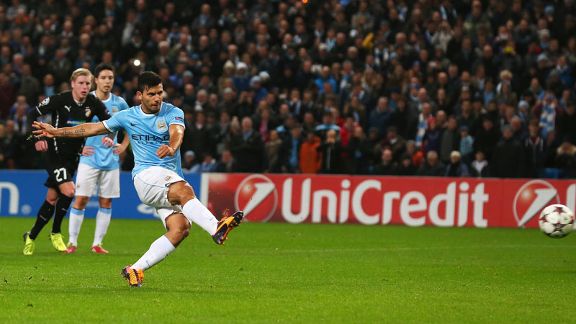 GettyImagesAguero slotted home from the spot to continue his fine goal-scoring form.
What happens when a team that has already qualified for the last 16 of the Champions League hosts a team that is already out of the competition? Fans are "treated" to a nailed-on 0-0 draw that somehow produces six goals. To say Manchester City's 4-2 win over Viktoria Plzen was a damp squib is to vastly underestimate how moist said squib actually is.

A flat feeling encompassed a stadium that witnessed a dull first half. From City's point of view, that was disappointment -- there were several players looking to impress, yet few stood out. A symptom of having qualified? The effect of seven changes? Even so, a disappointment.

Manager Manuel Pellegrini spoiled the surprise of a recall for keeper Joe Hart by announcing it would happen straight after the 6-0 drubbing of Tottenham. Eyes were on the England goalkeeper to impress; he didn't especially have chance, though did pull off a few good saves and claim some crosses under pressure. However, some question marks remained over his distribution as he belted it out of play for the third time in the first half.

- Jolly: Three Things: Man City vs. Plzen

Edin Dzeko -- a man who has taken to Twitter to remind City fans that he was a part of the 2012 title win, and who told the Daily Mirror that he wanted to play more often -- was given his first start in a month. And it was a classic Dzeko display, featuring under-hit passes, ambitious shots from range with better options elsewhere, a first touch that could rival any defenders' clearance ... and a goal. Credit where it's due, the Bosnian doesn't need to be playing well to score -- though he must be the most frustrating striker to watch, for that exact reason.

James Milner, meanwhile, is the type of player who doesn't moan when he is regularly benched. Since joining the club, he's not really been given the chance to excel, but has been a consistent performer for someone who plays two, misses three, plays one, misses six, plays four, misses two. His performance Wednesday evening wasn't really earth-shattering, but rather more distinctly average.

Since Matija Nastasic has come in and performed very well for somebody his age in that left centre-back role, Joleon Lescott (a regular in 2010-11 and 2011-12 when the Blues had the best defence in the league) also hasn't had the game time he would like. Another one not to whinge, he's been quietly getting about his business through a few starts and substitute appearances.

However, thrown in a European tie where the pressure is off, and Lescott looked suspect on more than a couple of occasions -- diving in where it was unnecessary or being caught getting attracted to the ball as his man peeled into space.

Finally, there was Micah Richards -- who still gets the benefit of the doubt through having recently come back from injury -- but my concerns of a week and a half ago were still present. He was caught napping a few times, recovering only because of his pace, while his positional sense seems to have vanished from the version of him that was part of City's title win roughly 18 months ago.

All of that said, however, it's probably very harsh criticism for a team that won 4-2 in a match where the result didn't matter. Therein lies the biggest reason why several players struggled to impress: The Blues could have lost by 15 goals and still they'd have been playing in the knockout stages of the Champions League come February.

Yeah, the result does give City the chance of topping the group -- but it's probably going to need a miracle. Not only does the club have to win in Munich, but they have to better Bayern's 3-1 win in Manchester. And they'll have to do it without Yaya Toure because he was booked on Wednesday evening.

All in all, it was a decent day at the office -- but nothing more. Speaking after the game, Pellegrini hit the nail on the head: "I'm satisfied because we won the game, but we didn't play well; we didn't play with intensity."

It does bode well, however, that the Blues can sit in first gear and still bag four goals. The job was done and thoughts can now turn to Sunday's Premier League encounter with Swansea -- Wednesday night's match isn't going to linger in the memory for too long.