Where do we go from here?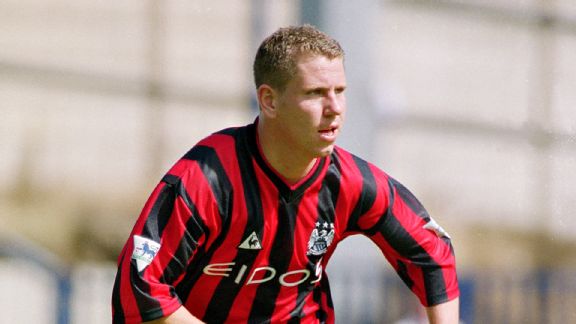 Getty ImagesOld-time Manchester City fans won't soon forget the work put in by players like Lee Crooks who helped the club elevate itself from lower league football.
Much air has been breathed in and exhaled again in the dispute over football's place in the grand scheme of modern things and, far be it from us simple followers of the great game to attempt to lie down in front of the trundling tank wheels of progress, just as the vehicle is picking up some decent pace, but one sometimes wonders exactly where the vehicle is headed in such a massive pall of exhaust smoke.

Manchester City supporters are particularly touched by this debate, being the grateful recipients of a shiny new team, club and existence in the higher regions of the sport's stratosphere. We breathe rarified air these days, that is for sure. Old hands like this correspondent remember days when the club was down to its threadbare last set of clothes, relying almost completely on the patience and good character of its supporters to persevere with a severely malfunctioning football team that possessed what seemed like a deeply dysfunctional view of how the future might be shaped.

- Report: Aguero: Away form may cost us

On Saturday 14th February -- oh the irony of love requited -- 1998, one of our brethren marched onto the pitch at Maine Road and ripped his season ticket book into shreds, with nearly 30,000 understanding witnesses nodding sagely from the sidelines. Bury's Paul Butler had just put the away side into the lead 52 minutes into a match that they would hold on with reasonable comfort to win. It had come to this.

Deep despair, football unrecognisable from what we had been brought up on and a team of misfits and plumbers who didn't know their left leg from a stick of rock. Frank Clark, a guitar strumming chap of mild manner, with an audible lisp and a penchant for solving fractious group problems with a brief session of strummed melodies, was the man in charge, overseeing a kind of a Change of the Guards but without bushy hats, without ceremonial rifles and even occasionally without trousers and socks. The stadium was falling apart, the scene of a thousand vigorous memories leaking everything from nightmares to hopes through the slatted roof and the crumbling red brick walls. Manchester City were heading towards decay and destruction on a grand scale.

In those days, a simple unreconstructed time lacking any sort of supporter feedback let alone global platforms for airing your grievances, the only thing one could do was gather in a motley and dishevelled bunch on the forecourt and shout half-choreographed obscenities at the chairman from a distance of two hundred metres through six brick walls.

Unsurprisingly, it changed little. Soon after, City descended to the third tier of League football in England for the first time ever. It was the worst of times, the darkest of times. Manchester City would start the following season against Blackpool in the league and meet the likes of Halifax and Darlington in rounds of the FA Cup that they had never inhabited before. There was Mansfield Town too, in a cup that we had never heard of, plus York and Lincoln, Wycombe, Gillingham; Walsall and Macclesfield.

And yet.

And yet there was something. An undefinable feeling of togetherness, of vitality, of simple and unexplainable human suffering, admittedly on a pathetically shallow level, but nevertheless real and oozing hurt. It was only a football club after all. This was not Darfur or the Golan Heights, but it still kind of mattered to quite a few people quite deeply. What happened next is well documented. City rose from the dirty ashes, backed by near-full houses in the third division as the team, packed with old soaks and young strays, overcame Wrexham and Chesterfield, Swindon and Millwall on its gentle painful ascent out of the clinging quagmire.

The likes of Gary Mason, Lee Crooks and the Fenton twins will not strike a chord of any sort with City's global following today, but to those of us who were there through this true living nightmare, it -- and they -- are quite impossible to forget, however hard we may try. Today, the club's fans are asked to be patient with the likes of Sergio Aguero and Edin Dzeko as these global icons attempt to manoeuvre the club ever closer towards the continental elite. It has been an eye watering change of scenery, pace and expectation. Reality has been twisted through a funnel and reconstituted before our disbelieving eyes.

And here is the crunch. Some City supporters may feel they are losing their identity. Winning and winning on a grand and frequent scale are still foreign elements to those of us, who saw Bury and Darlington make us sweat fifteen short years ago. In many ways, the club may now be closer to where history intended it, but what the fates dealt us all in the 80s and 90s has made many wary of extravagant success. It is only with carefully thought out steps in the right direction that those who stood in the rain in far off towns, in dilapidated stadia, in hope rather than conviction, will feel comfortable making the transition too.