Johnson: A fallen star for club and country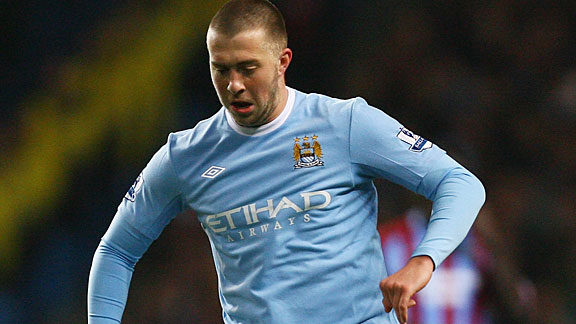 GettyImagesMichael Johnson was originally hailed as a promising talent after emerging from the academy
Following England's qualification for the 2014 World Cup against Poland roughly a month ago, an image appeared on Twitter that was printed in the Daily Mail back in 2007. It showed a potential national team for next summer's tournament in Brazil, based on players considered to be hot prospects for their clubs -- and with the internationals this Friday, it's found its way back onto the Retweet Trail.

• Curtis: Bunching at the top

Ignoring the fact that the Mail got just one hit out of a possible 11, the most staggering aspect comes in the centre of midfield, where a then 19-year-old Michael Johnson resided. It had been roughly a year since the youngster had broken into the Manchester City team and big things were expected of him.

In December last year, he was released by City and retired from professional football, aged just 25.

It had all started so brightly for the midfielder when he broke into the City team. In October 2006, he was given a start in the Blues' trip to the JJB Stadium and was perhaps the one beacon of light in a game that Wigan won 4-0; while the team gave a rabbits-in-the-headlights performance, Johnson played like he was a seasoned Premier League pro.

He didn't see any first team action again until the following March, when he started in City's 2-0 win at Middlesbrough -- which began the Blues' longest unbeaten run that season and virtually made sure the club would avoid relegation. He could also take a corner without hitting the first man, a skill that had eluded Joey Barton that year.

The next season, the midfielder wrote himself into the City record books by becoming the first player to score a Premier League goal at the City of Manchester Stadium since Georgios Samaras on New Year's Day. Eight months on (or just over 13 hours of football) from the Greek's penalty, Johnson weaved through the Derby defence, played a neat one-two with new signing Elano and used the outside of his foot to bend the ball into the top corner.

The future was certainly looking bright when he scored from a similar run against Aston Villa, this time at the North Stand end of Eastlands four games later. There were ridiculously premature comparisons to club legend Colin Bell. It looked like working under Sven-Goran Eriksson was doing him the world of good. Halfway through that campaign, though, things started to go wrong and the wheels came off his career.

Following the 2-0 defeat to Tottenham in the League Cup just before Christmas, the midfielder picked up an abdominal injury. During his recovery, he was also required to undergo a double hernia operation.

He played just nine more times that year.

After returning, he managed to see out the campaign injury-free. However, the club was in turmoil that summer, with chairman Thaksin Shinawatra having his assets frozen in Thailand, while new manager Mark Hughes faced a potential fire sale of first team players to keep the club afloat.

Johnson's start to 2008-09 picked up where he left off and, after missing a penalty in the UEFA Cup against FC Midtjylland, he looked like he was regaining confidence, culminating in an assist for Stephen Ireland's opener at the Stadium of Light (back in the days when City might win at Sunderland once in a while). But a recurrence of his abdominal injury after the next game -- a League Cup tie at Brighton and Hove Albion -- saw him ruled out for the rest of the season.

Throughout that time, rumours began to emerge that all was not well with the youngster. Fans claimed to have seen him around the town's nightclubs in a less-than-sober state, while his injury was clearly not getting any better as the date for his return continued to be pushed further and further back.

By the time he made his next appearance for the club -- which was to be his final in the Premier League in September 2009 -- he looked a shell of the man who had burst onto the scene three years earlier.

A month later, he scored a left-footed piledriver coming off the bench in a comprehensive home win over Scunthorpe in the League Cup after coming on with 20 minutes left. It was to be his last appearance in a City shirt, a serious knee injury ended his season in December 2009.

During the next few years, he appeared to fall off the face of the Earth, appearing now and again in anecdotes on message boards from fans who had seen him worse for wear -- with rumours of him visiting nightclubs, bars, pubs and casinos being commonplace. It would later be revealed in an interview with the Manchester Evening News that during this time he had been visiting the Priory Clinic, with mental health issues.

It looked like things might change for him as he was fit enough to sign for Leicester on a season-long loan in 2011-12, but he was sent back to City injured after just nine games.

In September 2012, he was convicted on two counts of drink driving, for which he was fined and banned from the roads for three years. By this stage, it seemed that everybody at the club had given up on the midfielder, and three months later he was released.

In the end, Johnson was a young man who couldn't cope with the pressures he was under and with the injuries he suffered. There will always be fans that will deride him for his actions, but, in truth, the one-time England starlet deserves sympathy more than anything else.

Had things gone differently after that game with Brighton, he could well have been on the plane to Brazil next summer.