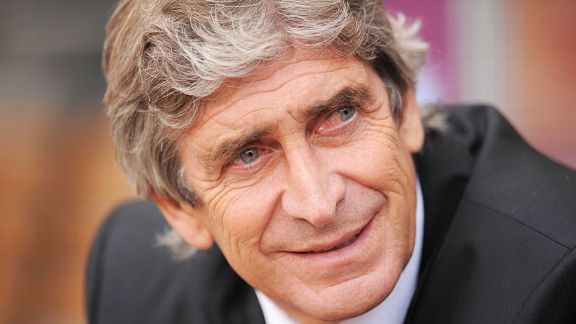 PA PhotosManuel Pellegrini will head back to the drawing board during the international break and should find much to work on.
FIFA's raft of international breaks continue apace, this time for the World Cup playoffs, so far featuring two unedifying mismatches between Asia/Oceania and South/Central America. Whilst Europe gets in on the act this weekend, the Premier League once again comes to a grinding halt. For some, the space to breathe will come as a blessing. Time to rest tired legs, count the walking wounded and patch them all up again ready for the off in 10 days' time. For others, it breaks momentum, takes away focus and puts a spanner in the works of a smooth start to the season.

With Manchester City clinging on to the early pace setters in an unaccustomed (these days) and, to many, unimpressive eighth place, the Blues most certainly fall neatly and unequivocally into the first category. Manuel Pellegrini has found himself positioned uncomfortably close to the end of the microscope after the reverse at Sunderland, which again featured a barrage of chances for the away side, unrelenting possession and overwhelming dominance, all leading to a quite extraordinary 1-0 defeat. If it is a test for one's powers of logic to work out how this defeat was grasped from the very jaws of victory, then it might require a Nobel Prize winner to explain how City have managed to conjure such an outcome on three other occasions this season.

As the saying goes, once is careless, but three times ...

Pellegrini, fresh from yet another press conference where he found it "incredible" that his men had managed to lose, must now complete his process of integration. This is England, or occasionally Wales, places where the so-called smaller teams do not always lie down and allow their bellies to be rubbed. Whether Valladolid or Zaragoza also allow this in reality is a moot point. City's new manager, now approaching the end of his first six months in the UK, must begin to show that he has learned his lessons, that he is beginning to come to terms with the football culture of his new home. The technique on Albion's fair shores may be a little threadbare at times, but the heart is full of hope and the legs most certainly are full of running.

Some would say, on the evidence of storming performances against Newcastle, Norwich and Manchester United, that Pellegrini has already been successful installing his modus operandi into the team. There is a fluidity and grace about them when they are on song that fair brings a tear to the eye. Tears were also close to appearing after the games with Bayern, Cardiff, Villa and Sunderland, however, and they would have been flowing for a totally different reason. How can a side that wiped the floor to such an extent against the reigning Premier League Champions that they deemed it viable to stop playing after 60 minutes manage to come so utterly unstuck against the gentle crab-like movements of Sunderland?

The notorious chaos theory may have been City's raison d'etre for more than half a century, but the club's owners have ploughed in their resources with the express idea of eliminating the success through failure syndrome made famous by Francis Lee forever. It has plainly not yet worked. Witness the manner that the league title was won two seasons ago. Witness this season's helter-skelter form, as City have hit the switchback with a vengeance.

The peaks and troughs so far this campaign seem even more accentuated than usual. Pellegrini and his staff, well used to the possible negative outcome of playing expansive attacking football, were probably always prepared for some early setbacks, but, as we slide inexorably toward Christmas with a hill of tricky fixtures piled up before us, they will know that this is where it gets serious.

Capital One Cup progress and Champions League qualification delivered early on a silver platter has bought them time. A league position of eighth does not have the alarm bells ringing quite yet, on the grounds that only six points split the top eight. One might also usefully point out that no one side is looking like opening up an unbridgeable lead, especially so after Arsenal's disappointing display at Old Trafford.

Much as it disappoints City's hardcore to see their neighbours winning such a crucial game, the result has kept the leading pack bunched pleasantly together. This can be good only for the spectacle, for the clubs involved and for the excitement of all fans of the Premier League as 2014 hoves into view. It may not eventually come down to an eight-team race for the title, but the longer the protagonists remain bunched together like they are at present, the better it will be for us all. For that at least, we may offer our early thanks to Mr. Pellegrini and his staff.