Failure not an option at Sunderland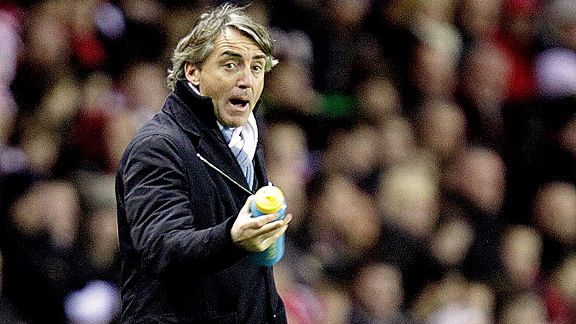 Graham Stuart/AFP/Getty ImagesManchester City's New Year's Day defeat at Sunderland last season did plenty to enrage then-manager Roberto Mancini.
When Sunderland got off to a pretty poor start to the season -- which is a rather kind way of describing the haul of one point from the opening eight games, or four points from the opening nine -- every single one of their fans will have been scouring the fixture list for the visit of Manchester City to the Stadium of Light.

- Curtis: Sailing towards the Light
- Report: Silva out for up to four weeks

And why? Well, because if there's one team that can habitually lose at the Stadium of Light, it's Manchester City.

With the Blues, Roberto Mancini won an FA Cup and reached another FA Cup final; he won the Premier League; he three times qualified for the Champions League; he won a Community Shield. But he never won on Wearside.

In his very first game there (all the way back in 2010), he scraped a 1-1 draw when then of City, now of Sunderland Adam Johnson netted in the third minute of added time to equalise. After that, Mancini visited thrice more and lost each time, 1-0, without really putting in a decent performance.

The last defeat at Sunderland, tinged with irony that Johnson scored for the Black Cats to win them the game in Mancini's final trip there, was also arguably the start of the reason why Costel Pantilimon is likely to experience his first Premier League away game at the Stadium of Light this weekend. Johnson's shot went right through Hart at his near post, and his form has been in decline since, culminating in that rush of blood at Stamford Bridge.

Hands up any City fans who are confident of victory this weekend. I'm going to go right ahead and put mine back down again because, while a victory should (should!) be the outcome, there are several reasons why this game won't be straightforward. That and it's pretty difficult for me to type one-handed.

It's not just the Blues' recent record there that's the issue. While the club have been in irresistible form at home -- they have scored 12 goals in the last three hours of football at the Etihad. That's a goal every quarter of an hour. But on the road, City are still feeling as delicate as student on a Saturday morning after a few too many the night before.

True, it's picking up -- the last minute screw-up at Chelsea was the club's only defeat in a run of four away from home, where the other three matches were won (West Ham, CSKA Moscow, and Newcastle) -- but it's still just one Premier League win when travelling this season. And compared to the 20 goals the Blues have scored in their five games at the Etihad this season, they've managed less than half that as visitors elsewhere. They've also let in just two at home, compared to nine on the road.

In theory, this weekend should be the one where City's form at Sunderland could start to change for the better -- though the same could be said for last year. And the year before. And the year before that. From Mancini's "I'm not going to come here next season" (true words in jest and all that), the club now has Manuel Pellegrini -- who has just guided the team to the last 16 of the Champions League for the first time ever.

As the relationship between Yaya Toure and Fernandinho grows, the Blues have been performing better and better in recent weeks. They shouldn't have lost at Chelsea and wouldn't have done but for a bizarre individual error. Sergio Aguero almost guarantees a goal at the moment, being in perhaps the best form of his career. Alvaro Negredo seems to bag himself a goal or an assist, too.

In fact, according to the Daily Telegraph Opta Stats have shown that the Blues' front two are the best in the league -- grabbing a goal every 40 minutes, compared to one every 45 minutes for Luis Suarez and Daniel Sturridge, and one every 61 minutes for Wayne Rooney and Robin van Persie. The two have also assisted the most goals between those three pairs, too.

With that kind of form and with Sunderland's wretched record for the whole calendar year (17 defeats in 28 league games), City probably haven't had a better time to get the Stadium of Light monkey off their back. The last win there was in August 2008 -- only Joe Hart, Micah Richards and Vincent Kompany remain from the 18-man squad from that day and none is likely to start this weekend.

However, winning won't be a simple ask.

Of those five away games in which the Blues have struggled so far this season, four have come against teams in the bottom half of the league: Two (Cardiff, Aston Villa) ended in defeat, one was a draw (Stoke), one was a win (West Ham). It's in these sorts of games where titles are won and lost -- the defeat to Chelsea was damaging, of course, but more damaging is that other title rivals are likely to take maximum points from teams in the bottom half. Already, Arsenal, Liverpool and Manchester United have won at Sunderland.

City can't afford another of their trademark 1-0 defeats; not after failures elsewhere this season.