Sailing Towards the Light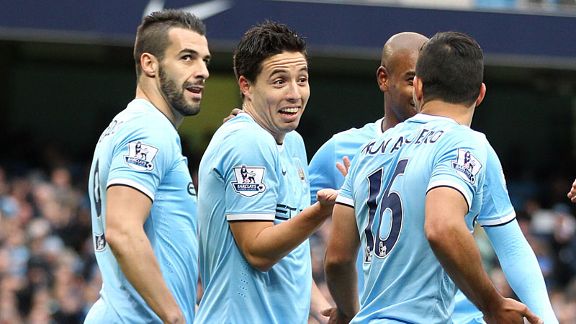 PA PhotosManchester City players celebrate against Norwich.
Before the good ship Manchester City veers back out to sea to navigate the choppy local waters just off Sunderland, it might be worth spending a few relaxed moments to take in the majestic view off the aft deck, as the sun goes down over another week of successful skirmishing in the fabled gulf stream of the Champions League. And, my, what a view it is.

With Viktoria Plzen and CSKA Moscow trailing far back in City's wake, a first ever pair of Champions League knockout games will be the prize for the club's efforts and this with two full rounds of jousting to go before the group stages are complete. Truly, City's transition from European ugly ducklings into proverbial white swans is catching pace in an invigorating manner. The 5-2 success over CSKA in midweek was an extension of the good health displayed against Norwich in the Premier League last weekend. Currently, there are goals flying in at all angles and the number of chances being created leads one to think that sometime soon, someone is going to be sunk without trace [if 7-0 doesn't already count].

In August, when asked to preview City's season under Manuel Pellegrini, I suggested that City fans would be in for a feast of attacking football this season and that is, after a bit of a sticky start, exactly what we are being treated to. True, the defence is suffering as a result but the mesmerising patterns being woven in front of the overstretched back four are quite a thing to behold. Viewing Samir Nasri, David Silva and Sergio Aguero in this kind of rich form, all at the same time, is dangerously close to having all your cake and eating it, a party trick most City fans are wholly unfamiliar with. Supported by the amazing human metronome Fernandinho and the much vaunted power and precision of Yaya Toure, and bolstered at the sharp end by a striker in the shape of Alvaro Negredo who is running, nay charging, into the form of his life, this vital phase of the season is beginning to bear rich and succulent fruit.

From the pragmatism of Roberto Mancini's close-the-ranks game plan to this expansive drown-them-in-attacks approach engineered by City's Chilean coach, some very obvious alterations are underway. The victims of this, goalkeeper Joe Hart and his exposed defensive line, may now face a near-impossible weekly job to plug gaps, but whilst the other end occupies the thoughts of the opposition so completely, who can really complain? Only a killjoy could reign in these men in blue in such vigorous good form.

This phase, so laden with goals and sumptuous attacking football, reminds one a little of an early period in Brian Horton's tenure at Maine Road in the early 90s, when the skittish former Hull manager fashioned a side that only knew how to attack. With the likes of Nicky Summerbee and Peter Beagrie out on the flanks to feed a front three of Uwe Rosler, Niall Quinn and Paul Walsh, City attacked with such ferocious verve and precocity that they sank Klinsmann's Tottenham 5-2 in a rain drenched affair in Manchester, then headed south to whack four past QPR in the League Cup in an incredible seven goal thriller. Goals were coming from all angles and the crowd lapped it up.

To witness City doing this on a higher plane altogether is indeed a pleasure and a privilege. Many had not reckoned on living long enough to see City "terrify Europe," as Malcolm Allison once prematurely warned. Big Mal, as was his wont, made the statement 40 years to soon, always a coach well ahead of his time. Whether this side can terrify Europe or not is unclear. Thrashed solidly by Dortmund and Bayern in the last 10 months, it would appear a different strategy might be required if City pull out one of the big guns in the December draw for Champions League knockout football. However, on the other hand, who would not be wary of a team fielding such creative potency?

Manuel Pellegrini has shown us his colours. To those who doubted, it is time to climb aboard. To those who could not see the point of ditching Gareth Barry and replacing him with a wiry little Brazilian, who had only shone in the Ukraine, it is time to walk up the gangplank. To those who thought Carlos Tevez was heading south to have a proper chance of gaining European honours, it is time to turn the helm in our direction once more. For those who thought Samir Nasri's time with the club was up, it is time to take your ticket and join the trip. For this magnificent, well-oiled Manchester City side the horizon is lighting up with the rays of the Champions League and the soaring hopes of the Blue Mancunian Legions. Who knows, with the captain back in place, just how close to those illuminated arches the good ship Manchester City can come?