Losing perspective, winning points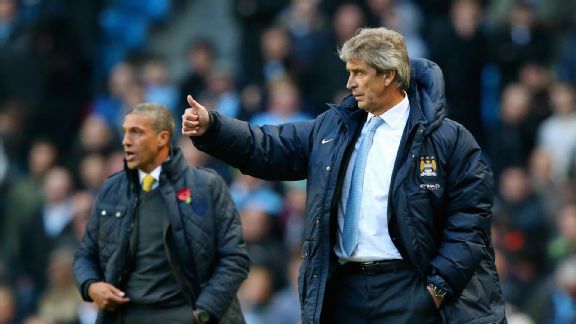 Alex Livesey/Getty ImagesManuel Pellegrini's Manchester City were at their best in Saturday's 7-0 win over Norwich City.
In the high jinks, knee-jerk world of Premier League football, where unexpected defeat means instant pressure on the manager's bowed shoulders and a surprise victory means you are heading straight for the Bernabeu, first-class travel included, there is nothing quite like a seven-nil (that's 7) victory to get the critics off your back for a little while, although -- in Manchester City's case -- it is usually only very temporary respite from the deluge.

- Mooney: Hubbub takes back seat to attack
- Report: Man City 7-0 Norwich City

Saturday had dawned cold and wet, but the temperatures were soon rising when the faithful clapped eyes on the squelching noises emanating from the great organs of the British press. First of all, Jamie Carragher, writing down his thoughts slowly and carefully in the Mail, felt that "City were going backwards since the departure of Roberto Mancini". The Mail, always at the head of the queue of people waiting to descend on any perceived weakness or wrongdoing at City, responded like an excited puppy finding his first ever seal carcass on the beach, rolling themselves excitedly in the Joe Hart story.

The City keeper had been "sensationally dropped", don't forget, despite already being rested for the Newcastle Capital One Cup game in midweek, and had with his absence, even more deliciously, reduced City to that most invidious of things the English team without an Englishman. You could almost imagine Paul Dacre's quivering fingers hovering desperately over the phone, as he wondered who to call first: the fire brigade, customs and excise or the missing person's bureau. It was all heart-stopping stuff and the Saturday papers were playing a full and active role.

No doubt, if this match had featured anywhere in Alex Ferguson's weighty oeuvre, he would have described City as "fortunate", Norwich as "plucky" and the game itself as a "close run thing". In fact, it could not have been further from the truth. City were imperious, Norwich lamentable and the game was saved as a spectacle by City's endearing insistence on pressing their confused and scattered opponents right through to the 93rd minute, when the referee blew swiftly on the mercy whistle. City were irresistible and, in the shape of their mini marvels, Sergio Aguero, Samir Nasri, David Silva and Fernandinho, plus the galloping, towering, unstoppable Beast of Bondoukou, Yaya Toure, possessed a quintet who mesmerised, then out-manouevred, then finally mashed poor Norwich to tiny bits.

Norwich had, not unreasonably, started with Plan A, which clearly consisted of these words of warning from manager Chris Hughton "it's ok to lose this one, but let's not make it embarrassing". By half time, four goals adrift and looking good to ship some more, Plan B was introduced. Sadly, this seemed to consist of nothing more than "Spend some quiet time worrying about Plan A malfunctioning". Which of course it had quite spectacularly. Norwich got what they deserved for having a poor quality Plan A and a non-existent alternative. On this form, they will join Palace as two of the three.

As far as City were concerned, we had seen from the defeat at Chelsea that a large amount of controlled possession is worth nothing without push, without tenacity and without a high pressing game that forces your opponent into areas where mistakes become lethal. Here was all that did not work at Stamford Bridge, functioning to a tee. While Norwich allowed each City player yards of space in possession, as soon as they had the ball, a yellow shirt was chased down unforgivingly by a pack of two, sometimes three City players. This energy without the ball and lightning passing with it meant Norwich were passed out of sight to a degree where the number of near misses City totted up could have led to a huge debacle instead of just a medium-to-large embarrassment for the East Anglians.

With Everton and Spurs cancelling each other out and Liverpool and Arsenal facing up to each other, City's advance could not have come at a more apt moment. Add to this Chelsea's collapse in the North East and the backward moving Manchester City that Carragher thought he had spotted are actually running into a vein of form that should have their main title rivals quaking in their boots.

One should never take a league table seriously until the Christmas fixtures, but anyone watching the Premier League season unfold thus far will confirm that there are three serious candidates for the title at this stage, two of which are playing some of the most marvellous flowing football seen for some time. Chelsea under Jose Mourinho will clearly have a say in where the title goes and, despite not always being the prettiest to watch, they are relentless and difficult to shake off. The other two have been treating us to football on another level altogether, which is why those who like a feast of wonderful attacking football should ring Saturday 14th December on their calendars. On that day Arsenal travel north to Manchester for what should be a veritable feast for tired eyes. Whether the defending on show will match Carragher's exacting standards is another guess, however.