A step back to move forward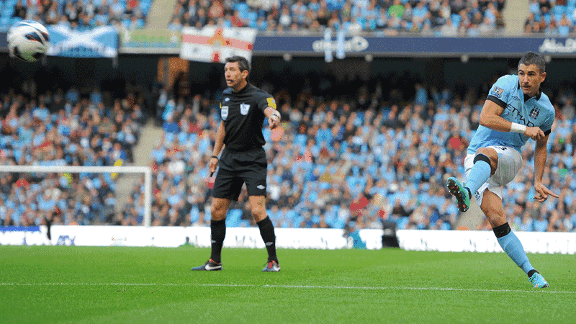 GettyImagesAleksandar Kolarov scores against Sunderland
An enormous gale of hot wind has been shot into the stratosphere by the Great and the Good in the last few weeks regarding Roberto Mancini's apparent urge to become Tinkerman Two and there were wholesale changes again on Saturday for the visit of Sunderland. In blew the old guard; so many of them, in fact, that City started the game with only players from last season's squad present on the turf. This seemed to have the desired effect and this liberating zephyr of warm autumnal air perked the whole place up. It whispered sweet nothings to us: Micah's back! Milner's back! Barry's back! Joleon too! Even Adam Johnson, purveyor of so much hot air himself before the game, was here to show us his oft-denied skills.

It was just like we had been picked up and transported back a year, to a happier place where home points came easy, clean sheets appeared in rows of six at a time and goals flowed in from all angles. 2012-13's initial stirrings have produced only growing pains for the recent addition to the Premier League elite that is Manchester City. Juggling Premier League and Champions League, Premier League and Capital One Cup, indeed juggling a talented but as yet slightly inharmonious squad of players has begun to look a tricky task for Mancini and his cohorts.

But back in time we went: to those lovely strolling 3-0 home wins; to James Milner, Gareth Barry and Micah Richards; to an opposition eleven getting buffeted by the sheer power and possession. A sudden olde worlde solidity appeared with Barry and Milner allowing Yaya to meander and surge, with Micah and Zabaleta chasing everything that moved. The sight of the darting, dinking figure of David Silva obviously continuing his return to form was a delight to behold whilst Tevez, Balotelli and the marauding Kolarov all seemed to rejoice in the little Spaniard's renaissance.

Sunderland, as timid as Dortmund had been audacious in midweek, as flat as the Germans had been vivid, provided none of the difficulties that they had managed to set before us last year; the irony was not lost that this had been the only league visitor of 2011-2012 to avoid defeat at the Etihad, in that helter-skelter 3-3 draw last spring. As they had also managed to dispatch City from the North East pointless in the first encounter of last season, fate suggested they might be a tough nut to crack, but this was, thanks to an early breakthrough, for the most part, a breeze for the men in sky blue.

So it was that Joe Hart's 50th clean sheet for the Blues became the very first for the club this season in eleven attempts. We have scored in all 11 games so far, but we have also conceded in each one. Here, with Micah forming a strong defensive axis with Lescott and the Barry-Milner pairing shoring things up in midfield, City suddenly had a sturdy "they shall not pass" look about them, which, after Wednesday night's sieve impersonation, was quite a relief.

Kolarov too chipped in with one of his more memorable performances, teasing out the interesting coincidental statistic that Sunderland had become - for the second consecutive season - the only side against which he had scored one and made one. Peter Reid once said of new signing Alfons Groenendijk (http://monumentcity2010.blogspot.pt/2012/10/200-words-worth-2-alfons-groenendijk.html) that he could open a tin of peas with his left foot. Kolarov, it sometimes seems, could do that too and serve them hot with butter, parsley and new potatoes without too much extra effort.

Going forward City also suddenly had a purpose and drive that has been missing on various occasions this season. With 26 shots to Sunderland's 8 and a pulverising 61% possession, it was clear from the very start where the points would be going in this one. Silva's growing influence, Yaya's release forward and the darting exuberance of Tevez was too much for the visitors on this occasion, as it had been on so many occasions in last year's glorious march to the title. In taking a step back to include last season's men of fire and brimstone, the Blues appear to have taken a step forward in the fight for this year's honours. With the wind blowing in the right direction, it was plain for all, to see what is still possible. As for a surprisingly poor Sunderland side, they were left breathing in the fumes of a bus that had long left the station without them.