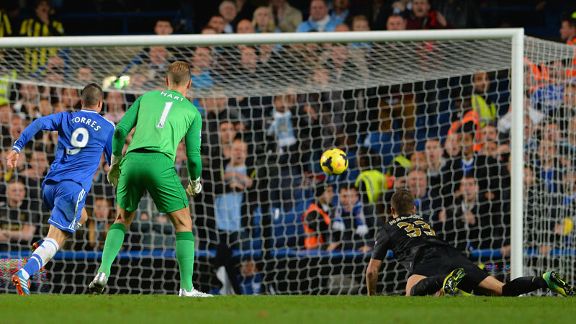 GettyImagesJoe Hart and Matija Nastasic were to blame as Fernando Torres swept in Chelsea's late winner.
As if all the breast beating and introspection about Javi Garcia's slowness to turn and track, Vincent Kompany's glass hamstrings and Joleon Lescott's Pellegrini curse was not enough, into this mix of severe centre-half anxiety complex came debutant Martin Demichelis. A spoon of the right medicine from the good Doctor Manuel or another excuse to catch a cold?

It was enough to have some of us starting to lay perfectly formed, warm brown eggs. When the dust settled on this game of swerve and thrust, City had been undone 2-1 at Chelsea by a blunder of generous proportions involving the increasingly erratic Joe Hart and the one central defender everyone had presumed was fit for the task. Ah, the irony of it all, oh the tears and, of course, the sound of giggling amongst the opposition ranks. City's problems at centre-half are beginning to take on a life of their own. At this rate a soap opera may well be devoted to the story, possibly starring Stan Laurel and Oliver Hardy and some of the Keystone Cops.

- Lythell: Torres 2.0 leads Chelsea to victory
- Brewin: Three Things - Chelsea vs. Man City

Matija Nastasic, the solid one amongst a crew of motley contestants lining up for the job, none of whom, we were told, would be sufficiently able to play against the scurrying acrobats of Chelsea's forward five, ended this game with his head in his hands and his goalkeeper in his arms. The ball, long gone, had left their sweaty embrace in the game's very final minute and headed on feebly toward its target, thereafter helpfully nudged home by a 2008 Fernando Torres look-a-like going by the name of -- it says here -- Fernando Torres.

Here is an enigma that should in future be wrapped in cellophane and addressed to science's biggest brain trust. The Spaniard, so long trusted to be slow off the mark, hopeless in his finishing and droop-shouldered in his reactions, suddenly posted himself upfront with the look of a matador told his snorting opponent had just gouged his dear grandmother in the posterior as she was bending over to pick up her knitting. Apart from dispatching a woeful shot over the bar that looked more like a clearance, Torres was City's undoing.

Like a soufflé rising gently and gradually into position, Manchester City's record at Stamford Bridge has gone from flat as a pancake to fluffy and buoyant in the past three years. In the past, West London was the very last place to go as a City fan hoping to see an away win (well, almost the very last; Arsenal was actually an even more treacherous spot to camp out in expectation of anything more than rain and expensive snacks).

City's relationship with Chelsea has hit many parallels over the years, from late '60s trailblazers in Europe, trend-setters in the swinging early '70s to hopeless down-and-outs in the '80s. Even recent resurrection into the moneyed overclasses has come more or less at the same time. The press' beloved Oil Firm Derby and Clash of the Cash, has come a long way since the likes of John Bumstead and Ian Brightwell hammered it out in front of 8,000 barbed wire protected denizens in the late '80s. There used to be a strange air about Chelsea versus City. Anything could happen and usually did. This is a fixture which has witnessed a Ron Futcher hat trick and Peter Osgood playing at centre-half, so comedy has never been far away. Not anymore. A packed Stamford bridge witnessed two stellar squads come face-to-face in a real this one matters atmosphere.

Recent times have rewarded City fans with an upturn in results against the dark blues. After all the Mourinho-inspired fives and sixes, have come a clutch of positive results for the light blues. Five of City's seven Premier League era wins over Chelsea have come in the past five years and hopes were high that this useful statistic could be added to here, but City, having shown resilience to come back at the start of the second half, also gave lie to the oft-held wisdom that possession is the first bastion of a winning strategy. City had more of this precious commodity in almost every phase of the game, but lost. Not only that, but the home side carved out all the best opportunities, too, despite the winner coming sat on a bed of lettuce, surrounded by plump olives and served on a silver salver.

It was left to that giant of sensible defending, Franz Beckenbauer, sitting high in the stands, to pass judgment on what he saw in front of him. With a less than pacy 32-year-old making his Premier League debut, another supposedly failed centre-half in the midfield shield and a 24 million pound England man in the comfy seats, the Kaiser instead feasted his eyes on Matija Nastasic. His eyes said nothing, but his mouth looked like it had swallowed a spoonful of the wrong medicine.