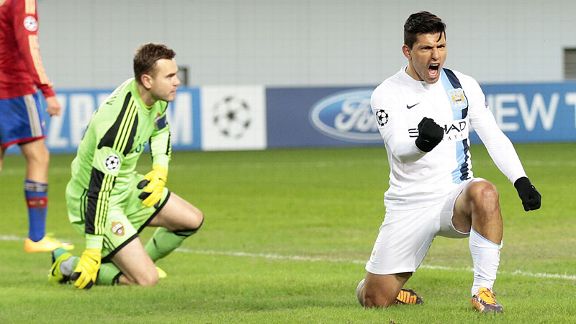 APSergio Aguero celebrates after his second goal put Man City in front at CSKA.
A second straight away win in Europe, a triumph on a first-ever trip onto Russian soil, and a first-ever appearance in the knockout stages of the Champions League beckoning in the near distance. Wednesday night was truly an occasion to force down the barricades and make significant headway towards virgin territory in Europe for Manchester City.

The Blues now face two home games against the group's weakest teams, CSKA Moscow and Viktoria Plzen, to seal their place in the last 16 for the first time in the club's history. The experience of Manuel Pellegrini in this competition has already begun to tell but, in truth, there were so many more dimensions to this gritty victory in the Russian sand than just the manager's profound know-how.

With a team lacking their injured leader and talisman, Vincent Kompany, playing in strange conditions with a small but boisterous crowd backing the hosts, City came out of the contest with flying colours. Even going a goal behind in such testing conditions does not register with the players these days. Much has been said and written of the "winning mentality" that true performers on the big stage have, and that has been evident in many of City's important games over the past two years.

Having won the early contests on points without delivering a knockout blow, to suddenly trail could have brought a period of sulky introspection from some players, but not anymore. Within a minute the agility of David Silva and the punch of Sergio Aguero delivered an equaliser as the ball sat nicely in a medium-sized hill of sand just out of the goalkeeper's reach. The two players involved remained a class above everyone else throughout this absorbing contest.

Once ahead, after a delicious piece of skill from Alvaro Negredo, who dug out a wickedly spinning cross onto Aguero's head, City's lead was not seriously troubled until injury time when Joe Hart brilliantly denied Honda. It had been a solid display, despite some minor aberrations at the back, and the players completed a thoroughly professional job.

What had become apparent as the game moved on -- a negative feature picked up on by many of the morning newspapers in the UK -- was the dubious behaviour of the crowd. There were two obvious instances when things were seemingly beginning to go awry. Firstly, towards halftime, a Manchester City flag suddenly appeared and was hoisted up the fences in front of the most boisterous of the home supporters. It was upside down and had obviously been removed from the possession of its initial owners and was being displayed as some kind of "spoils of war" tribute.

It later transpired that a group of City fans -- among them a 15-year-old -- had been set upon on the way to the ground by CSKA ultras and had the flag and their scarves stolen from them. Sensible stewarding and some careful negotiations eventually got the flag back to its rightful owners, but this minor piece of skullduggery is not where the main focus of the home support's behaviour ultimately rested.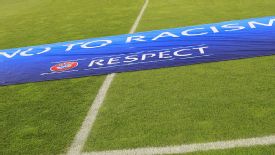 GettyImagesUEFA has been running a Football Against Racism in Europe Action Week.
Afterwards, Yaya Toure complained of racist chanting, and the club was moved to make an official complaint to UEFA. The governing body's stance on these antics has been less than convincing in the past, and the sight of the UEFA anti-racism slogan on captain Toure's armband as he endured the abuse from the stands made for a moment of poignant irony for onlookers.

City, remember, were subjected to similar problems in Porto's Dragao stadium, when Mario Balotelli was singled out by some of the less-well-educated home supporters and reminded where he came from. On that occasion UEFA produced a lamentable response, fining FC Porto the equivalent of 16,000 pounds, which was a considerable amount less than City themselves would be fined in the next round of the Europa League for returning for the second half of the game with Sporting Lisbon in the Alvalade Stadium "at least 60 seconds late," according to the carefully worded official statement.

This had given the obvious and miserable misconception that punctuality was deemed more important than stamping out racism, as far as the overlords of this great game were concerned.

UEFA's stance against this kind of thing appears to have got tougher this season, as fines have been replaced by (partial) stadium closures as a punishment. Lazio, however, have already appealed against this and won the right to reopen their ground to supporters before a ban had been imposed. City, remember, had no right to appeal for the farcical "late arrival" fine.

Meanwhile, CSKA's genial deputy media manager, Mr Michael Sanadze, has claimed that there is "no subject to discuss. Nothing special happened," a response typical of what the BBC's Moscow correspondent today described as a "growing intolerance of minorities including those with black skin in Russia". Could it be that Mr Sanadze had his head buried in one of the many mounds of sand littering the Khimki Arena pitch?

So a match that should have been remembered for far more than the racist goading of an opposition player gives the suited gents at UEFA yet another opportunity to reveal to us all just how strongly they feel about such matters.