Partnerships key to victory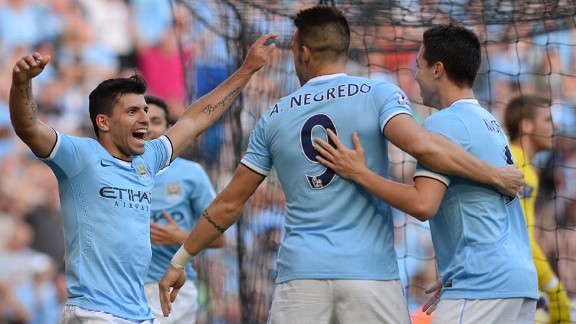 GettyImagesSergio Aguero and Alvaro Negredo will wreak havoc this season.
You know that warm feeling you get in the pit of your stomach when things seem to be going right? The warmth that fills you when the beautiful girl you gave your number to calls to arrange a date, say. Or the flutter of excitement when you walk out of the job interview knowing you'd given one of your best ever performances. Or when you were a kid and going to bed on Christmas Eve -- but being unable to sleep.

That twang of anticipation is what I got when I witnessed Alvaro Negredo nonchalantly saunter past a Fernandinho through ball to allow Sergio Aguero to latch on to, when he opened the scoring in Manchester City's 3-1 win at West Ham United on Saturday.

- Curtis: Poetry in motion

Aside for a ten-minute spell in the second half (where the home side scored and threatened, however momentarily, to do it again and uphold the City away form curse) that feeling continued to grow throughout the match, and with good reason.

When Manuel Pellegrini joined the club back in the summer, it was like the start of a new relationship. The two parties involved have quirks and nuances to their characters that the other has to learn about before anything gets serious. From there, it'd either turn into a marriage (when it's working) or a break-up (when it's not). By the final whistle on Saturday, it felt like Pellegrini had got to the end of the third date.

That's to say that warm feeling is all because things seem to be falling into place nicely -- and the green shoots of several partnerships inside the squad appear to be getting stronger. Since we've already talked of that great dummy from Negredo, let's start with a look at the strike force.

Aguero and Negredo have quickly settled themselves into the first choice forward roles in the manager's 4-4-2 formation, and rightly so. The Argentine suffered in 2012-13 from a lack of games due to injury -- just as he got fit again, something else in his body broke and forced him to need to see the doc. But this year he's missed just one Premier League match so far and is reaping the rewards with six goals in seven games.

In his last three Premier League starts, he's been paired with Negredo and it's no coincidence that the duo have looked in fine form when they're up top together. In recent weeks, the two have developed an understanding of what sort of movement the other will make; of where the other will be at any given time; of how they can best exploit the space the other has created.

The opening goal was the perfect example: Negredo spotted Aguero's run and recognised the pass -- which may have instead been intended for the Spaniard -- would carry through to his strike partner. His feint fooled the whole of the Hammers' defence and set up the goal.

Similarly, eyebrows were raised at the start of the campaign when the new boss allowed Gareth Barry to move away on loan -- and following a dodgy result to Cardiff in the second outing there were more than a couple of cries that it had been a bad decision. As much as he was a staple of City's title-winning side in 2012, though, the manager saw him getting little game time.

The signs are promising, however, that the Blues have traded up, in bringing in Fernandinho from Shakhtar Donetsk. The Brazilian -- like the Englishman before him -- can break up opposition attacks and give the ball to a team-mate on winning it back, but he also appears to be able to work on a more box-to-box basis, being equipped with the one attribute Barry always lacked -- pace.

Well, a pace quicker than a combine harvester, any road.

Both he and Yaya Toure struggled earlier in the season with the pressure of playing in a two-man midfield. But as the campaign has grown steadily older, their relationship and understanding has improved, and with it their control of matches. The Ivorian is able to get forward in the manner that only he can -- the drive of sheer power that means he WILL finish his run, come what may -- while the Brazilian can provide cover and dictate possession from deeper in the field.

Pellegrini even seems to have reinforced a shaky rear-guard and was able to change all four of his defenders on Saturday. A casual observer wouldn't have known that Gael Clichy and Micah Richards had hardly played this season from that performance. Nor would they have been able to tell Javi Garcia and Joe Hart had been on the receiving end of some heavy criticism over the past few months.

City are a team that is steadily growing into this season and the outlook is good, especially now that the first away league win has been notched up. The silly mistakes made at Cardiff and Aston Villa feel like a distant memory, as the Blues took their chances when they needed to (instead of going on to rue missing them later) at Upton Park.

You know what? Manuel, I think this is the beginning of a beautiful friendship.