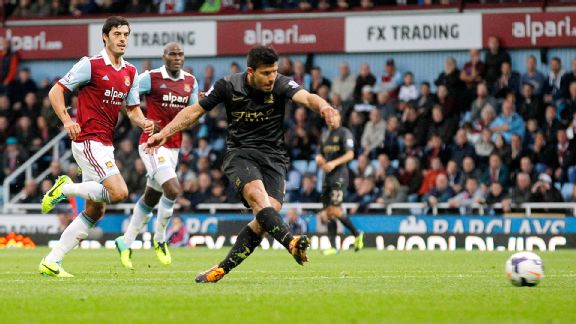 AP Photo/Sang TanMan City's Sergio Aguero scored twice against West Ham.
What is this vicarious thrill, this great release of anxiety, this unmistakeable allure of the aesthetic that Manchester City, when in this kind of coquettish mood, set before us? It fair moves the soul to see the likes of Sergio Aguero and David Silva sliding around the pitch like liquid gold, Fernandinho stepping up and planting passes hither and thither, Aleksandar Kolarov strutting around central midfield as if he was the designated owner of it.

This was quite some game -- a 3-1 win for Manchester City. West Ham, eager, willing and full of energy, gave City a good pounding in small well-defined portions of the 90 minutes, whilst being repaid for their temerity in giant slices by a wonderful gliding display of beauty, power and innovation from their visitors. This at times felt and looked like total improvisation by City and at others, guided by the steadying hand of The Engineer on the touchline, like a good plan developing, threatening to get out of control and then quickly being brought back into line.

And, yes, I did say Aleksandar Kolarov.

City started and finished this game floating, drifting, shimmying and probing like potential league champions. In the middle, somewhere after half time and City's swift second goal off the sweat drenched head of Aguero, perhaps the game's most effective player, West Ham asked some questions of the Blues defence, which for once on its travels, came up with all the correct answers. City's away form up to now had been just short of hideous, featuring defeats that shouldn't have been and performances that surely couldn't have been. In between all the improbable defending and unlikely goalkeeping, City had gleaned a single miserable point.

- Thorne: No substitute for class, Hammers suffer
- Richards relieved with away win

At Upton Park it was different. Knowing that a win would catapult them into the top four, City set about their hosts with impressive purpose: slide rule passes, thrusting runs and overwhelming possession were the order of the day as Silva, Yaya Toure, Aguero and Alvaro Negredo took a firm grip of their opposite numbers and proceeded to throttle the life out of them. Behind this well-oiled machine, the little figure of Fernandinho put in an impressive shift, prompting, digging, thieving away deep in midfield. The Brazilian is small of build, whippet-like in his movements, sharp and decisive in all that he does. When, in the 15th minute, he slid a pass through the Hammers' defence, one was carried unerringly back to geometry class in the fifth grade. The ball moved in a straight line ever so slightly from left to right, right through the West Ham defence as if it were on a thread, Negredo elected to step over it, thus allowing it to reach Aguero, suddenly in acres of space and his laser finish made it 1-0. Ten out of ten and a gold star to boot.

It was that kind of night for City. Possession of the ball, liquid and feather light, movement forward and back, tracking opposition runs, following teammates forward, going with the ebb and flow of an enticing, throbbing Premier League match. When City's main protagonists all decide to bring something exciting to the table at the same time, what follows is close to poetry.

Manuel Pellegrini, obviously mindful of the midweek game in Moscow to come, changed the troops, perhaps aware that the test awaiting City in the freezing temperatures of the East on Wednesday will require fresh minds and legs, now that Bayern's severe lesson in the Way of European Things, has turned this next game into an all-important one. Those that stepped into the breach here, Micah Richards, Javi Garcia, Kolarov and James Milner, all performed admirably, the latter two as substitutes, helping to close the game down as West Ham began to get ideas above their station. Manuel Pellegrini opted for a kind of shut-down, as Kolarov and Milner came on for the prodigious Negredo, getting better and more forceful with every game he plays and Samir Nasri, playing out a slightly less impressive cameo than in previous weeks. The effect was immediate. The tide of West Ham forays dwindled to a stream, City regained the middle ground and pressed forward once again.

Pellegrini's tinkering complete, with Kolarov the unlikely master of the left, City could surge again. And how. The seal of approval, the coup de grace, floating regally off Silva's left boot, as he hesitated, dummied and shot into the top corner of the busy Jussi Jaaskelainen's goal. What had gone before was delicious in its accuracy, devastating in its clinical efficiency. Yaya threaded the ball to Aguero, who flicked it contemptuously to Silva, despite the close attention of a posse of defenders. The outcome, from that moment on, was as sure as these things can be.

It need not really have been so close, so late, so uncertain for so long. For, in truth, City's poets had spent most of the evening wrapping their opponents in a beguiling mist of power and precision. This was as eloquent an answer to those querying the iffy away form as one could have concocted. In this kind of mood, even a trip into the unknown depths of frozen Russia should hold few worries for these darting poets in football boots.