City's away form needs some fixing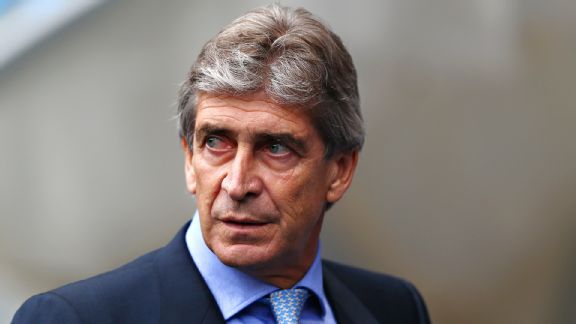 Michael Steele/Getty ImagesManchester City manager Manuel Pellegrini has seen his side cough up leads in away matches this season.
In his pre-match news conference for Manchester City's trip to West Ham, manager Manuel Pellegrini said that he was "worried about that", in answer to a question about the Blues' away form. "Villa scored three goals, Cardiff scored three goals," he continued, "It's the thing we must improve." Not half!

Pellegrini can't take any responsibility for City's results on the road for most of the calendar year, but it has been a problem since the club came away from the Emirates with a 0-2 win back in January. In fact, after beating Arsenal, the Blues have won three of a possible 11 Premier League away matches (drawing three -- all 0-0 -- and losing five).

- Curtis: Neglecting the youth
- Report: Pellegrini concerned by form

One of the more worrying aspects, though, is that in the past three away defeats, the Blues took the lead by opening the scoring. The common theme in all of those losses was that the visitors failed to take their chances: Aston Villa won 3-2 after City had let them off the hook; Cardiff won 3-2 after City had let them off the hook; and Tottenham (under Mancini) won 3-1 after City had ... Yeah, you've got the picture.

While the Blues were dominating the game at Villa Park, they loosened their grip and, when they had lost control of the match, they couldn't get it back. Similarly, at Cardiff, the visitors didn't have as much control, but nevertheless should have been able to shut the game down having gone ahead.

One point from a possible nine on the road is a poor return from games that the Blues would have been expecting to win. Any team that is looking to challenge for the title can't afford to drop too many points playing away, especially against teams that will be likely to finish in the mid-to-lower half of the table.

This is where Pellegrini needs to kick on -- he's had his learning curve in the division and has been taught some very harsh lessons about how the Premier League treats teams who stop playing, thinking the game is won. After all, it's pretty difficult to criticise the team's performances because they've not been too bad -- they've just not defended well enough near to the 75 minute mark.

What will encourage the City boss, though, is that the Hammers have had a downturn in fortunes at home -- they've lost their last two Premier League games there, though they did recently comprehensively beat Tottenham at White Hart Lane. That victory, however, is their only one in the league since the opening day of the season, with two draws and three defeats separating their wins.

City's recent run at Upton Park isn't great. One win in the last five visits there (plus three draws and one defeat), with only two clean sheets in that time, doesn't bode well for Pellegrini. That said, City have only lost to the Hammers in their last 14 games in all competitions.

On the defensive front, the Chilean is likely to be without injured defenders Martin Demichelis, who played for the EDS in the week, and Vincent Kompany, who he said on Friday isn't ready to play, but could be back for the trip to Chelsea. The positive, though, is that West Ham's Andy Carroll is out injured too, and won't be able to hassle City's weakened defence -- and fans know how much he enjoys scoring against the Blues.

It will be interesting to see how Sam Allardyce approaches the game on Saturday evening, following his 4-6-0 formation that began at Tottenham and the likelihood that Pellegrini will stick with his 4-4-2. With Carlton Cole re-joining the home side, the manager may choose to try him against City's patched-up defence, but a six-man midfield would go some way to stifling the partnership of Fernandinho and Yaya Toure that's beginning to blossom and take shape.

With just one win in the club's past six Premier League away games, now couldn't be a better time for Pellegrini to change the team's fortunes. Directly following the trip to Upton Park, the Blues face three more away games in all competitions -- traveling to Russia before visits to Stamford Bridge and St James' Park.

City need to win -- be it with a dominating performance, a lucky deflection, an own goal, anything... it doesn't matter. They need to get out of the rut that is the recent away record.