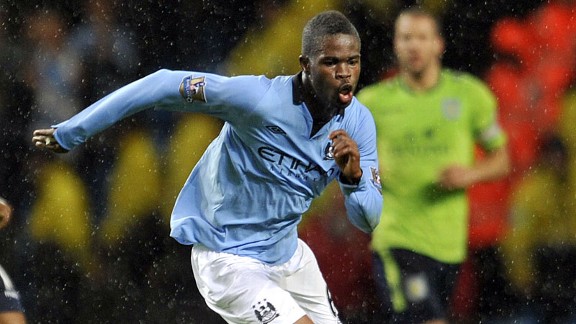 PA PhotosThe departure of Abdul Razak is a fine example of Manchester City neglecting their youth.
This is a story of two Manchester City footballers. A modern story that is repeated across the land, across the continent at all of the leading clubs of Europe. In many ways it is a sad story, but it reflects the contiguous needs of today's fast-paced game. In a world where success and failure are often bedfellows separated by the thinnest of sheets, the former is needed yesterday whilst the latter brings instant chaos.

It is for these reasons that clubs such as Manchester City are beginning to put such pressure on their academies to produce like Barcelona's La Masia produces: a conveyor belt of reliable talent with technique and toughness in equal measure. With Financial Fair Play at the forefront of any big club's planning these days, it is imperative that the kids present themselves swiftly and present themselves fit for action.

Vast sums are now spent on schooling, housing and raising these youngsters to be tomorrow's next big thing. The pressure on all concerned is overwhelming and, as a result, only a tiny minority make it through to take their places alongside the first team regulars.

Manchester City have a long history of producing great youth teams. Perhaps only the likes of Crewe Alexandra, Liverpool, Aston Villa, Southampton, Manchester United and Middlesbrough can match City's fine reputation in this respect. The mind drifts back to the distant days of Steve Redmond, Andy Hinchcliffe and Paul Lake, and on to the era of Shaun Wright-Phillips, Joey Barton and Daniel Sturridge.

Many have been the precocious young talents thriving in the yeast bed of this finest of Manchester bakeries. It is a production line that still works, but the flow into the first-team squad has been stifled in recent years for obvious reasons.

City have become a different beast in this time. The rise from struggling also-rans to big-stage players has been well documented, leaving a legacy of high brick walls for the youth team members to contemplate wistfully. Is there still a way in? Or over? Or even through? How does one get around this high barrier to progress? Surely there is only so much youth team football you can play before it becomes first-team-or-bust?

For Abdul Razak, that reality dawned Thursday. The young Ivory Coast midfielder had left for Russia on loan and has now made the switch to Anzhi a permanent one. He had been with City for three years and had made only intermittent sorties into the hotbed of the first-team dressing room on match days. His is a story not entirely untypical in this modern world of Premier League football where time waits for no man.

The old reliance on youth has been replaced by splashing the cash for immediate returns. City's large scale spending since the ADUG take-over has been plain for all to see, as have the consequences thereof. As a result of this, one of the most recent acquisitions is pushing his ample frame further and further into the spotlight as the nascent 2013-14 season develops.

Alvaro Negredo's season so far has been restricted to substitute appearances and a smattering of goals. That is all beginning to change, as the Raging Bull from Sevilla has now notched in his past four outings, starting with a stunner against Bayern in the Champions League, another against Everton and -- in the past week -- two in two games in the red of Spain, thus cementing his place at the head of a very prestigious queue of candidates hoping to be Spain's spearhead in the Brazil World Cup.

Negredo's influence for City is also growing, his power self-evident, his willingness to run through brick walls for the cause and his ability to upset defenders by doing so are beginning to get him noticed in the Premier League. Many who had looked at Soldado as the better bet for success this year are now turning their gaze on Alvaro Negredo. His 10-goal haul for Spain in just 19 appearances has lifted him to third in Spain's all-time scoring rate and with it has lifted his confidence to new heights.

Add to this the four goals he has scored for City in relatively little playing time and it would be a surprise if the Spaniard they call The Sharkis not seen sharpening his teeth against West Ham this weekend in preparation for the all-important non-specific venue match in Moscow next Wednesday.

Negredo's rise juxtaposes vividly with the departure of Razak, who at 21 will now taste the Europa League with Anzhi, a long way, both as the crow flies and in footballing terms, from the place he has just left behind. It is a story of footballing fortunes, the fortune to be made in football and the thin dividing line between the fortunate and unfortunate in this money drenched sport.