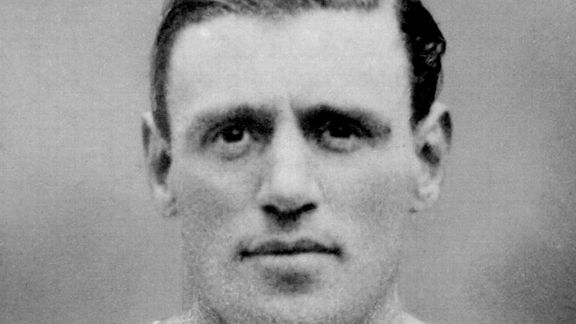 PA PhotosHorace Barnes was a history maker at Manchester City.
Say the name Barnes to any Manchester City fan and the chances are their minds will head toward two players who were father and son. Ken, the senior Barnes, played for the Blues between 1950 and 1961, while his son, Peter, had two spells with the club, the first between 1974 and 1979, before returning briefly in 1987.

But going back even further in the club's history, we get to Horace Barnes, who was brought to my attention this week by City writer Gary James. Now, while players in modern football get financial rewards for scoring in matches -- anyone who's ever played Football Manager or similar computer games will understand that a simulated version of negotiating contracts with agents can be frustrating (though how accurate it is to real football is another matter entirely) -- it turns out that rewards when Horace was a City regular were ... a little different.

- Curtis on Kazimierz Deyna

Both Manchester clubs were interested in his signature from Derby County in 1914, but it was the Blues who eventually won the battle -- when United pulled out of the deal, unable to afford the Rams' £2,000 asking price. City, who were still nine years away from moving to Maine Road, eventually paid a record fee of £2,500 at auction.

That he ended up in Manchester was ideal for him, as he had told club officials at City that he was engaged to marry a Mancunian girl -- and it turned out to be an ideal move for the club, too. He formed a partnership with Tommy Browell, which blossomed into one of the best attacking lineups Manchester has ever seen.

The pair worked so well together that they regularly battled it out to finish as the team's top scorer -- with Barnes achieving the feat three times and Browell four. However, they were a true partnership and cared more for the team than for personal tallies. On the final day of the 1921-22 season when at home to Newcastle, Barnes chose to present Browell with a simple opportunity to score instead of finishing it himself.

He was renowned for having one of the hardest shots in the game -- a feat achieved later by Nicky Summerbee with an 87 mph hit on "Record Breakers" (though it's a very loose record, to be fair) -- and legend has it that an opposition goalkeeper once broke both wrists trying to punch it clear.

Barnes' time with the Blues was interrupted by the Great War, during which he worked in a munitions factory and served in France with the RAF. He did, however, continue to play when he could, scoring 73 goals in as many games. It was on his return that he linked up with Browell.

That partnership was broken up when Barnes was transferred to Preston and City's fortunes took a turn for the worse.

But why David, I can hear you screaming, have you brought Horace Barnes to ESPN FC today? Well, 90 years ago this week, he received a special prize, after scoring twice in three out of four games. He got two against Sunderland at home and then again away, but then failed to score against Arsenal at home in the following game. He was soon back on track in the next fixture, though, adding another two against Arsenal away -- bringing his tally to six goals in four appearances.

The Derby Daily Telegraph newspaper reported that, in October 1923, "somebody presented Horace Barnes with a pair of silk braces at Maine Road last Monday to celebrate."

Can you imagine the reaction you'd get from the likes of Sergio Aguero or Alvaro Negredo if such a presentation were made this season? My money would be on bemused laughter.

This also made Barnes the first player to score two goals in a game at City's new Maine Road stadium -- after only four fixtures there. Unsurprisingly, he became the first player to do that twice.

In terms of rewards, though, the precedent had been set in 1904, as Gary James' book "Manchester The City Years" says, when Billy Meredith bought all of his teammates hats in order to celebrate the club's FA Cup win. So it became that Barnes received braces for braces.

How times have changed!

It makes you wonder what other rewards might have been dreamt up in the early '20s. Maybe a series of hat tricks would have resulted in more headgear for the Blues. Perhaps several equalisers could have seen him gifted with a set of scales. It probably doesn't bear thinking about what would have happened for a run of own goals.