Samaras certainly no Figo-gate repeat for City fans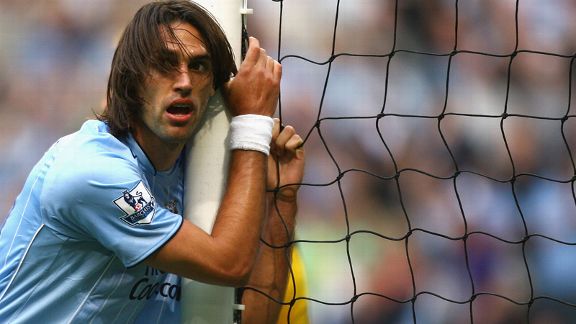 GettyImagesGeorgios Samaras scored eight goals for Manchester City.
With reports this week that Barcelona could be interested in snapping up Celtic forward Georgios Samaras, it's difficult not to ask questions like: "What do the Spanish giants see in such a cumbersome striker?" or "When are the four horsemen coming?" or "Just how good is the Greek international's agent?"

The reports have evolved from a widespread rumour that Barca manager Tata Martino is keen to sign another striker and the fact that Samaras topped a poll in Spanish newspaper Mundo Deportivo as the bargain backup Barca fans would like to see; the Greek secured 40 percent of the vote, ahead of Miroslav Klose with 25 percent.

That Barca recently played Celtic in the Champions League, and were beaten by them in the same competition last season, probably has much to do with it too but, as a Manchester City fan who watched him play in blue for about two years, it's amazing that he's even been linked with the Catalan giants.

The whole affair took me back to January 2006, when Samaras signed on the dotted line for Stuart Pearce's City. This was just before the house of cards that was the optimism surrounding the former England full-back's reign at the club came crashing down in a gust of defeat-filled wind (later to be replaced by a black hole of despair).

The 2005-06 season had started very brightly for the rookie manager. Only a last-minute penalty in the sixth match of the season cost the Blues their unbeaten start. But by January, the club were beginning to stagnate and needed some input. Step forward the 6 million pound man.

After Samaras signed, Pearce won just 15 more Premier League games -– out of a possible 53 over a period of just under a season and a half. That also included a run of 10 defeats in 11 games. Samaras scored eight in the Premier League in that time.

At the time, the Greek forward provided a hint of optimism for the fans. The club were struggling financially and a lack of transfer funds was accepted, if not welcomed. City needed something fresh up front, with Andy Cole struggling through injury, Darius Vassell missing his strike partner and Robbie Fowler leaving on a free to rejoin Liverpool.

Samaras came in and was off the mark fairly quickly with a brilliant headed goal in a 3-2 win over Charlton. He seemed eager and keen, especially as he grabbed a brace against Sunderland later in the season.

But then, as City's fortunes in the league began to slide (which had seen a run of form containing three defeats in four games), the Blues had their best chance in years at a shot at silverware -- a home FA Cup quarterfinal tie with West Ham United. The television schedules didn't help the cause, moving the match to the Monday evening after City had played on the Saturday.

Wigan, who had already been to the City of Manchester Stadium at that weekend, had beaten a much-rotated side 0-1. But in the midst of that game was a disaster to City's FA Cup hopes: Samaras had been saved for the cup tie, but was needed to come off the bench to replace an injured Antoine Sibierski. Just over half an hour later, though, the Greek had to leave through injury, too.

Naturally, the Blues were knocked out of the cup with a gutless performance.

Of course, it's unfair to blame Samaras for what happened that and the following season. It's a mark of a different time at City, a simpler time. The club and the fans needed somebody to inspire them and they'd put their money on a striker who would end up not getting a run of games and playing wide left in an attempt to plug several holes in an increasingly weakened Pearce team.

Pearce had said the striker needed to "toughen up" to survive in the Premier League, while then-skipper Richard Dunne felt many of his teammates weren't working hard enough to win games. That was in the season the Blues scored just 10 home league goals. Samaras was responsible for four of them (braces against West Ham and Everton).

After netting a penalty for the club in a 1-1 draw at Hillsborough, as the Blues struggled against Sheffield Wednesday in the FA Cup in early January, Samaras was to score once more for the club, in his only appearance for City under Sven-Goran Eriksson the following season, as they beat Norwich 1-0 in the League Cup.

One day short of being at City for two years, Samaras signed on loan for Celtic in January 2008. He completed a move to Parkhead the following summer for an undisclosed fee -- reported to be between 1 million and 3 million pounds.

It really would be bizarre should Martino decide to add the Greek to his Barcelona strike force. It's gone down in football folklore that City only just missed out on the signing of Luis Figo in the mid-90s. It would be truly remarkable if the Blues had had another of Barcelona's soon-to-be finest players in their grasp, but had let him go for peanuts.

Truly remarkable.