A young star with a bright future - Marcos Lopes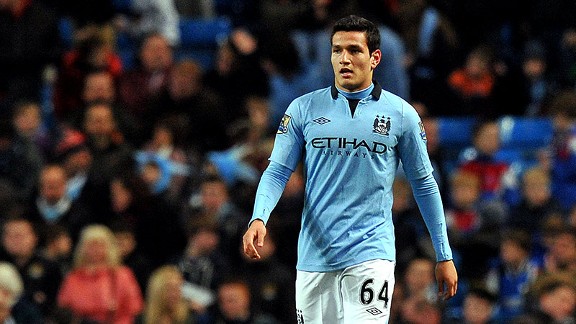 Paul Ellis/AFP/Getty ImagesManchester City youngster Marcos Lopes has plenty to offer.
Marcos "Rony" Lopes. Remember the name. The City youngster, born in Brazil and a naturalised Portuguese since his fourth birthday, is beginning to carve a niche for himself at the Etihad, which is likely to see his name in lights before the end of this season.

Lopes first came to the attention of mainstream media when bagging an incredible debut goal against Watford at the beginning of City's FA Cup run last season.

In doing so, the youngster became City's youngest scorer, taking over the honour from Ian Thompstone, who had scored in his only City game in 1987-88 against Middlesbrough.

Lopes is perhaps well placed to be a "special one" in professional football, as he was born in Bethlehem -- of all places -- or Belem, to give the Brazilian city its local Portuguese-language name. If things like this don't help place a small star above a boy's head, nothing much else will. You get the feeling. Many who saw his three-minute cameo at the Etihad against Watford will testify to his latent star quality. Latching onto Mario Balotelli's parried shot, the youngster was quick to dispatch the ball past Watford keeper Jonathan Bond with an assured swipe of his supposedly weaker right foot. For a young man of 17 (and eight days) making his debut before 47,000 in the FA Cup, it was an unerring finish and an impressive display of sang froid.

He was again in the headlines this season after making his debut for City in the midweek Capital One Cup, trampling of championship side Wigan Athletic. Looking more muscular than on his fleeting appearance against Watford last January, Lopes played an integral part in City's convincing win against the Latics. This time out, the youngster had more time to present his attributes to the Etihad public, and, although not managing to score on this occasion, he did rattle the crossbar with an impressive angled drive and made his mark on the game before being replaced by Jesus Navas in the 71st minute.

The Portuguese under-19 international faces a pivotal season in Manchester. Holding dual nationality because his family moved to Portugal in search of a better life when he was still very young, Lopes has also been cutting a swath in the national side's U-19s, on which he has earned rave reviews. This week, he will join up with his teammates to travel to Hungary for a preparatory tournament featuring Spain and Slovakia, as well as the hosts. It is not just in the Northwest of England where eyes will be trained on Lopes to see if he can continue to deliver.

The question now for Marcos Paulo Mesquita Lopes, known in Portuguese football circles by his football nickname, "Rony," is can he push on from this exciting start and gain some significant match time during a 2013-14 season that is already shaping up to be a promising one for his club? Like many youngsters in the English Premier League, he is hamstrung between being patient and waiting for his chance to shine amongst the Agueros and Toures and moving on to pastures new, where more first-team chances might be forthcoming than at present, but the glamour of possible title races and cup runs will more than likely be absent.

So far, the draw of the chance to train and improve in the company of some of world football's top talent at City has kept him happy. Although he is relatively small (5-foot-9), he has clearly been bulking up and gave a powerful, skillful display against Wigan. It is, however, his most recent public appearance that is giving City supporters hope that this young man is the real deal, for, while his elders were being shown a clean pair of heels by Bayern Munich's well-oiled machine, Lopes was helping himself to a slick hat trick as City put six past Bayern's juniors in the UEFA Youth League. Lopes stood out head and shoulders above the rest on that afternoon seven days ago, his powerful display too much for the youth ranks of the Champions League holders.

The question now is just how bright the future can be for this shining young star in sky blue.