Midfield trio key to Man City victory
Finally, the day has arrived that so many Manchester City fans thought would remain a dream. Jot it down, Blues, because Saturday, Oct. 5, 2013, is the day when City and Everton both finally put in a good performance in this fixture. It was probably the best game of football between these two sides in 10 years.

But that's not especially difficult.

Who can remember the classics, such as "Hypothermia Monday" in 2010, when it was approximately negative-389 degrees Celsius inside the Etihad? Nothing happened but for the goals. Or how about the "Needless Richard Dunne Corner" affair in 2008, when Everton stole the points in added time? Nothing happened but for Tim Cahill's header. Or even the last time City won, when Mario Balotelli and James Milner squeezed goals in through a tight defence? Yep, you guessed it, apart from the goals, nothing happened.

- Brewin: Three Things - Man City vs. Everton
- O'Farrell: Signs of bigger picture in City defeat

Saturday was different. On Saturday, we got an open game, with plenty of attractive, attacking football and a 3-1 City victory. City's defence was strong and solid, while the Blues' attack was decisive and quick. And -- let's be honest -- there was a bit of a dodgy penalty that helped too. Pablo Zabaleta doesn't tend to go down easily, but he definitely did under Seamus Coleman's challenge.

With David Moyes having moved on to pastures new and Roberto Martinez taking the helm at Goodison, for the first time in a long time, the Etihad Stadium was a veritable feast of football as the Blues and Toffees met. Speaking personally, I was more worried about this Everton team than any that had visited in the previous decade; this one wouldn't stifle the game and steal it.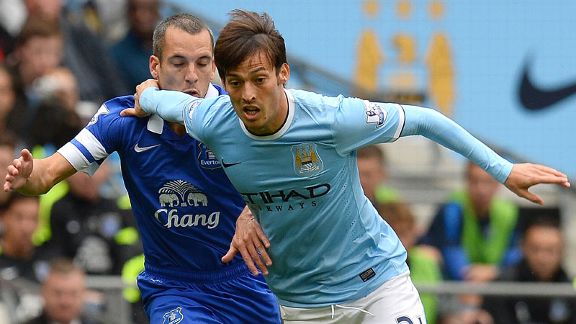 GettyImagesLeon Osman struggled to deal with the movement of David Silva.

As Joe Hart would undoubtedly be feeling fragile after the events of midweek, when he fluffed his lines in the defeat against Bayern Munich, the last thing he would want to face was a forward like Romelu Lukaku. But the England goalkeeper got the first blow in. A loose ball across the box fell to the striker, but Hart was down well to block his shot as the Belgian tried to go around him. Lukaku landed the second blow, though, opening the scoring after 15 minutes. It's another goal Hart won't be best pleased with, though he had an accomplice in Joleon Lescott.

When the visitors scored, there was certainly concern in the stands that City were in trouble. City hadn't played especially badly up to that point, but they had not set the game on fire either. Those worries lasted 92 seconds. From City's kickoff, the only Everton player to touch the ball before the equaliser was Tim Howard; it hit him on the way into the net from Alvaro Negredo.

Manuel Pellegrini's 4-4-2 system has come under criticism this season for leaving Yaya Toure and Fernandinho too exposed in the middle and for giving the Blues few options on the ball. However, on this occasion, the pair complemented each other well, this time thanks to the creative influence of David Silva. The Spaniard's return (and return to form) left Everton unable to pressure the two central midfielders, giving them time and space to pull the strings.

Much as the movement of Samir Nasri did the same against Aston Villa (until he went off), Silva's movement and passing range was key to City's win.

Though the questions about Pellegrini's substitutions at Villa Park might linger on -- he took too long to realise another central midfielder was needed against Bayern Munich too -- the tactical changes against Everton were taken out of the manager's hands. Both Vincent Kompany and Aleksandar Kolarov had to leave early through injury.

In the bigger picture, there have to be doubts about the fitness of captain Kompany as his injuries are happening too often for it to be a one-off. City were shaky defensively the last time the Belgian was absent, and Martin Demichelis can't get back fit quickly enough.

All in all, it was a good day for the Blues, but Everton probably didn't deserve to leave with a 3-1 defeat. They'll do well this season with Martinez in charge, and hopefully we'll get some entertaining fixtures between the two sides in the coming seasons. God knows we've waited long enough.

And who knows -- City might even win more than a couple in the next decade too.