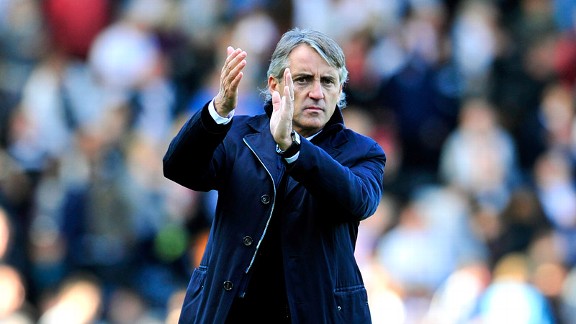 GettyImages / Glyn Kirk/AFP/Getty ImagesRoberto Mancini made bold substitutions, and Edin Dzeko rewarded the manager with the game-winning goal.
Roberto Mancini has come in for a deal of stick over the past seven days. Numerous articles appeared delving into the damaged psyche of a man at war with everyone in the Premier League. Shoulder barges on David Moyes, yakkety yak hand signs at Alex Ferguson, the wrong kind of handshake for Mark Hughes and a drizzly spat with Villa's Paul Lambert. Add to that a lifelong hatred of Fabio Capello and the way that he gives eyes to his pet cat and we have a man on the very edge of lunacy, a man who doesn't care whose feathers he is ruffling as long as he is ruffling someone's.

Like a host of Big Names in the fancy world of football in 2012, Mancini has his own website, a slick, shadows-and-frowns sort of place where "the football, the class, the champion" flash up before your disbelieving eyes. Here is a man who not only likes Bentleys and Tiramisu, but is not at all coy about describing himself as "class" and "champion". That he also names "pasta il forno de Mamma" as his favourite nosh lets us into the other side of this complex character. Stubborn yet cool, he suffers fools and artisans with the very same short shrift.

Clearly in Mancini's world, if you do not match up to a set of champion criteria, you get neither a look in nor any of his precious time.

Many who played alongside him in the great Sampdoria side of the early '90s stated that he was the manager on the pitch and -- half the time -- off it, too, discussing tactics, arguing formations and lambasting underachievers in his own team. A difficult character to live with in the tightly knit environs of the first team football squad, no doubt. Few thought he had the patience to make a good manager, never mind one that would go on to boss Inter and City at the very top of European football's modern aristocracy.

Today at the slightly more homely setting of Craven Cottage, more Mini Moke than Bentley, more rice pudding than tiramisu, but with the heat aimed at City as hot as mamma's famous forno, Roberto Mancini showed us all what he is made of as City went on to defeat Fulham 2-1.

Stern stuff. Unbending belief. Will to win. Ability to change. Preparedness to risk. Make no mistake, this was a City performance deserving of the three points, however late they may have been secured.

Mancini's bold substitutions against an ever-more timid Fulham were brave, aggressive and assured. On trotted Nasri, Balotelli and Dzeko to up City's offensive threat to something close to nuclear. City poured forward and the odd karma that allowed Mark Halsey to blow for a penalty when John Arne Riise fell over his own wind, turned around and bit Riise squarely on the backside, when his terrible defensive header fell to Dzeko, who swivelled, held off a robust challenge and fired into the top corner. Oh what sweet pay-off was this! Fulham, playing for a point on their own ground, suddenly had none.

So, hat's off to Roberto Mancini for sticking his neck out to be shot at once again. Hats off too to David Silva for producing a dazzling performance after all those mediocre displays had us wondering if the little maestro was running on empty. Hats off to Edin Dzeko, who again showed us he can come on and turn the game with one blistering thump of that canal barge right boot. Here and there we had brief, teasing glimpses of the mighty City that brought home the league title last season. The passing, the possession, the pressing, the patience.

In Roberto Mancini, standing nonchalantly watching his plan bear fruit in the most wonderfully vindicating way, we have a man who is not trying to win a popularity contest, but a football one. Hat's off to that as well.