City need to learn lessons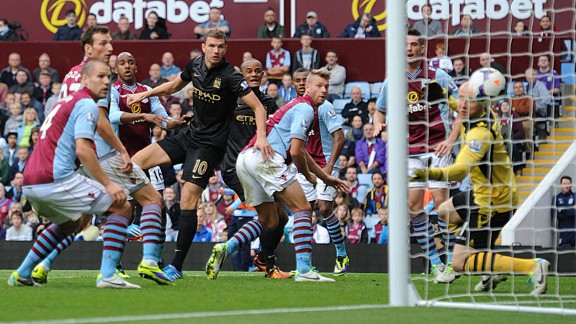 PA PhotosEdin Dzeko scores his side's second goal of the game.
As the dust settled on Villa Park and Manchester City traipsed off the pitch without a point, heads were shaken and questions were asked about how the Blues had managed to lose a game they dominated. The away side had all the possession; the away side had all the chances; the away side never looked like losing. But the away side lost.

Having twice taken the lead, there was no way City should have conceded two equalisers. Their dominance in the game was such that, by the time Aston Villa had any of the chances from which they scored, any goal they did score should have been a consolation. That the Blues were only one goal ahead for the first equaliser was criminal with the amount of the play they had.

There is a sense of irony that the eagle-eyed assistant, who twice flagged Edin Dzeko offside when he wasn't, managed to miss a clear offside in the buildup to Villa's first. It might have started what cost City a result, but I can still muster a chuckle over that -- especially as he later flagged a foul throw by Aleksandar Kolarov, ignoring the fact that every other throw-in in the game hadn't been legitimate but had been allowed to pass.

- Hughes: The king of all comebacks

The biggest question, however, has to fall to Manuel Pellegrini, who had seemingly settled into his job at the Etihad up until Aston Villa poached their first goal. He's had a good few games, with great performances against Viktoria Plzen, Manchester United, Wigan and for 45-60 minutes today.

But -- and there must be a but, after his side lost its second of three Premier League away ties -- some of Pellegrini's decisions haven't been that brilliant around matchdays. Tactically, he's moulding City slowly into a side comfortable with a fast-paced 4-4-2 formation, and that's been progressing well. But his selection and substitutions have, at times, raised eyebrows.

In the last away game and a goalless draw at Stoke, his starting lineup left a lot to be desired. The theory was that the five changes he made were with an away tie in Europe on the cards, but the reality was his side was second best. Stevan Jovetic started his first game despite not being fully fit. Jack Rodwell made his only appearance under the new manager and was rusty. Javi Garcia started at centre-back despite other options being available.

Today, his selection was fine -- arguably his strongest available XI. But with City on top of their game, dominating the play and leading the charge, the Chilean removed the visitors' driving force in Samir Nasri. In doing so and bringing Jesus Navas on, he swapped James Milner from the right to left flank. And from there, the visitors' grip on the game slipped. Milner's influence disappeared while Navas had to get to grips with the game and Nasri, who had been the best player on the pitch, sat on the sideline.

OK, so there's not much the Frenchman would have done against a soft free kick on the edge of the box (we don't talk about the Manchester derby at the Etihad in 2012) and a comedy of errors that was the communication between Vincent Kompany and Matija Nastasic for the third goal. But that all came from City being unable to find a way through the Villa back line -- something Nasri was doing with his eyes shut all afternoon.

In the Manchester derby last weekend, the City gaffer was spot on with his tactics to begin with. They were what raced the home side to a 4-0 lead after 50 minutes. But when the Reds were looking to stabilise just after the fourth goal (when City should have added some more goals, frankly) and they brought on another central midfielder, it took Pellegrini 20 minutes to change things -- when his midfield was beginning to struggle to keep possession much earlier.

I'm not one to bemoan a 4-1 victory, but knowing how crucial goal difference can be -- it's how City last won the league after all -- and being so far in front after just over a half, it shouldn't have ended with just four in the goals-for column.

This, coupled with City's inability to kill off today's game when they were on top, will present a niggling worry for Blues fans. In the grand scheme of things, it could have been worse as results elsewhere went for City, but it's clear Pellegrini is still learning about the Premier League, especially away from home.

It's a lesson he needs to learn quickly. This league punishes bad decisions.