City's Villa fixtures offer a grand history of goals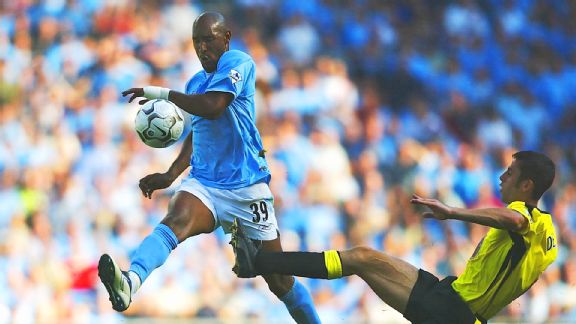 Gary M. Prior/Getty ImagesNicolas Anelka is one of four Manchester City players to have scored a hat trick against Aston Villa.
Nicolas Anelka, Dennis Tueart, David White and Mario Balotelli represent some of the finest attacking quality ever seen in the sky blue shirts of Manchester City. They span an era that stretches from 1974 to the present day, and each was born with many of the sharpest attributes the goal scorer needs to be a success in big-time football: speed across the ground, quickness of thought, power and accuracy, unflappable character at the moment of truth, and the ability to find the target with the minimum of fuss to maximum effect. Their backgrounds are as diverse as one could possibly imagine, but they share the honour of having represented the Blues of Manchester with pride and glory.

- Report: Pellegrini sees Richards at right-back

However, there is something else that ties these strikers from different eras together: They have all scored hat tricks against Aston Villa.

Indeed, in White's case, he nudged the total up to four in one game, so generous was Villa's defence one magical night in 1991. Indeed, it has to be recorded that Aston Villa's defence has been extremely generous to City down the years. You have to go back to 1994 to find the last time a game was played between these two grand old clubs without a goal going in at one end or the other. Goals have showered down like confetti in this fixture for years, and the vast majority of them have been fired exuberantly into Villa's nets by men in blue shirts, in black-and-red striped shirts, in white shirts or various other away strips that have been given an outing at Villa Park, where a colour clash with the claret and blue often means City are reduced to playing in their third kit.

Let us first travel back to 1977, to an early-season game on a balmy, humid and eventually very wet August evening in Birmingham, with expectation in both camps high for the new campaign. Tueart, already a star for City and pressing his claims for a regular England place, decided this was the evening to showcase his skills. "Saucy City!" screamed the headline in the Daily Express, the next morning. "Dennis the Menace has Villa Fooled." Tueart, a winger by name, but in actual fact a superbly gifted wide striker, who scored hat-fulls of goals coming in from the flanks for that late '70s side of stars at Maine Road, was on fire this particular evening. Villa, freshly promoted from the second division and backed by a noisy crowd in the newly refurbished Villa Park, gave it their all, but Tueart's acrobatics, including a wonderfully executed overhead kick, secured the spoils for City.

By the time David White bestrode the selfsame Villa Park turf, English football stood on the edge of the Premier League era. A whole new ballgame awaited us, but what we got on Tuesday, 23 April 1991, was good old-fashioned barnstorming football. White, a man for whom the words punishing speed might well have been invented, buried the home side with a night of unerring accuracy in front of goal, aided and abetted by the beanpole Niall Quinn and the tiny Adrian Heath in an all-action front three.

But it is not just in the dusty annals of history that we find these feats of goal-scoring majesty against the Villains. Anelka's hat trick came early in the inaugural season at what is now the Etihad and was then simply the City of Manchester Stadium. In fact, the Frenchman has the dual honour of being the scorer of City's first-ever goal in the stadium (against Barcelona) and the first-ever hat trick, against our ever-willing accomplices from Villa Park. The score was 4-1 on this occasion, with a stunning left-footer from Michael Tarnat accompanying Anelka's three past the hapless Thomas Sorensen in the away goal.

Mario Balotelli's goal scoring against Aston Villa was not restricted to the hat trick he managed to score in the game in 2012. He was a regular scorer against Villa. Indeed, since that relatively recent match, City have popped in a three, another four and a five against their weekend opponents, as well as conceding four in the League Cup last season.

This, then, is a fixture that cannot stop providing us with goal-scoring memories. With City in fine form in front of goal, having netted 12 times in the last three games, it would be logical to expect more of the same at Villa Park this weekend. Given the clubs' respective forms at present, it would take a brave man to bet on anything but a City win in a game featuring more than the odd goal-scoring opportunity. While messrs. Anelka, Tueart, White and Balotelli will have other business to attend to this Saturday, we can but presume that the likes of Alvaro Negredo, Edin Dzeko, Stevan Jovetic and Sergio Aguero will do their very best to carry on the good tradition in their names.