Jovetic fluke goal one of many in City history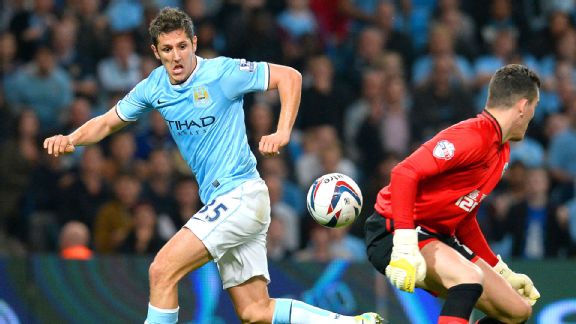 Andrew Yates/Getty ImagesStevan Jovetic watches on as his shot bounces in against Wigan.
When Stevan Jovetic opened his Manchester City account on Tuesday evening, I wasn't in my seat inside the Etihad as planned. Thanks to a combination of lane closures, roadworks, and a traffic accident, I was, in fact, wandering around the M6 trying to avoid my legs giving up on all that circulation nonsense and going to sleep. My car engine was off -- as was everybody else's -- and I'd missed the game.

- Curtis: Blue storm heading Bayern's way
- Report: Jovetic bags brace in rout

Listening to the sporadic updates on the radio, I wasn't imagining that it was a classic when the Blues faced Wigan in the Capital One Cup. There was something about the tone of voice picked by the reporter that said he'd rather be kicked in the groin than be watch another minute of this god-awful match. Maybe I'm being unfair -- I didn't see the game.

However, the goal I'm talking about -- when Jovetic prodded a Micah Richards cross against Lee Nicholls, only to see it bounce back off the goalkeeper, hit him on the knee and finish in the net -- was something I was expecting to be quite comical as I watched the highlights when I arrived home. The reporter described it as a "fluke."

And it got me thinking, as I waited for the HGV in front of me to move off, about some of the great flukes I've seen in my years of watching City -- because there have been some corkers.

Without wishing to sound too disparaging to a City legend, this is a category that could have been dominated by one name -- so it's probably best to get some of his examples out of the way early on. Shaun Goater might have been prolific during his time at the club, but there was no denying that he loved a goal off the knee or shin.

Played in by Ian Bishop against Charlton during City's promotion push from Division One under Joe Royle in 2000, The Goat tried a spectacular volley from the edge of the box. Instead of putting his foot through it, though, he sliced it with the outside of his boot and it dropped neatly into the top corner to be the deciding goal.

That, though, comes nowhere near to being the Bermudan's biggest stroke of luck in front of goal. The following season, City travelled to Leicester, with the visitors desperate for points in their fight to stay in the Premier League. In a game that contained Paulo Wanchope's back-heel half-volley winner, Goater opened the scoring with a masterclass in being in the right place at the right time.

Mark Kennedy crossed. Wanchope headed towards goal. Unsure of how to deal with the ball, goalkeeper Tim Flowers came to punch. And he did -- straight onto the back of the City striker's head. Goater was mobbed by his team-mates before he'd even realised he'd scored.

In more recent times, Joleon Lescott can be added to the list of players who have scored headers without knowing it. It was the final day of the 2010-11 season and the Blues had travelled to Bolton, needing a win to secure third place in the league and their automatic ticket into the Champions League group stages.

Just before half-time, Adam Johnson curled a left-wing corner into the box and, right in front of Lescott, City captain Vincent Kompany challenged. He swung his head at it, but missed completely and the ball sailed past him. There, it landed square on Lescott's bonce -– the shock etched across his face as he took the impact -- and beat Jussi Jaaskelainen to his left.

Though what better way is there to score a fluke than with the posterior? In a game that will forever (sadly) be remembered for a Wayne Rooney overhead kick, David Silva equalised for City by diverting an Edin Dzeko strike (which was headed for the middle lane of the M60) into Edwin van der Sar's top corner with his left buttock.

Goalkeeper errors can come into flukes, too -- as both Trevor Sinclair and Paul Walsh can testify. The former had the ball booted at him by Charlton shot-stopper Dean Kiely, while the latter was on the receiving end of a clearance by QPR's Tony Roberts. And both ended up in the net.

But, as I sat in traffic on what was beginning to look like the M6 car park, I suddenly remembered the biggest fluke I'd ever witnessed at a City match. It wasn't funny at the time, but I can laugh about it now, knowing how everything eventually turned out. It summed up the Blues' luck in that 2000-01 season and explains a long way why they went down.

Charlton were cruising 0-3 at Maine Road and the ball broke for Claus Jensen to chase in midfield. City's Richard Dunne, though, was on the case -– steaming forward to smash it clear. From just past the centre circle, Dunne's hoof connected with Jensen's shin and it sailed straight over Nicky Weaver's despairing dive and into the net. From 40 yards out.

THAT was a fluke. What Jovetic scored was just a bit lucky.