Perfect blue storm heading Bayern's way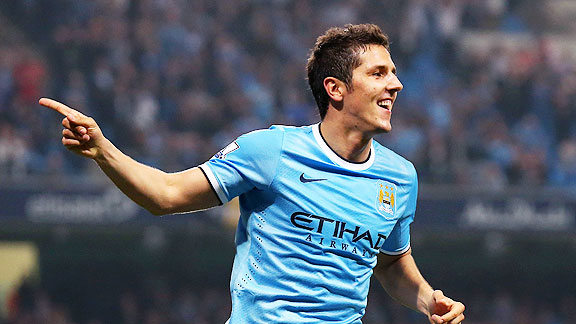 Alex Livesey/Getty ImagesStevan Jovetic had a brace for on-form Manchester City against Wigan.
One week ago, Manchester City supporters stepped forward with tentative little paces towards a seven-day spell of football, which they thought might start to tell us all something a little more detailed about the club's prospects for the 2013-14 season.

After a slightly jittery start, Manuel Pellegrini's men faced their opening Champions League tie away from home, followed straight away by the Manchester derby and, two days after that, the first meaningful domestic cup action of the season. Survive that little lot and City could, might, just should be on our way.

Survive it?!? As it turned out, the week has not exactly been about survival. Twelve goals, each one more sumptuously engineered than the previous, have rocketed, floated and sailed into the opposition net. Shots have flown in from all angles and off the boots and heads of a variety of players, some presumably first-team shoe-ins, others supposedly on the outside looking in.

-City run rampant again in rout of Wigan

Seven days liberally sprinkled with glitter and gilded with the very finest gold leaf. City have played football of the highest calibre to win comfortably in the Czech Republic and set up a humdinger of a group-stage tie with Bayern Munich Oct. 2. They have wiped the floor with the reigning Premier League champions to such an extent that they called a truce after 60 minutes.

Tuesday, against the arch-nemesis from last season, Wigan Athletic, they have proved that the Barcelona school of thought is alive and kicking and being given best practice in the North West of England. The Catalan giants hold great store in their belief that all teams that they put out, from the most fledgling chickens right up to the cock of the north Lionel Messi himself, should play the game the same way, the Barcelona Way.

In City's flawless 5-0 victory against a bewildered and exhausted Wigan Athletic, they revealed a similar belief in this idea of grand continuity. Perhaps we were witnessing the first vestiges of the holistic approach Feran Soriano so underlined in the summer when the new broom swept Roberto Mancini and his axis of friction out outside the Etihad.

On Tuesday, here was a team showing 10 changes from Sunday's derby match, but playing in exactly the same slick, one-touch, high-tempo manner. It was, like the United match, a sheer joy to watch. Where Vincent Kompany had strutted and blocked, young Dedryk Boyata stepped forward to be counted on. Where Sami Nasri had weaved his energetic patterns, Rony Lopes, sporting new bulging muscles, was a bag of pent up energy. Where Sergio Aguero and Alvaro Negredo had wreaked total havoc upon Nemanja Vidic and Rio Ferdinand, Stefan Jovetic and Edin Dzeko took up command and did an identical demolition job on the tattered Wigan defence.

Where this narrative differed from Sunday's 4-1 avalanche, however, was the timing of the breakthough. While United had been tucked up and put to bed after 60 short minutes, Wigan's demise came gradually as the match got older. It was like a wave that just got bigger and bigger as it got closer.

Pellegrini, opting for a different tack to many in the past, brought on greater firepower as the game proceeded. Instead of the home side playing down the clock, therefore, we saw first Yaya Toure emerge from his humongous tracksuit, to be followed by Jesus Navas and then Negredo. Wigan's defenders looked on forlornly as City got stronger not weaker and their task became gradually utterly and completely impossible.

The Capital One Cup, we were told proudly, is a Football League Event, and whilst this kind of marketing speak is seeping into every pore of the modern game, you could almost see their point, as City put on a show fit for the biggest of stages. Arclights and make-up may have been missing on this occasion, but the subtle strikes of Dzeko and Jovetic, the surgical placement of Navas and the unstoppable power and bend from Toure, executing the same free-kick special for the third time this season, were all pieces of theatre worthy of a standing ovation.

The week had passed by in a flash of lightning and several giant claps of thunder. We had seen the future pass before our eyes and, as the game wore to a frenetic end with James Milner whipping up an absolute storm down the wings, the advertising hoardings down the touchline flashed up a message that should not go without mention.

"CITY v BAYERN" it shouted in multicoloured flashlights. While a week ago, many may have been looking at the next three fixtures with trepidation, now there is not a soul in the Etihad who cannot wait to see these new blue stars pit their wits against the might and majesty of the defending European Champions. On this form, it should be quite a sight.