Width, speed pay off for City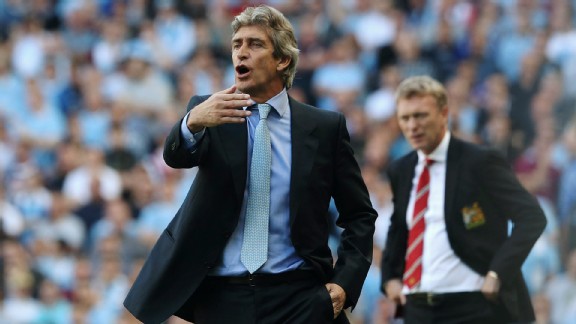 John Peters/Getty ImagesManuel Pellegrini's strategy of having City quickly break forward paid huge dividends in their dismantling of United.
As City floundered in the transfer market in summer 2012, back then few fans will have been overly worried by the lack of activity. Ok, so no additions had been made until the Community Shield was on the horizon, but supporters were comfortable that the team that won the league the May before would be good enough to do it again.

Manchester United, meanwhile, were clinical and brought in Robin van Persie -- they lost the league on goal difference and needed to add more potency to their attack. And that they did.

2012-13 saw perhaps one of the worst title defences of any English champions, probably since 1938 -- the year that the title-holders were relegated. And yes, the title holders back then were Manchester City, too.

Skip forward to summer 2013 and it is all change for the top two in the Premier League: Both had new managers and both seemed to have new transfer strategies. The blue half of Manchester got their players in early, well before their campaign kicked off. This time, the red half floundered.

With a Manchester derby so early in the season and two sides who have been solid, but not spectacular, I was certainly hedging my bets as to who would come out on top. If anything, I'd have plumped for a cagey draw.

How wrong was I?

The performance was filled with two things that Roberto Mancini's City lacked, especially in his final season. It was a running problem for the Italian that his side was frequently too slow in their build-up and often too narrow. How many times did fans sigh when the Blues won the ball back, slowed the game down and then struggled to break through a packed opposition defence?

- Curtis: The City is Blue
- Jolly: Pellegrini purrs as Moyes ponders

And, yesterday, how many times did Manuel Pellegrini's new-look City win the ball and flood bodies forward quickly, not allowing United time to settle? Various pundits on an assortment of highlights shows and analysis programmes picked fault in the Reds' defending for each of the home side's goals (and it wasn't great, let's be honest). However, certainly for the final two goals, the Blues got forward so quickly and so decisively, it didn't give the visitors time to set up.

With Fernandinho dropping deeper, Yaya Toure was allowed more of a free reign to accelerate forward -- in a manner that only he can; stop him in those first five yards and he'll be dispossessed, but fail to and he's going to finish his run with defenders trailing in his wake. City were marauding forward like a hot knife through butter. There was no possession football when there was a chance of a quick break... Instead there was a quick break, which was refreshing to see.

Key to this was several players -- all of which had near perfect performances this weekend: Along with the forward momentum of Toure, Aleksandar Kolarov and Jesus Navas steamed up to keep pace in the City attack. The former was losing Antonio Valencia every time he crossed the halfway line, while the latter will be haunting Patrice Evra's nightmares all week. The speed and accuracy of the breaks were overwhelming for the visitors.

In the spells when City couldn't break quickly and had to keep possession, they weren't toothless either. Samir Nasri played his best game in a blue shirt and his link-up play with Sergio Aguero is probably what fans have expected since the Frenchman joined in 2011. Both he and Toure spent all afternoon slipping cute passes through for the two strikers.

The biggest change, though, came in the form of crosses (avoiding all Jesus puns, here). Mancini hated crosses. He always treated them as an inferior style of play as it turns a pass into a percentage ball -- once the ball's in the air for a forward and defender to challenge, it's less certain his team would keep possession. Therefore, he opted to keep the ball moving on the floor and try to work an opening -- but that led to his teams being narrow and having a hard time breaking packed defences.

Yesterday, City scored four goals in a game from crosses -- did that ever happen under Mancini? I highly doubt it.

Yet, this current side proved they aren't afraid to keep possession and play it around the box -- they ran United ragged doing exactly that, too, with great movement from all four of their attacking players.

United were awful, but City were good. Very good. And if they manage to achieve just half the standard of yesterday's attacking play, you'll probably be looking at the Champions come May. It's no overstatement to say the Blues probably put in the best team performance the Etihad Stadium has ever seen.