European failure forgotten as City start with a win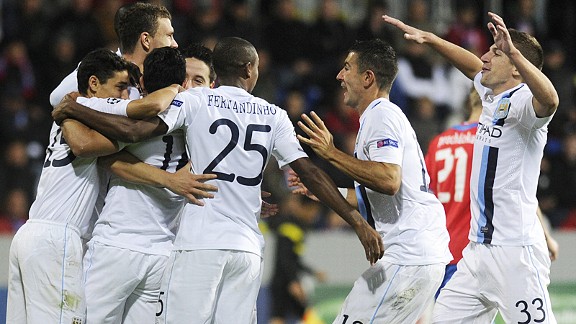 GettyImagesJoy for Manchester City after Edin Dzeko scored their first goal at Plzen.
A win! A win in the Champions League! I was beginning to forget what that felt like. I'm far more used to blindly defending the manager, or the tactics he used, or even offering the blind faith that Manchester City were good enough to kick on for the Europa League after the Blues had failed to turn up in all but 45 minutes of their Champions League games this time last year. It's an odd sensation to see my team walk off the pitch and not have to look on the bright side.

And, frankly, I'm a bit bored with losing in Europe.

Ok, so Viktoria Plzen weren't Real Madrid or Borussia Dortmund. They are the weakest team in the group, but they are no mugs. They're the reigning Czech champions, they've recently beaten Napoli 5-0 in the Europa League (including a 3-0 win in Naples) and they've a manager that's got a philosophy of football that would leave many fans purring - in fact, Plzen have been fighting off the Czech national team for his signature.

And with City having been, at best, disappointing and, at worst, there for the taking, it feels good to have already equaled last season's Champions League points tally.

Good Lord, that didn't seem as bleak in my head as it does on the page. Let's make a deal to forget about last year completely, eh? When people ask about the 2012-13 Champions League campaign, we'll just say "What 2012-13 Champions League campaign?" and then run away.

This evening, though, City -- in their very swish European away kit, it must be said -- were very professional in their performance. They gave Plzen some respect and didn't fall into the trap of playing like they'd won the game before kickoff, a criticism some leveled at the players postmatch against Cardiff. But not so much respect as to allow the hosts control of the match.

There was a danger of that in the first half, as a succession of corners and some spells of possession for the home side put City under pressure. But there was little for Joe Hart to do, with the Plzen players all too eager to wander into offside positions or thanks to some good challenges from the returning Vincent Kompany or the ever-improving Matija Nastasic.

And let's not forget the role of Hart in steadying the City ship. The Blues haven't been playing particularly well recently, but have been picking up points, thanks to clean sheets. He needs someone better than Costel Pantilimon pushing from the bench? Five clean sheets in his past five games says otherwise.

Tuesday night, his command of his box was on a par with some of the best goalkeeping displays I've ever seen -- even if he wasn't called into action to stop too many shots -- plucking plenty of crosses from the air and staying calm under pressure.

The return of Kompany, with a full 90 minutes of action under his belt no less, couldn't have come at a better time. The team seemed a lot calmer in possession and there's little coincidence that happened under the Belgian's leadership. Just in time for the Manchester derby, too.

But it has to be the visitors' attacking talent that takes the plaudits. Plzen put up a good fight, but ultimately couldn't cope with City's attack. Sergio Aguero was sublime and his movement -- whether on the shoulder of the last defender, or by dropping deep to link midfield to attack -- was back to his best. Yaya Toure was at his most influential, returning to his powerful, breaking-from-midfield form that City fans have missed.

The key was that he was further forward. The defensive responsibility of the midfield fell more on the shoulders of Fernandinho, who didn't break forward as often as he has done previously this season, and that allowed Toure more freedom to power on. Suddenly, he was a threat. He was getting City to move the ball quickly, and he got a beautiful goal to round it off.

Even Edin Dzeko seems to have perked up under a manager who's willing to support him publicly. I understand Roberto Mancini's "we must improve," but some players don't need to hear that.

Crucially, this is the first time City have won their first Champions League group match and, boy, does it take the pressure off that second game. Suddenly, should the Blues not beat the current European champions in their next match, it won't feel like they're playing catch up, especially since, in City's worst case scenario, Plzen or CSKA Moscow can be on level points with the English side after the next round of fixtures.

And City will have been looking for at least four points from the away games with Plzen and Moscow as, providing they can take six from those two return fixtures, they'll have hit the marker of 10 points (which in most years -- except for the first time City achieved 10 points, of course -- would be enough for qualification) and anything they get from Bayern Munich would be a bonus. I'd snatch your hand off for second place in Group D.

All in all, the mojo was well and truly back this evening.