Poetry and the piano movers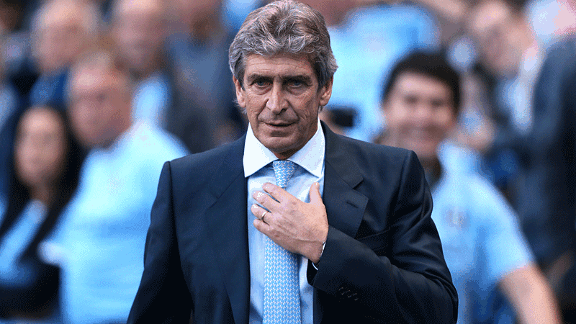 PA PhotosManuel Pellegrini has plenty to ponder after the draw with Stoke.
Dwelling on long lists of excuses, Manuel Pellegrini will tell you, is sometimes a crutch that managers have to lean on gently, when matters call for it. New managers in a bewildering spin of games in a new environment may need them even more so.

When the Chilean reels off the casualties currently lining the corridors waiting to see City's heavily sweating physio, the number of players he has just seen for the first time in a week owing to international call-ups and the need to be wary against the likes of Stoke in the run-up to two tantalisingly important games against Viktoria Plzen and Manchester United in the next six days, you know you should cut the man a bit of slack.

So, without feeling unduly sorry for him, this is exactly what City fans should be doing. For the points he makes are true and valid. Nobody denies this. He could have added that this was the third clean sheet out of four games in his charge too. Start with the defence, the football mandarins always tell us, and move on to the rest when that is properly and efficiently sorted out.

Whittaker: There's only one City
Mooney: Deja vu at the Britannia
Report: Bright Stoke frustrate City

Those that know these things will also point to a steady fourth place in the table, ahead of main rivals Chelsea and United. Even more people will tell us to hang up the coarse hair jacket, cease the restless finger-kneading and calm down a little. We are four matches into the Pellegrini Dynasty's reign of goals and Santiago, the grand old capital that it is, wasn't built in a day.

Pellegrini has been around the block a few times and he will be reflecting calmly on what has surprised him in these initial weeks and what needs to be tweaked in the coming days of action. He will have anticipated a deluge of abuse if his side, expensively constructed and heavily backed, does not come up with all of the answers to the myriad questions put to it.

He will be primed on the extravagances of the national press, with its build you up, knock you down populism and its knee-jerk eye-for-a-headline willingness to make a chain of Andean volcanoes out of a mound of dry dust. He is, more than likely, ready for the ride.

Mark Hughes called City's heavy possession at the Britannia "being restricted to bits and pieces in front of us" and, for great stretches of this thoroughly turgid match, his words ring true. City have clearly been delayed somewhat in Pellegrini's first task of arranging defensive solidity by the almost complete disappearance of said defence. This in itself is not the handiest of occurrences. The continuing appearances there of a nervous-looking Javi Garcia, shepherding the ball out of the prime danger areas of City's backline like Stan Laurel moving a piano, cannot inspire the rest of the group with much confidence. Aleksandar Kolarov, meanwhile, was busy smacking his clearances into Steven Nzonzi's chin and even Pablo Zabaleta seemed to have caught a cold in the bright Potteries sunshine.

Further forward, in the areas that Manuel will move onto when his defence reassembles itself, we were left with the sight of Samir Nasri barely able to do what David Silva carries out with his eyes closed, Yaya Toure on that baffling ring-a-ring-a-roses cruise control and James Milner in one of his disappointing direct and willing days, when he runs really fast into things and loses possession.

Further forward still, in the part of the team that Manuel will see to just after Christmas, Alvaro Negredo and Stevan Jovetic should thank their lucky stars that the buffeting they got from Stoke's Easter Island defenders was not the chipped granite variety they would have encountered if Tony Pulis had been the chief architect in charge of the hammers.

Stoke try to play a bit of football these days and under Hughes they will one day be more adventurous and possibly more porous. There was precious little sign of either on show Saturday but then this experimental City side that was put out at the Britannia and told to shake a leg, did not really press many danger buttons itself. Stoke, eager but limited, carved a chance or two, but Hart's one crucial stop came as he twisted to geometrical limits was to pat away a shot from the triangle-shaped boot of Matija Nastasic, as he slapped a sturdy clearance towards his own goal.

Positive possession stats and shaky but in-tact clean sheets are all very welcome as a start, but a revisit to the delicious opening act of this theatrical masterpiece, where Newcastle were read the riot act and treated to poetry in motion, will be required sooner rather than later to keep the wolves at bay.