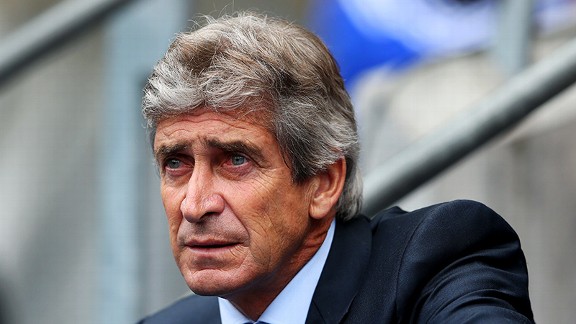 Alex Livesey/Getty ImagesManuel Pellegrini will get his first chance to experience the rich history of a Stoke-Manchester City fixture.
When Trevor Francis walked onto the sunlit Victoria Ground pitch at Stoke at 3 p.m. on Sept. 5, 1981, he carried the fractured hopes of the blue half of Manchester with him. When he walked off it at the end of one of the most tumultuous matches this young supporter had ever experienced, he said calmly, "I'll never forget my 1 million pound debut for Forest at Ipswich. After 30 minutes the fans were singing, 'What a waste of money!' I didn't give anyone the same opportunity this time." After a scintillating two-goal debut in front of a huge mass of travelling City fans, he was apparently one of the calmest men left in the ground.

A variety of emotions have been squeezed out of Manchester City supporters upon visiting the merry city of Stoke down the years, from outright elation to pit-of-the-stomach gloom, but almost never boredom. As City once again prepare to undertake the short trip south to the Potteries, Mark Hughes' presence on the Stoke bench will ensure that this will once again be a game to remembered.

- Report: City beset by injuries ahead of Stoke

In 1981, after a long struggle to find a decent striker, manager John Bond finally managed to beat Ron Atkinson to Francis' prized signature and made him the first-ever two-time million-pound player. Little did the City faithful know as they gathered in vast numbers in the away end at the Victoria Ground, but Francis was about to explode into our consciousness with a debut that some would say has never been surpassed and has only sporadically been matched since that sun-kissed September day. City have always taken a good following to Stoke, but on this occasion the stands were full to bursting well before kickoff as the 10,000-strong contingent from Manchester strained for a good view of the new star striker who would lift the Blues into the company of the first division's big hitters.

After a superb two-goal salvo, it was revealed that Francis had only had lunchtime to acclimatise to his new surroundings (Bond had famously brought the new signing into the hotel where City's players were having lunch and said, somewhat unnecessarily, "This is Trevor, he's here to give us the confidence to win things").

Afterward, the press pack was eating out of the striker's hand. Sadly, Bond's dream of domination would turn to ashes the following season when he resigned after a shambolic cup defeat at Brighton. With Francis' unforgettable start fading to the back of our minds, City went down to the second division just a year and a half after his sunshine debut in the Potteries.

By Boxing Day 1988, City had been back up to the top division and come back down again. Mel Machin's young guns were firing on all cylinders in an attempt to once again regain top-division status. That season's game at Stoke fell in the middle of the inflatable craze started by City fans. On Boxing Day, with City lying fourth in the table and very little public transport to aid the exodus of lipsticked monks and oaf-headed Draculas heading for Stoke, more than 12,000 Blues in fancy dress turned up to support the side. With the home side giving one end and one side of the ground to City's travelling charabanc, the mass of thousands of yellow bananas was a sight to behold. As the players ran out to a wall of noise, they too held a giant banana each, which were then thrown into the partying throng. At the height of the hooligan problem, City's supporters were striking back against Margaret Thatcher's anti-football government with an inflated but wordless statement that spoke volumes.

Words, it must be said, were also in short supply to describe how, after this tremendous salute from the fans, City could be swept away catastrophically by an average Stoke team containing the likes of ex-City stalwarts John Gidman and Tony Henry. But this was classic City territory, and the majority of the away fans leaving at the end -- deep-sea divers, Rambos and rosy-cheeked clerics alike -- would remember the trip for a long time after the football itself had faded from memory.

If those two games encapsulated the '80s and '90s City emotions of elation and deflation, often in the same afternoon, City's visit to Stoke's new Britannia Stadium in 1998 gave most of us the worst feeling we have ever had watching the club. Describing an emotion that left all watching feeling nauseous, dizzy and completely lost is a tricky task. It felt as if the end was upon us, as if we had been fileted, spiked, disemboweled, trampled underfoot and emptied out onto the sunbaked concourse. After a hair-raising 5-2 Stoke win, City had been relegated to the third tier of English football.

Clearly, Manuel Pellegrini's well-drilled charges will have to come up with something quite spectacular to eclipse the range of emotions dragged out of the faithful in the three games revisited above. To those able to put some historical perspective on this fixture, maybe a performance that avoids the home crowd crowing "what a waste of money" might suffice on this occasion.

You can read more on the aforementioned games and other past City encounters in Stoke here.