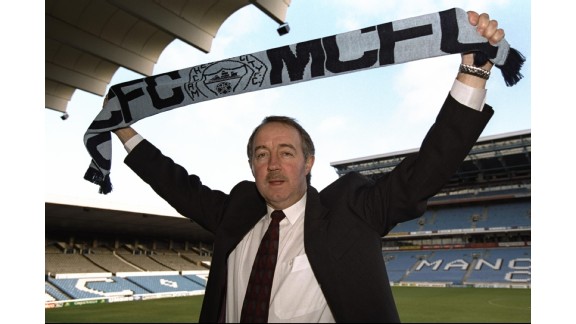 GettyImagesManager Frank Clark was one of many who watched on in horror during Manchester City's 1996-97 campaign.
Any football fan with an internet connection has navigated their way onto YouTube and searched their team's name to see what videos are online. If you were to type 'Manchester City' into that search bar, you would find a fair number of classic matches and there are a lot that are well worth the watch -- though, I'm guessing if you're reading this you've got an internet connection, so you'll have probably have seen them already.

However, this week, I stumbled upon something new. Something very few City fans will have seen, too (560 views at the time of writing). Something I'd not seen since the year was 1996 or 1997. That's because it's the 1996-97 season review.

And, good Lord, it's appalling.

If you want to put yourself through the agony of the campaign that started with Alan Ball in charge, ran through spells with Steve Coppell (33 days!) and Phil Neal, before finishing with Frank Clark, then all 79 minutes and 31 seconds of terror lie here. I'll be honest, you might want a stiff drink before it. And during it.

But re-watching the club I love fall from grace back in the late nineties, it reminded me how full of optimism the nine-year-old me was and how much that blinded me about how crap we actually were. And I'm talking 'how-on-earth-did--we-almost-stay-in-the-Premier-League-on-the-final-day-of-the-year-before crap'. That's how crap it was.

However, looking back, it seems remarkable that even the nine-year-old me wasn't cynical enough to see through the bright end to the season that saw the club climb to 14th -- yes, 14th -- place in Nationwide League Division One, having been expected to bounce straight back to the Premier League. Naively, I believed that turn in form would be enough to win promotion the following season.

Of course, City were relegated again.

There are some striking things we can see from the video that say a lot about the Blues in the late nineties. Firstly, the club didn't believe in a decent voice over, as the presentation in between matches appear to have been read monotone. Though City were quite strapped for cash back then, so maybe the extra pitch cost more.

That there was only one fan to run onto the Maine Road pitch in protest of what was happening on it all season was a miracle. He came to argue with the players as City were drawing 2-2 with Oxford United, in a game the home side went on to lose 2-3.

What summed up the club more than anything that year was the home tie with Bolton, who confirmed the league's title at Maine Road. Having been at opposite ends of the table for most of the season, watching City's performance you'd have thought it was the Blues likely to go up that year, as they battered the visitors into submission. But only went 1-0 up, missing chance after chance.

Two Bolton goals in reply put paid to the club's performance of the season and the hosts slumped to yet another defeat. As a quirky side note, though, the winning goal that evening was scored by Scott Sellers, who is now a coach in City's academy.

The biggest shining beacon to come out of the footballing car crash that was the Manchester City 1996-97 season, however, was a signing made in the January for a fee in the region of £1.5m. Kevin Horlock – who had, bizarrely, missed a penalty while playing against City for Swindon earlier in the campaign – was later described as "one of only two good signings" made by Frank Clark by then-chairman Francis Lee, after the ex-Forest manager was sacked.

In the end, Horlock was one of the most important cogs in the machine that got City back to the Premier League, but there was a lot of flotsam and jetsam elsewhere around the squad – which, as the managers came and went, only increased in size.

Perhaps it was that the club only lost four league games in the second half of the season… Perhaps it was that (somehow) Gio Kinkladze was persuaded to sign a new three-year contract despite the club clearly heading in only one direction… Perhaps it was my naïve nine-year-old mind… But the end of that season really did feel like it was to be the start of the rebuild.

So much so, our family decided to get season tickets for the 1997-98 season – and it took us seven campaigns before the club was playing in the same division for two years running.

If you'd said to me at the end of 1996-97 that City would be Premier League champions in 14 years, I would have genuinely believed it could have happened sooner. THAT is how blind I was to the problems at the club and it is also how fortunate I am to be witnessing what I am now.

Either way, if you've got a spare hour – go and watch the 1996-97 season review. You'll never complain about a bad performance at The Etihad again. Surely it can't ever get that bad again.