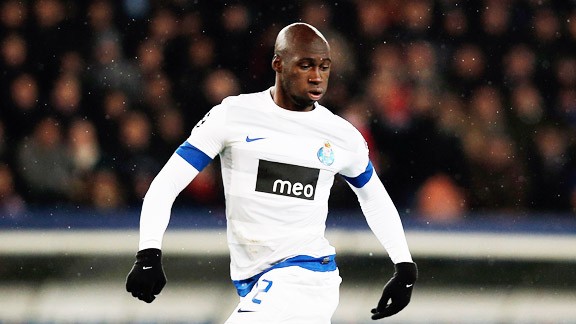 Dean Mouhtaropoulos/Getty ImagesPorto manager Paulo Fonseca expects center back and City target Eliaquim Mangala to have a breakout performance in this season's Champions League.
If you have not heard too much about Eliaquim Mangala, it will not be too long before you do. This giant Frenchman of Congolese descent, built of the finest teak, stands 1.87 meters (6-foot-1½) in his socks and fills one of FC Porto's centre-back spots in the increasingly competitive Portuguese League, the Liga Zon Sagres. At 22 years of age, he has many years of football ahead of him, and this is one of the reasons he decided it would be a wise move to stay put in the north of Portugal and continue to learn his trade under the watchful eye of Paulo Fonseca and his coaching staff when rumours began to surface that the giants of European club competition, among them Barcelona and Manchester City, were waiting to pounce.

- Report: Clichy could be tempted by Ligue 1

Porto's gain is very much City's loss and, considering what has happened to this department of the squad at the Etihad since the season began, even more so now. Mangala -- as is often the case with footballers under the tutelage of inimitable Porto president Jorge Nuno Pinto da Costa -- comes with a huge price tag attached to his precious legs. A buyout clause of 50 million euros would seem a touch high for a player with relatively little experience and relatively few big time games under his belt, but this may not be the agreed wisdom for much longer. Porto drive a hard bargain with any team looking to poach their roster, as seen by the summer departures at hugely inflated prices of Joao Moutinho and James Rodriguez to newly minted AS Monaco. This was no flash in the pan. The wily Pinto da Costa secures a transfer like this every summer and succeeds in bringing in low-cost replacements under the radar of the rich and famous clubs of the continent. These invariably fly the nest once more when their market value has quadrupled and the whole process can start again. Nobody does it like Porto, and in Mangala they may well have unearthed another uncut diamond.

It is rumoured that City's hierarchy decided in the summer that a cheaper alternative should be sought for this part of the team, especially as the main candidates for first-team action -- Vincent Kompany, Matija Nastasic and Joleon Lescott -- would keep any newcomer down the pecking order. That was before City's defenders started falling like plastic skittles in a light breeze. The well-documented losses at the back forced Manuel Pellegrini's hand, and City made a beeline for Martin Demichelis, who has since suffered a knee injury. It was at this point that the international press began to put two and two together and get five. Mangala, it was said, would be the next target for City's bulging chequebook and amorous intention.

In the Portuguese football press this week, they have been talking to Mangala about his future career moves. He is flattered by the interest, he says, but intends to play on at Porto and get his defensive grounding in the Portuguese League before attempting to move higher up the ladder. "It did not occur to me even to move on during the winter break," the Frenchman is reported to have said. This, of course, is what they are all reported to have said. Some of them even say it. Whether they mean it or it's just any one of a thousand cozy throwaway lines designed to throw hungry hacks off the trail, only time will tell. Certainly his manager, Fonseca, newly installed in the FC Porto hot seat after an incredible season in charge of minnow Pacos de Ferreira, recognises in this French giant a possible great of the future:

"This player can be the next revelation in the Champions League," Fonseca said.

For himself, Mangala is happy to stay out of such a piercing limelight for the moment. The player who spent his first few months in Portugal after a switch from Standard Liege in Belgium -- battling for a place behind the likes of Rolando, Otamendi and Maicon -- now features alongside one or the other of the latter two. The former's departure means there is one place at the heart of the back four alongside Mangala, which Otamendi and Maicon must now squabble over. Fonseca knows who he wants as his first choice.

"I didn't know he had said those things about me [regarding the Champions League], but I am grateful, as it gives me a lot of confidence and shows the confidence that he has in me," Mangala said. "I am very happy to call myself a Porto player and want to stay that way until the end of the season. I have already stated that I feel absolutely fine here with this team. We have defined a number of objectives for the season, and I intend to stay and try to win trophies in the blue and white colours."

Who is to say that another slightly lighter shade of blue might look good on the young Frenchman before too many months have passed?