My kingdom for a centre half -- Gallas the answer?
If reports are true, Manchester City may be set to offer former Arsenal and Tottenham Hotspur defender William Gallas a short-term deal as cover for the freshly injured Martin Demichelis.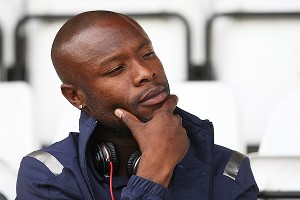 Pete Norton/Getty ImagesWilliam Gallas became a free agent after leaving Tottenham this summer.
This will come as a surprise to most, who felt the run of bad luck at centre half would have to be ridden out now that the transfer deadline has passed, but Gallas is a free agent and would be available to sign. There are other minor shocks about any possible deal. First, at 36, Gallas has a four-year advance on Demichelis, who himself came in for some quizzical glances from some sections of the City support, feeling that a younger option might have been a better idea.

Gallas' from France, has played his entire England career in London. An all-action player, he was often seen pounding forward to score spectacular goals. Indeed his scoring record in the Premier League at Chelsea and Arsenal was good, reaching double figures at both clubs. That he could also be found among some of the more spectacular defensive mix-ups will be less reassuring for all concerned. Those preparing to welcome a player with the most sumptuous hair since David Seaman's ill-fated ponytail will also be disappointed.

-Richards set for return

Gallas had been trying to get himself set up with a new club during the summer after Tottenham boss Andre Villas-Boas decided to cut short his time at White Hart Lane. He also had been heavily linked with Crystal Palace, mentioned as a possible recruit for Hull City and also Melbourne of the A League.

If he does sign after reportedly being set for talks with Manuel Pellegrini this weekend, he will become back-up to the original back-up, a sort of Chinese puzzle of fading ex-international centre-halves, who City must rely on until the main men are fit again. This comes at an unfortunate time in that City face five games in close quarter as soon as the current international break is over, among them a tricky away game against Mark Hughes's fast-rising Stoke City, the first Manchester derby of the season and their crucial opening Champions League tie in Plzen.

It will also come as something of a knock-back for the likes of Dedryk Boyata and Javi Garcia, who will see the move as a snub to their chances of making it into the first-team picture this season. Garcia has already blotted his copybook to an extent with a slovenly performance at Cardiff City in the second game, while Boyata's promise has long since appeared to be running out of momentum as a series of managers chose not to trust him with a first-team run.

Matija Nastasic, returning slowly from injury himself, and Joleon Lescott, currently attempting to make his right foot perform to the quality of his left, will be wrapped up in cotton wool in the coming weeks, in the hope that the injury jinx does not cut any further into City's well-stocked resources.

Gallas, who played for Chelsea (159 games), Arsenal (101) and Tottenham (61), managed 17 appearances for Spurs last season. While perhaps reaching the end of his period of usefulness right at the top of the professional game, Gallas offers City another pair of experienced feet in the seemingly cursed back-line until all members of staff are fully fit again.

City have a little time before next weekend's Stoke game to prepare, but the continuing disruption of defensive strategies and understanding must be a cause of some concern for Pellegrini as he prepares for the first busy spell of the nascent season. How City manage to come through this may well be a pointer for the entire season's direction.