Bright side of Demichelis blow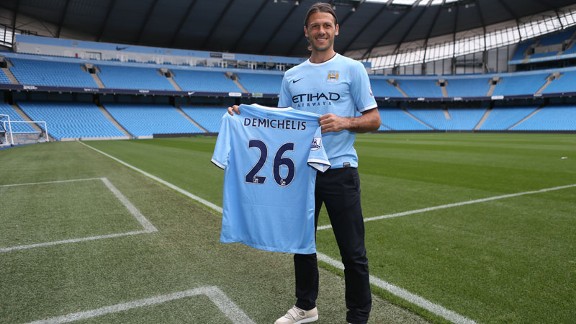 GettyImagesMartin Demichelis is expected to be out for six weeks.
Picture the scene: It's an overcast Friday morning and a team of development execs involved with finding a new comedy-drama series for national television are running out of sensible pitches to review. Down the bottom of the pile is the story of a football club that always finds itself up against the odds thanks to various combinations that might include all, some or none of the following: Mismanagement, over-spending, under-spending, the wrath of God, sheer bad luck, a series of unfortunate events, balloons on the pitch, or the weather.

One of the execs wants to hear the idea, but the others quickly laugh the suggestion away. "It'd never happen in the real world," they say. "This 'anything that can go wrong, will go wrong' storyline is just too unrealistic."

And in the corner of the room, the Manchester City fan that pitched the series shrugs his shoulders in disbelief. The script had been toned down from real life.

Four days after having signed a centre-back to cover the centre-back injury problem, City confirmed that said centre-back wouldn't be centre-backing for at least six weeks. New arrival Martin Demichelis damaged knee ligaments in training on Thursday morning.

He joins Vincent Kompany and Micah Richards on the injured list -- though the latter is due back for selection very soon. The sooner the better, though, given that the two left footers in Matija Nastasic and Joleon Lescott didn't seem overly comfortable against Hull -- though that might have been partly down to Nastasic's rustiness having missed most of pre-season with damaged ankle ligaments.

And, while Javi Garcia hasn't been a disaster at the back, his partnership with Lescott isn't the quickest and it lacked an authoritative voice. Though that leadership wasn't exactly overwhelming with the return of Nastasic against Hull, either, but I suppose you can't blame a 20-year-old for being inexperienced on that front.

It's looking like the Demichelis injury will put paid to the right-footed/left-footed central defensive combination for a while, should Pellegrini not want to start one of his players out of position. That is unless the manager's planning to do what we do at five-a-side on a Wednesday evening and get some ringers in: My 58-year-old centre-back father, with a dickie knee and a bad back, will be taking his boots and shirt to Stoke in eight days' time, just in case.

Damn you, the 25-man squad ruling.

That the defensive cover option has picked up an injury, though, isn't the end of the world. This weekend's international break gives Richards extra time to recover from his hamstring problem that has thus far kept him sidelined -- he's not ready for international duty, after all, and will be touch-and-go for the trip to Stoke.

Nastasic has got his first game from injury under his belt and will have the next eight days to get the rustiness out of his system -- both on international duty with Serbia and in training. He didn't play badly against Hull, but he was clearly still suffering the effects of missing pre-season.

Then there's always the option of Dedryck Boyata, who, despite having played very few games for City, has impressed when it's come to the big ties. He kept Didier Drogba quiet against Chelsea a few years back and was outstanding against Bayern Munich in pre-season, when the German side were further along with their 2013-14 preparations. The only real blemish is that red card against Arsenal, which came more out of inexperience than anything else.

Finally, the injury to Demichelis has come early enough for Pellegrini to plan around it -- he's got over a week to decide on his centre-back pairing for the trip to Stoke and he's got time to get them training together when they return in a week.

The big relief, however, is that the Argentine defender doesn't need surgery on his knee. At 32 years of age, his body isn't going to be as quick to recover and an operation would add length to the rehabilitation period that's not especially welcome with the current injuries.

However, the most crucial part of the defensive crisis is that, of three Premier League games so far, City have two clean sheets. There may have been more uncomfortable situations than normal and the three goals at Cardiff were individual errors from normally reliable defenders, but this isn't going to be a situation that ends the Blues' title bid.

And, when all else fails, the club should have enough attacking talent to score more than the opposition -- they're currently the leading scorers in the division, after all.

The Demichelis injury is unfortunate, but it could have been a hell of a lot worse.