An international conundrum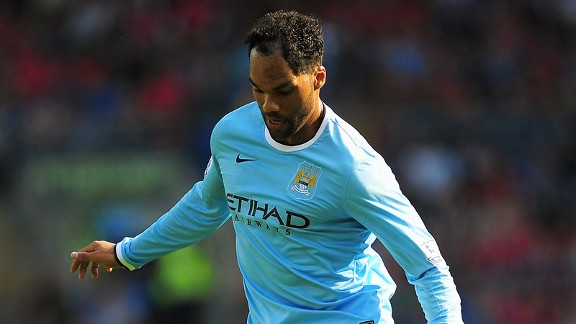 Stu Forster/Getty ImagesJoleon Lescott is one of three City players who play only semi-regularly for club but are still routinely called to England's national side.
With the news that shoals of testicle-eating fish have been caught shimmying through the River Seine in Paris, the French national side, preparing to play against Georgia in Tbilisi Friday, will be hoping there might also be some kind of deadly bite from Samir Nasri, a man with a penchant for drifting gently with the flow. Certainly, if the Nasri family jewels are as well protected as they were in the wall on that infamous occasion when Robin van Persie scored a last minute derby winner for United last season, the hungry fish in question will not be having supper anytime soon when he is around.

Nasri is one of several City stars who cannot count on being first team regulars at the Etihad each week, but who regularly step up to a more conspicuous role on the international front during Premier League breaks for World Cup qualifiers. The strange juxtaposition of domestic semi-rejection and international stardom can be an uncomfortable situation for any footballer to manage properly. In this, Nasri is not alone. Manchester City are far from being the only ones delivering this kind of problem to their playing staff, but the likes of James Milner, Aleksandar Kolarov, Edin Dzeko, Jack Rodwell and Joleon Lescott often share Nasri's discomfort.

- Report: Nasri open to MLS or OM moves
- Report: Navas backs Casillas arrival at City

The ex-Arsenal man has assured his national team coach Didier Deschamps that he will not repeat the expletive-laden rant aimed at various branches of the French sporting media after the disastrous Euro 2012 campaign had withered to a halt. Having returned to the French squad for the Belgium match last month, Nasri is busy trying to attract his manager's attention sufficiently to earn a first team recall for the really big ones against Belarus and Georgia this week. The little French midfielder will have to find an alternative to expressive Manchester City midfield performances to achieve this, however, as he has been somewhat underused by Manuel Pellegrini so far.

A similar scenario befalls the City trio of Lescott, Milner and Rodwell, all of whom have international aspirations, while not getting regular game time at the Etihad. If Greg Dyke's tub-thumping speech this week -- setting the very loftiest of high targets without outlining the way to achieve them -- is anything to go by, the England national team and players such as the afore-mentioned trio at City are going to come under the usual scrutiny and be thrust into the usual pressure cooker steam-bath to attain levels of success for an England national team that have eluded them more or less continuously since the game was invented.

Dyke leaned heavily towards the old chestnut of how damaging Premiership squads heavy with overseas talent are to England's chances, but the national team's abject failure to qualify for the World Cup finals of 1974, 1978 and 1994 came well before the Premier League honed our taste for continental cuisine. In those glorious days of steak and kidney pie, we still couldn't knock the skin off a rice pudding. England's heroic absence from Euros 1976 and 1984, not to mention wholly impoverished performances at Euro 80, 88 and 92 when we did actually qualify but might have been better off not bothering, also came in dull days drizzled in salt and vinegar and not the oily modern glory of escabeche sauce and jauntily scattered capers.

- Macintosh: English arrogance standing in the way of success

Dyke's target of reaching the semi-finals of Euro 2020 and winning the 2022 World Cup is practically undeliverable. We might as well all set ourselves personal targets of growing sky blue beards. Cleverly though, this is delivered to us as an eight year plan from a man on a four year contract. Dyke, who's last act at Brentford was to install City legend Uwe Rosler as manager (a German national, last time I looked), plans to set up a commission to examine the issues affecting the England team's performances in international competitions.

The chairmen of the Professional Footballers' Association, the League Managers' Association and the Premier League will be invited, as will former England players and managers, journalists, academics and experts in weird beard growth. Dyke's belief that "the flood of foreign players" has denied first-team opportunities for English players, does not tally with previous failures going back decades. When Poland, then Czechoslavakia, then Denmark, then Holland barred England's heroic passage to glory in earlier decades, I cannot recall anything more exotic than the odd Deyna here and the occasional Ardiles there in the less than multilingual First Division. The almost complete absence of foreign talent did not stop us from shooting ourselves magnificently in the foot time and again throughout the 70s and 80s.

"England is already short of players who regularly turn out at the top level for their clubs and are qualified to play for England but the real problem is that, year by year, the position is getting worse," said Dyke. "Twenty-years ago, 69% of all the players starting matches in the Premier League were qualified to play for England. Ten years later that figure was down to 38%. Last season, another 10 years on, the same figure was down to 32%."

In the cases of Lescott, Milner and Rodwell, we can vaguely see the point that Mr Dyke is attempting to make. However, in squads of City's large and complex nature, the same argument could surely be made of the likes of Nasri and an assortment of his French colleagues.

France, however, seem to have won two European Championships and a World Cup in the same period, not to mention carving out numerous near misses. Clearly, there is something over and beyond testicle-chomping maniac fish in the limpid rivers of la belle France.