A net positive in market, but Barry's loss hurts
There's something about transfer deadline day that has fans glued to their television screens in a desperate bid to find the latest information about their club and who they're bringing in. In January 2007, I was desperate to see whether Stuart Pearce's Manchester City had managed to sign Mido.

However, at 10:45 p.m. this past Monday, I was on my knees in the front garden while half the street stood at their doors to watch me sobbing and screaming: "No, Gareth! Don't do it! Please! They're not good enough for you! They'll never be good enough for you! Think of the fans! We have to stay together for the fans!"

Err ... Where was I? Ah, yes! The transfer window.

- Updates: Aguero | Nasri | Rodwell

City didn't really get involved in deadline day, other than the confirmation that Stephan El Shaarawy and his silly haircut wouldn't be leaving AC Milan, while there were a couple of departures. Business for the Blues was mainly done before the season kicked off.

Clearly, lessons had been learned from the year before. Cast your minds back roughly 12 months to the mystery surrounding the then-champions' decision to make no signings at all until the morning of the Community Shield, when Jack Rodwell joined from Everton. But then nothing, until roughly 37.5 million pounds was spent on five players on deadline day.

It wasn't so much panic buying, but two games into the season, it didn't give the squad much chance to put a title bid together.

Roll forward to summer 2013 and, with a new director of football in place in Txiki Begiristain, a new CEO in Ferran Soriano, and a new manager in Manuel Pellegrini, the Blues concluded the bulk of their incoming business well before the first ball was kicked.

And they weren't being held to ransom, either. There was interest in several targets, but as soon as the price was jacked up -- as it was with the Blues' bid to sign Edinson Cavani from Napoli -- the club looked elsewhere. The key was the wages -- high earners left and the new players were being paid far less in the new structure. Overall, it looks as if the new additions have been good bits of business.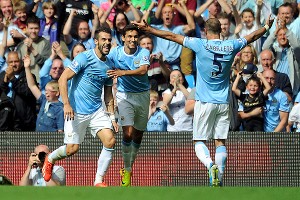 Chris Brunskill/Getty ImagesPablo Zabaleta, right, has happily welcomed Alvaro Negredo, left, and Jesus Navas to Manchester City.
The first was Jesus Navas, who had been impressing in his fleeting performances in the Confederations Cup and who had overcome his homesickness to feel confident enough to leave Spain. He's been very involved so far in the Blues' opening three matches and, with the exception of the trip to Cardiff, has been a bright spark and always dangerous, even if he is yet to assist or score. But that's coming, you can tell.

Next saw Brazilian Fernandinho added to the ranks, for a rather large fee in the region of £28m from Shakhtar Donetsk. Of the summer signings, he appeared to be the earliest to settle. However, with a slow performance against Cardiff, and with nothing that he tried coming off for him against Hull, that might have been a quick judgement. There are signs, though, that the 28-year-old could be a good player for the club, even if a little expensive.

Alvaro Negredo then followed Navas in joining the Blues from Sevilla and, after three games and three substitute appearances, probably looks the brightest spark so far. He should have three goals (one was wrongly disallowed in his first game) and looks to be a forward who pounces on loose balls in the box -- and with a fairly decent head on his shoulders, too.

The last of preseason arrivals was Stevan Jovetic, but little can be said about him until he's been able to play, having only been fit enough for the bench on one occasion so far.

It seemed as if Pellegrini wasn't planning any more dips into the transfer market, despite rumours of interest in Real Madrid's Pepe. However, an injury to captain Vincent Kompany on opening day and an unfit Matija Nastasic meant midfielder Javi Garcia has had to cover.

And, while his partnership with Joleon Lescott wasn't directly at fault for the goals at Cardiff, it didn't particularly fill many fans with confidence.

So last Sunday, the club brought in a last-minute reinforcement in Martin Demichelis. Only time will tell, but it might well be a smart move -- Pellegrini has worked with him twice before and knows how he can play. Plus, at 32, he's not going to be a long-term signing expecting to play every match. The only real question is his pace.

On the other side of the fence, there were several high-profile outgoings: Kolo Toure was released, Carlos Tevez left for Juventus, while Scott Sinclair and Gareth Barry will be on season-long loans (at West Brom and Everton, respectively). Naturally, Tevez will be difficult to replace, but most fans will be excited at City's new attacking options, while Sinclair's departure was the right move -- or another season with a lack of games was on the cards.

The worst decision, in my opinion, is allowing Barry to leave. OK, so he's not the quickest player around and he doesn't weigh in with many goals, but his range of passing and his ability to do the gritty work in linking defence to attack through the midfield was part of what allowed Yaya Toure to be a destructive force in that title-winning season in 2011-12.

From Barry's point of view, though, he needs to play, especially in a World Cup year -- and it will be criminal if he isn't picked in the England squad, should they qualify.

Nevertheless, I still love you, Gareth. And I always will.