Will Demichelis be among late reinforcements?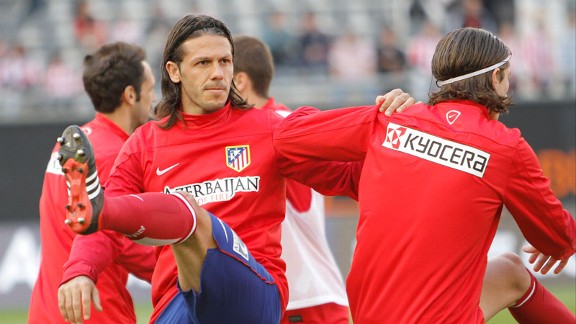 Gabriel Rossi/LatinContent/Getty ImagesIt appears Martin Demichelis will leave Atletico Madrid almost as quickly as he arrived.
Martin Demichelis, we are reliably informed by various sources, will complete a cut-price deal to switch to City this week from Atletico Madrid, where he only landed in the close season.

Spanish daily Marca reported Atletico haven't received concrete offers for the Argentine centre back, but his is the name that has featured most widely since the gaps in City's centre-back personnel began to be investigated. With Vincent Kompany injured and Matija Nastasic being ushered gently back to the brink of playing, City were forced to field a second-string partnership of Joleon Lescott and Javi Garcia in Sunday's loss to Cardiff City, leading to predictable defensive shortcomings and howls from some areas that emergency shoring-up operations were imminent.

-City close in on Demichelis
-Kompany hopes to return for Derby
-Richards gives City fitness boost
-Mooney: City must man up

With Micah Richards also recovering from injury and Kolo Toure shipped out to Liverpool (and now also injured after a slapstick evening against Notts County in the League Cup), City are left with the underused Dedryck Boyata and little else to plug the gaps. Hence the name of Demichelis and sundry other candidates in the international football press.

The lank-haired stopper moved north from Malaga in July without money changing hands. This explains to an extent why City have been reluctant to provide more than 2 million pounds to entice him further north and west to the sunny shores of Manchester. His age (32) provides another clue for the low offer from the Blues.

Although Demichelis has been in the mind of City and ex-Malaga boss Manuel Pellegrini, these factors and his competence to fill the role vacated by Kompany and/or Nastasic may also be playing a part in the hesitant moves forward.

After playing more than 50 games for Pellegrini's River Plate in Buenos Aires, Demichelis came to the attention of European football watchers during a long and relatively undistinguished spell at Bayern Munich, where he was converted from a slow-moving and aggressive defensive midfielder to a centre back with similar tendencies.

His taste for the acrobatic led to a slew of red and yellow cards and the occasional goal as he stalked upfield for set pieces. Having joined Malaga, he was also responsible for Pellegrini's side's first ever Champions League goal, netted against Panathinaikos in a playoff victory that saw the Andalucians qualify for the group stages at the first attempt.

He was widely expected to return to River during the summer but instead accepted the offer of a one-year deal from fellow countryman Diego Simeone at Atleti and was preparing fir the new season in the Primera Liga and the Champions League when City's interest began to filter through the press pipes.

With his age, disciplinary record -- and indeed, playing record -- some City fans will be sceptical about the impact such a player can make, despite the fact he is claerly being considered as a stop-gap option to fill in when crises of the sort already gripping the club this week occur. While Pellegrini seems to have opted for former manager Roberto Mancini's pairing of Kompany and Nastasic as his first-choice centre backs, he can also choose from Lescott, Boyata, Richards and Garcia, if necessary.

Lescott has suffered from the cold-shoulder treatment he received from Mancini, while Richards has spent recent times on and off the treatment table. Garcia is clearly a defensive midfielder and, while he also played at the back for previous employers Benfica, he did not exude confidence in the role in Cardiff. Some would go further and say he is yet to do that in his chosen role further forward either.

Boyata, shipped out on loan by Mancini, looked to have little chance of a future at City, but appears to have been given another chance by Pellegrini. While never really looking secure in his first-team outings in the past, the young Belgian is fast and would benefit from continuing to learn his trade alongside Kompany, his national team's captain.

Others either touted for a place in the City back-line squad or perhaps worth a look are Adil Rami of Valencia, Ajax's Toby Alderweireld, Diego Godin, who played for Pellegrini at Villareal plus long-term target Pepe of Real Madrid.

Demichelis, with his experience, lowish price and know-how in various Pellegrini defensive formations, perhaps ticks slightly more boxes than the others mentioned at this stage for the City hierarchy. As the deadline approaches, it appears more and more likely that City intend to move for cover in this area rather than stick with what they've got.